How to make a quick and easy creamy graham dessert in a cup.
Avocado Float Supreme in a Cup Recipe. Layers of crushed honey graham, creamy avocado flavored whipped cream with sweetened condensed milk, vanilla ice cream and top with slices of creamy fresh avocados and a drizzle of homemade avocado syrup. Chill for at least 30 minutes, and it's ready to serve to enjoy with your family and friends.
Aside from sweet and juicy Mangoes, Avocados are also in season. These shiny purple and green Avocados looks yummy and I couldn't take my eyes off of them. So I've got to buy at least a kilo and it's only P80.00/kilo. I choose the medium purple avocados, over the green ones because they are too big and too ripe. And before I decided on what desserts to make, I check YouTube and consult google of course… LOL Good thing, I saw at iJuander segment on YouTube and that's it we're going to make dessert in a cup again 🙂
So let's start…
Makes: 4 (12oz.) plastic cups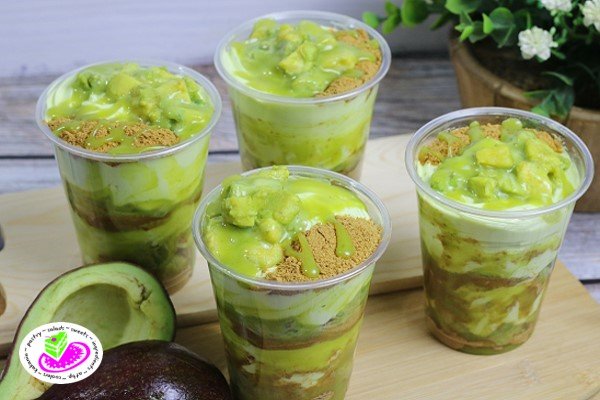 Ingredients:
4 med. ripe avocados, cut into cubes + 1 tbsp of calamansi juice
1 cup honey graham, crushed
Avocado-Condensed Mix: (divided ½ cup for the ice cream & remaining for making the syrup)
1 med. ripe avocado, puree
1 tsp. calamansi juice
6 tbsp evaporated milk
1 can (300ml) condensed milk (add gradually & adjust sweetness)
Soft Ice Cream:
250ml all-purpose cream, chilled overnight
½ cup Avocado-Condensed Mixture
3 scoops frozen vanilla ice cream (optional)
-2 drops of green food color gel (optional)
You Also Need:
4 pieces (12oz.) plastic cups
Check out Video Recipe:

Procedure:
Let's prepare our Avocados: First, we need to wash, cut avocados in halves and discard all the seeds. Slice 4 medium size avocados, lightly cut the meat into cubes without cutting the skin at the bottom. Scrape off avocado from the skin and transfer into a bowl and squeeze a tablespoon of calamansi or lime/lemon juice and mix until well coated. This will prevent the avocado from turning brown.
And scrape the meat of 1 medium avocado, squeeze a teaspoon of calamansi juice and put in a blender with evaporated milk, and pulse until smooth. Transfer in a measuring cup. You need at least ½ cup of avocado puree in this recipe.
Add a half cup of sweetened condensed milk into your avocado puree and mix well. Taste test, add and adjust according to your taste. Set aside. In a small bowl, prepare at least a cup of crushed graham and set aside.
In a well-chilled bowl and beater, pour your chilled all-purpose cream and whip until double in volume. Add 3-4 scoops of vanilla ice cream and whip again, just until well blended. Pour in half part of your avocado-condensed mixture into the cream and whip until incorporated. Cover the bowl with cling wrap and freeze until needed.
Let's make our Avocado Syrup: Meanwhile, in a small saucepan, pour the remaining avocado-condensed mixture and bring to a soft boil over low heat. Stir continuously until the mixture thickens, and coats the back of your spoon. Fire off, let it cool at room temperature before using.
Now that our avocado syrup is entirely cool take out your avocado soft ice cream. Whip for 15 seconds, to soften the ice cream. Transfer in a piping bag with a nozzle tip of your choice. Or if you want it fast and easy, use an ice cream scoop.
Let's assemble our Avocado Float Supreme: We need four clear plastic cups, preferably 12oz. First, drizzle about a tablespoon of syrup around the sides of your cups and dust it with a little amount of crushed graham and swirl the cup.1st layer: Put a tablespoon of avocado cubes at the bottom, top with ¼ cup of avocado soft serve ice cream. 2nd layer: Top with avocado cubes, a tablespoon of crushed graham and a drizzle of syrup. 3rd layer: Put another ¼ cup of avocado, soft serve ice cream top with avocado cubes, crushed graham and drizzle a generous amount of syrup. Repeat process until done with four plastic cups. Refrigerate for at least 30 minutes, and it's ready to serve and enjoy.
Here's Our Simple Ingredients: A well-chilled All-Purpose Cream, Sweetened Condensed Milk, Fresh ripe Avocados, Vanilla Ce Cream, Crushed Graham and homemade Avocado Syrup. If you don't have an available vanilla ice cream, it's ok, you just leave it.

A mouth-watering, super creamy and rich Avocado Float is done!
This can be your next Negosyo Recipe, I hope you will give this recipe a try. And if you're looking, for a clear plastic cup with a flat or dome lid, you can also find it online at Lazada and Shopee.
Another "Summer Negosyo ideas, you can make this mango float supreme in advance and keep it refrigerated, same with other float recipes this will last for a week. Thanks for visiting guys and have an awesome week. I'll see you in my next post, bye. xo
– oOo –
Because it's summer and the memories are just waiting to happen.