How to make a simple Sweetened Saba Banana with syrup.
Minatamis na Saging Recipe means "Sweetened Banana," it's effortless to prepare and it only requires 4 ingredients to make this. All we need is a ripe saba, brown sugar, water, and vanilla essence. And it takes only a few minutes to simmer the banana in water with sugar until the syrup thickens and banana is cooked through.
Saba Bananas are a sweet and versatile ingredient used in our dishes. It is often used for merienda such as our famous Banana Cue, Turon, Banana Fritters "Maruya," Nilagang Saging and Banana Cake. And it is also used as a side dish and to sweetened some pork recipes and used as a condiment for a cold drink such as Halo-Halo and so on. Saba bananas are always in season, and it's very affordable. Today, I decided that we're going to make Minatamis na Saging. So let's start …
Yield: 3 cups of Minatamis
Ingredients:
5 pcs ripe Saba banana
1½ c water
¾ c brown sugar
1 tsp vanilla extract
½ c cooked sago (optional)
Check out Video Recipe:

Procedure:
Slice Saba Banana (according to size and shape you like.)
Combine water and brown sugar in a pot and stir until sugar is fully dissolved.
Add slice Saba and bring to a simmer for about 20 minutes until syrup thickens.
Fire off, add in vanilla essence and stir.
Add cooked sago if desired, but this is optional and keep refrigerated until needed.
Serve hot or cold and enjoy!
Here's Our Simple Ingredients: Saba Banana, Brown Sugar, Water, Vanilla Extract and cooked small Sago.
Sweetened Saba Bananas are good on its own and mostly served as an afternoon delight of the locals. But during summer time sweetened bananas are used as a condiment for Saba con Yelo, Halo-Halo, and Ginataang Bilo-Bilo. There are other ways of preparing sweetened saba banana, but this is exactly how my Mother cooked for us. I remember, me and my brothers like to mash it and used it as a spread for our pandesal… LOL na try nyo rin ba?, di ba masarap sya. :p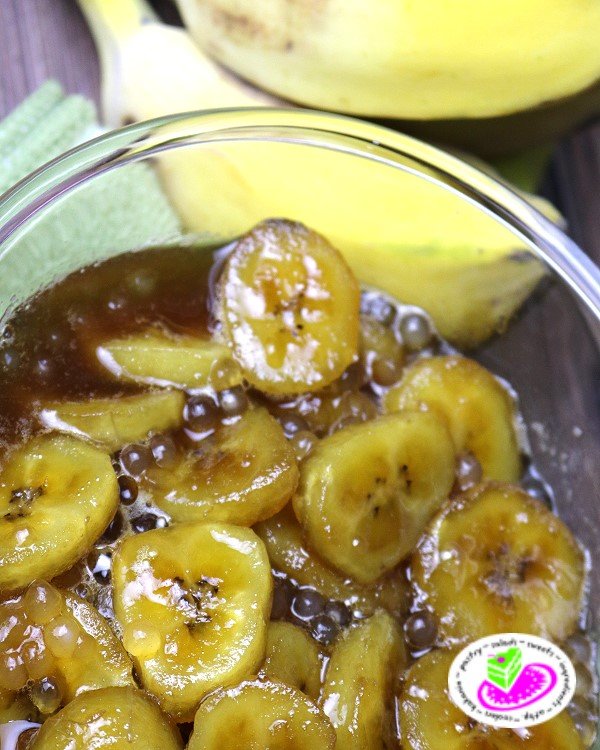 Now that we have a sweetened saba bananas, we're going to level up this a little bit. Next, we're going to make a milky frozen banana dessert. That's it for now, I'm going to prepare some shaved ice and see you on my next post. Have a wonderful and blessed week guys 🙂
– oOo –
I smile because you're my Brother, I laugh because there is nothing you can do about it – LOL