How to make Crema de Fruta Recipe.
Easy-no-Bake Crema de Fruta Recipe – A delightful and popular Filipino dessert "Crema de Fruta". Crema de Fruta is a layered sponge cake or lady finger also known as "Broas" made with a creamy custard filling as "Crema", topped with drained fruit cocktail called"Fruta" and glazed with clear jelly to make it more sophisticated and elegant. A no-bake fruitcake dessert recipe, it's very festive and easy to make.
Serves 12
Crema de Fruta Ingredients:
Cake Layer:
50-60 lady fingers "broas" or sponge cake, sliced
1 can (836 g) fruit cocktail, well drained and syrup reserved
1 kiwi fruit, peeled and sliced
Custard Filling:
1 cup sugar
1/3 cup all-purpose flour
2¼ cups cream or evaporated milk
½ cup water
3 egg yolks
2 tbsp. butter
1 tsp vanilla extract
Jelly Glaze:
2 tbsp unflavoured gelatin powder
1 cup water
Cooking Procedure:
First prepare the custard filling, combine sugar and flour in a large saucepan and mix well. Pour in cream or evaporated milk and water, then stir well until sugar is dissolved. Cook over low heat, stirring continuously until the mixture thickens slightly for approximately 10 minutes. Remove from the heat and add egg yolks, one at a time, whisk well after each addition. Return to the heat and continue cooking and stir continuously until mixture becomes thick and spreadable consistency, about 10-15 minutes. Fire off, stir in butter and vanilla extract. Cover with plastic wrap to prevent the custard cream from scorching and set aside until it cools completely.
Meanwhile, slice the kiwi fruit or any fruit you like to add. Set aside some drained fruits that you want to decorate on the top of your cake later. And the remaining drained fruit cocktail, cut them in half to make it smaller and place in a separate bowl. To prepare the fruit cake I'm using a (12x8x2) glass dish or you can use any similar pans you have or a plastic food container.

Let's assemble, lightly dip lady fingers or cake slices, one at a time, in the reserved fruit cocktail syrup. Arrange soaked lady finger in the pan neatly covering the entire bottom of the pan. Divide the cooled custard cream filling into 3 equal parts. Spread 1 part of custard cream filling onto the first layer of biscuits evenly. Scattered half of the drained fruits on top of the filling.

Again lightly dip the lady fingers in syrup and make the second layer. Spread another custard cream filling onto the biscuits and scatter the drained fruits on top. For the last layer same procedure, biscuit, custard cream filling and the reserved fruits you prepare earlier to decorate on top of your fruit cake. Let it set in a refrigerator while you are preparing for the glaze.
To make the glaze, sprinkle the gelatin powder into a cup of water and stir to dissolve. Bring to boil over low heat for about 2-3 minutes. Fire off, set aside to cool and pour on top of the assembled fruit cake. Leave in a refrigerator for 6 hours or until set, then serve and enjoy.
…..
Custard cream ingredients refined sugar, water, all-purpose flour, milk, egg yolks, vanilla extract and butter.
.
.
Fruit Cocktail, Kiwi Fruit and Lady Fingers also known as "Broas" are a great substitute for sponge cake.
.
I reserved some fruits and arrange them on the board, this will go on the top of my crema de fruta.
.
.
Done with my layering and the custard cream is perfect.
I'm going to refrigerate this for a minute while preparing my jelly glaze.
.
.
My jelly glaze has been cool down and I'm ready to pour onto my chilled cake.
The glaze makes the cake look more elegant .
.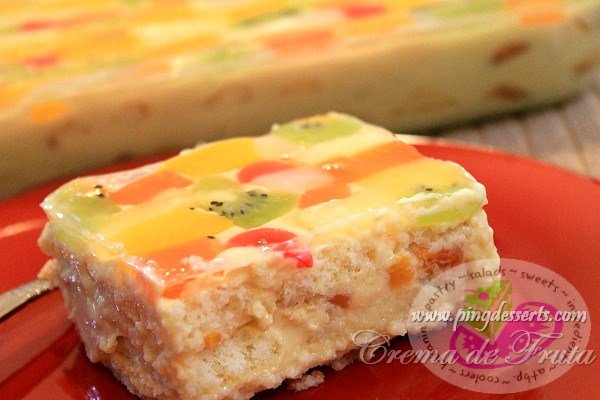 .
After 6 hours in the fridge, its time to slice the cake and enjoy.