How to make a decadent and super moist fudge bars.
No-Bake Revel Bars with Crushed Graham and Marshmallows. This dessert is from our trusted brand M.Y.San Grahams. This was featured as one of their desserts from their new commercial #EasyAsOneTwoTreats. A no-bake revel bars, made with butter, brown sugar, instant oats, crushed graham, melted chocolate and condensed milk. I add mini-mallows in their recipe just to give it a bright contrast and a soft gooey texture. A decadent and super moist revel bars that everyone can enjoy!
Makes: 30-36 mini-bars
Ingredients:
Crust:
1 cup butter
½ cup brown sugar, lightly pack
1¾ cups instant oats
1 200g M.Y. San crushed honey graham
Filling:
1½ cups dark chocolate chips
1 (168ml) sweetened condensed milk
Toppings:
Check out Video Recipe:

Procedure:
Let's Make our Crust: In a large pan, melt butter over low heat and add brown sugar. Stir until the sugar has dissolved, fire off. Add instant oats and crushed graham and mix well, set aside. Prepare a 10×10 baking pan lined with aluminum foil. (If you don't have a 10×10 pan, just use any similar square or rectangle pan). Put at least 2/3's part of your crust into the pan and reserve the 1/3 crust for toppings later. Press the crust mixture into the bottom of your pan evenly. Chill for about 30 minutes to harden the crust.
Let's Make our Chocolate Filling: In a large pan, combine chocolate chips and sweetened condensed milk. Melt chocolate over low heat, stir until becomes a thick chocolate syrup, fire off. Pour this on top of your chilled crust and spread evenly. (You can also tilt the pan to coat the crust.)
Sprinkle mini-marshmallows on top and crumble reserved crust on top and press gently to flatten. Refrigerate revel bar for at least 3 hours until set. (These revel bars really smells so good and it's hard to wait that long 🙂

When it's ready and firm, cut in a desired size. If you're using a 10×10 you can cut it by (1.5 x 1.5) Revel Bites or (2×2) Revel Bars. Yield varies depends on the pan you use and the size of your bars.
Quick and Easy Fudge Bars
To make these yummy bars, all we need is a pack of M.Y. San Crushed Honey Graham, Instant Oats, Butter, Brown Sugar, Dark Chocolate Chips, Sweetened Condensed Milk and Mini-Marshmallows.
You can use any brand of Instant Oats, but please don't use Rolled Oats because it's a no-bake recipe. This recipe needs a cup or 2 sticks of butter. (I used 1 stick of butter guys, and my crust was too dry, so I added another stick of butter. It's better to use Dark Chocolate Chips just to balance the sweetness of our condensed milk. And don't forget to lined your baking pan with foil or baking paper for an easy take out.

Here's a cute Pastry Board Box ( 7 x 5 x 1.5 ) for only P45.00 (5 pieces) at Chefs & Bakers. You can also buy this at Portia Store but their Pastry Boxes comes in (20 pieces/pack). Try to visit Baking Supplies/Stores that are near your location guys, there's so much to see and buy.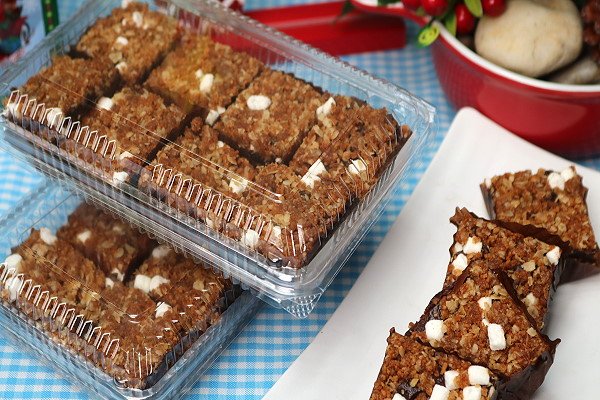 This Pastry Clear View Container that I'm using is great for packing any food items you're selling. I bought this for only P50.00 (10pcs./medium size). This Clear View Container comes in different shapes and sizes.
You can serve this decadent goodies, as a Merienda perfect with hot coffee, for Kid's Baon or a Dessert for Parties & Events. This is also a perfect home/online business idea to add to your list. It's a quick fix dessert to make, this recipe is brought to you by our trusted M.Y. San Graham.
I hope you will try this recipe and have your Love at First Bite Moment to… he he Thanks for visiting guys, and see you on my next post. Have a blessed week and have a nice day everyone 🙂
– oOo –
Nine out of Ten people like Chocolate, the Tenth person always lies.