Quick and Easy Stove-Top- Cake and Cupcakes.
A Classic Vanilla Cupcake with Whipped Cream Frosting and Sprinkles. This cake is very easy and fun to make, we don't need an oven, all we need is a stove, a steamer & a good quality store bought cake mix. Prepare a box of Maya party cupcake mix, add some egg, oil, water and vanilla, then mix and steam over the stove-top. In just a short period of time you will have a moist vanilla cupcakes to serve and enjoy.
Makes: 12 (3oz.)
Ingredients:
Cupcake:
1 box (200g) Maya Party Cupcake Mix
2 tbsp. Canola or vegtable Oil
½ cup Water or Milk
1 med Egg at room temperature
1 tsp. Vanilla extract
Frosting:
½ box (100g) Frosty Whip Cream Powder
1/3 cup Icy Cold Water
1 tsp. Vanilla Extract
2 drops of yellow food color, if desired (optional)
Toppings:
1-2 tbsp. sprinkles (chocolate chips or nuts)
You also Need:
12 pcs cupcake liners (3oz.)
12 pcs. cupcake topper (optional)
Procedure:
Preheat Stove-Top heavy-bottom Casserole or any similar cooking ware over medium heat for about 5 minutes. If using a heavy bottom casserole, put just enough salt to cover the entire bottom to avoid browning the pan and helps stabilize the heat evenly. Place fitted wire rack in the center and cover with a lid. The lid hole should be sealed with a foil so the heat can't escape.

Line muffin tins / silicon molds with same size cupcake liners. (I'm using 2oz. puto molds and a 3oz. liners, different size :D) Mix all ingredients until smooth, at least 25 strokes or less, do not over mix according to package direction. Fill each tins/molds up to 2/3's full or divide the batter into 12 if using 3oz. and 14 if using 2oz. cupcake liners.

Cook the cupcake in a preheated casserole for about 7-8 minutes. Keep an eye of your cupcakes coz' we may have different kinds of stove and the heat varies. To check, insert wooden stick in the center and if comes out clean or a few moist crumbs, its done. Repeat process for the second batch. Fire off and let it cool completely on a wire rack, before frosting.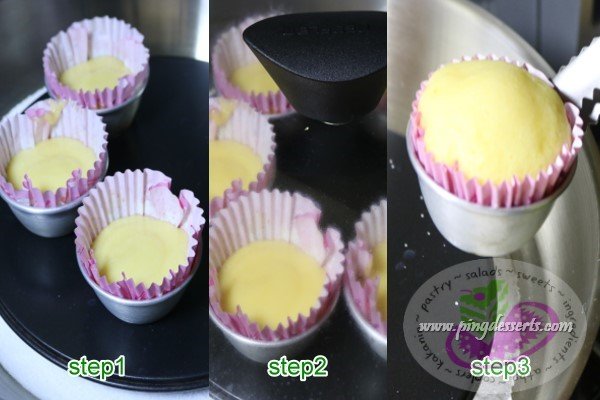 Lets prepare our frosting: I'm using 100g of Frosty Whip Cream Powder that would be ¾cups FWCP and to that we are going to add about 1/3 cup of super cold water. Moistened the cream powder first before whipping. When it's fully whipped and aerated, you can add vanilla extract and yellow food color and mix until well combined. Transfer in a piping bag with your favorite nozzle tip and we are ready to frost.

Let's frost our cupcake, just pipe a good amount of frosting on top of each vanilla cupcake. (Press, Swirl and Release) Top with sprinkles of your choice and a cupcake topper if desired. You can also use chocolate chips, chocolate shavings, crumbled cookies, crushed nuts and etc…
Budget Friendly Party Ideas
This Party Cupcake Mix from Maya Brand is tested and proven and designed for home bakers who wanted to make cakes and cupcakes without an oven. This cake mix is perfect for Oven-Toaster, Stove-Top & Steamer.
I love this yellow cupcake mix because it's cheaper, you can also make small portions of cakes and cupcakes and it's versatile. You can make different flavors using real fruit juice, extracts, flavored fruit powdered. You can also frost with your favorite frosting such as, buttercream, meringue icing or whipped cream.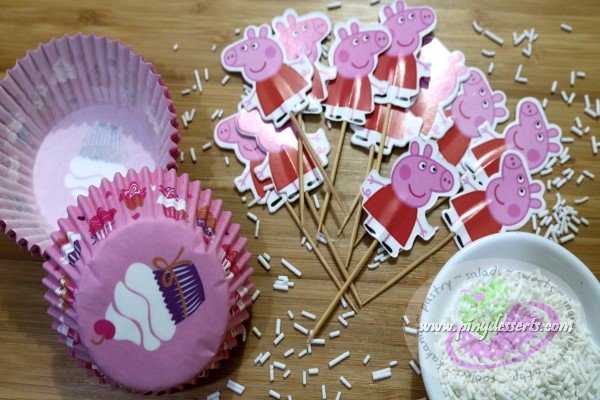 Got some 2 dozen of 3 oz. cupcake liners for only P25.00, / a "Peppa Pig" Cupcake Topper for only P16.50 per dozen, (I haven't seen "Little George", I wanted it to… ha ha) a Blue and White Sprinkle at P10.00 per pack (about 1/4 cup or 4 tbsp. each pack). I used about 1 tbsp. each color.
This Cute Cupcakes are boxed and ready for pick up. A birthday gift to my 11 year old Niece, she's happy and excited when I send her a message that I have baked something for her. Happy, Happy Birthday! To my lovely and cutie pie niece, actually we don't speak much coz' she always got her tongue tied whenever we see face to face 😛 But on msgr its a different story, she's kinda loud and funny too… LOL)
I hope you will try this quick and easy recipe, it is great for party ideas and home business. Thanks for visiting guys and have a nice day, see you on my next post 🙂
– oOo –
" When you are GRATEFUL, fear disappears and ABUNDANCE, appears – Anthony Robbins"