How to make a simple and easy Mango Sago Dessert..
Mango Sago Recipe. This simple and mouth-watering dessert is perfect for any occasions. The combination of unflavored and gelatinous tapioca "sago" with coconut cream, sweetened condensed milk and mango juice is so creamy and delicious. This mango sago dessert is best served when its chilled and top with fresh sweet mango slices and a mint.
I decided to make this dessert since Mangoes are in season, you can find it at any fruits stalls they are fresh, sweet and cheap at the moment. You can buy Sweet Mangoes from Guimaras here at local markets for as low as P120.00 per kilo (I got 4 pieces large mangoes). And the best part is the Vendors are so sweet as their mangoes, LOL. My mangoes are fully ripe and the aroma of sweet mango fills my kitchen, reminds me of Victoria Secret Mango Temptation Perfume that my cousin gave me 🙂
Makes: 12 shot glasses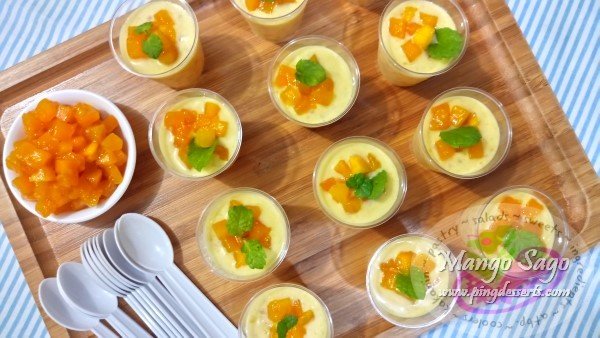 Ingredients:
Base:
1½ cups Cooked Tapioca Pearls "Sago"
Cream:
1 med. Ripe Mango, cubes
½ cup Mango Juice
¼ cup Coconut Cream or All-Purpose Cream
¼ cup Sweetened Condensed Milk
1 tsp. Vanilla Extract
Toppings:
1 med. Ripe Mango, diced
12 pcs. Mint leaves, to decorate (optional)
You also Need:
12 pcs. (2oz.) Shot Glasses or Disposable Shot Glasses
12 pcs. plastic spoons
Procedure:
In a pot, bring 3 cups of water to a boil and add ¾ cups tapioca and stir continuously until translucent and cooked through. Cooking time varies, depends on the size of tapioca pearl you used. For best result, please cook tapioca according to package instructions. Drain and rinse cooked tapioca and set aside.

Wash and Cut Mangoes in halves, slice flesh in cubes and divide into two bowls. One for Toppings and the other one is for your mango cream.
In a blender, combine 1 part of mango cubes, mango juice, cream, sweetened condensed milk and vanilla extract. Pour mango cream into a bowl of tapioca "sago" and mix well, then refrigerate for an hour.
Prepare mini-shot glasses and divide mango sago evenly, top each glass with reserved mangoes and fresh mint leaves. Mango Sago is best served when it is chilled.
Here's our ingredients for Buko Pandan Gelatin:
Tapioca Pearls also know as "Sago" (use the small size and cook according to package direction) Fresh Sweet Mangoes, Coconut Cream or All-purpose Cream, Sweetened Condensed Milk, Mango Juice and Vanilla Extract. You can also top with fresh mint leaves for presentation.
For Party Ideas, with this recipe you can make 12 (2 ounce) shot glasses, just double the recipe if desired. Ingredient Prices: for Tapioca P10.00, Large Mango P30.00, Mango Juice P10.00, All-Purpose Cream P15.00, Condensed Mik P10.00, Vanilla Extract P2.00 (My total cost is only P77.00).
For the Packaging all we need is a dozen of disposable 2oz. shot glasses at P66.00/dozen, plastic spoons at P4.00/dozen and a 9x6x3 box with separator for only P15.00. (My total cost is only P85.00)
You can find all party needs, packaging, baking supplies, ingredients and etc. at any baking stores. I'm glad that here in Bacolod we have Chefs and Bakers located at Lacson Street and Portia Wholesale Store located at Gatuslao Street.
Those are my 2 favorite Stores, that's where I go when I needed something or I feel sad. A place which I called "A heaven on earth" my eyes flirts with beautiful things I see and flickers when the price is high haha.., my heart sings every time I add something to my cart but my pocket felt empty and broke after… LOL Thanks for visiting guys and have a nice day, see you on my next post 🙂
– oOo –
" Laugh Trip, Food Trip is my kinda thing! "