Quick and Easy Infused Water
Strawberry, Cucumber & Mint Infused Water Recipe. A healthy and refreshing fresh fruit and herb infused water that will keep you hydrated all day long. Some studies show that infused water has a lot of health benefits, that boost our immune system, good for dieting, detoxing and all…
Ingredients:
5 medium strawberry, halves
1 cup cucumber, sliced
¼ cup Mint sprigs
1 liter of water ( add water to refill)
Ice cubes
You also Need:
A Pitcher or Large Mason Jars
Prep
First, we need to wash and slice our strawberries and cucumber.
Put them on a large Pitcher or individual Mason Jars.
Add water and ice cubes.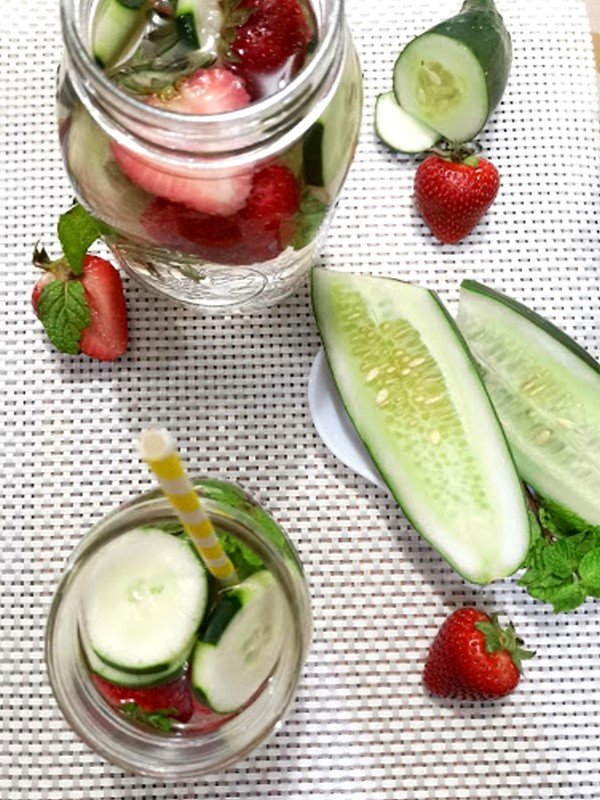 Chill for at least 30 minutes, stir and there you have it.
Refill with water and chill, this will last for up to 8-10 hours.
These Infused-Water looks beautiful and delicious, I can't wait to drink but I need to chill this one first 'coz there's no room for ice cubes… ha ha, hmm I fill it up with lots of water 🙂 😛
.
Actually, I'm not fond of this infused water because I'd rather eat fresh fruits on its own. But when I tried hubby's infused water I noticed that my water intake has doubled. Before I drink 4 glasses of plain water or less in a day, yes, just 4 in a day! That's why I'm always constipated LOL and my skin was so dry. Now I'm glad my water intake increased and I feel more energetic.
I'm not sure if you like this recipe, but I hope you will try it too. Hope to see you on my next post and have a blessed week guys.