How to make Milky Melon Sago Drink Recipe.
A Delicious Milky Melon Sago Drink Recipe. A refreshing sweet milky melon drink to enjoy this summer. This is a popular Filipino pampalamig drink and it is made with fresh shredded melon, evaporated and powdered milk, cold water, sugar, sago and gulaman. A simple combination of fruit & milk drink that you can't resist, kids will surely love this.
Serves : 6
Ingredients:
1 medium Melon, shredded
3 cups cold water
1 cup cooked sago
1 cup red or orange gulaman, diced
1 cup evaporated or fresh milk
2½ cups powdered milk
1 tsp. vanilla extract
5-6 tbsp. sugar, to taste
ice cubes, to serve
Cooking Procedure:
First, we need to wash the melon, cut in half and take off all the seeds. In a large mixing bowl, pour the cold water and add shredded melon. Add cooked sago, diced Gulaman, evaporated and powdered milk and stir vigorously to dissolve the powdered milk completely.
Add a teaspoon of vanilla extract and 5 tablespoons of sugar, adjust the sweetness according to taste.
Divide milky melon drink evenly in 6 individual glasses, add a couple ice in each glass and serve with straw. Serve this drink immediately, remember melon "cantaloupe" tends to taste bitter after an hour or so.
Look at this lovely color and the aroma is so nice and sweet.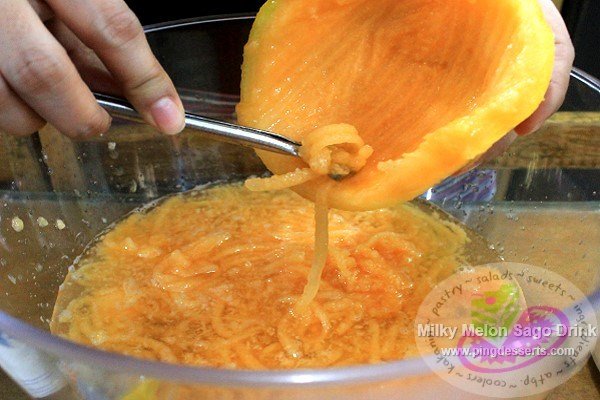 Don't make this ahead of time, the longer it sits in the fridge the more bitter it taste. ( I really don't know why it turns bitter, maybe because of the milk?? or when the melon flesh has been exposed ?? ).
Here's a simple and easy to make Melon Drink, I hope you will give this a try and have a nice day! Oh dear, I just can't wait yum..yum.. (ay may kulang, nasaan ang ice LOL.)