How to make Watermelon & Banana Yogurt Smoothie Recipe.
A Refreshing Watermelon and Banana Yogurt Smoothie. Here's a delicious and a beautiful looking summer drink, you should try this recipe it's very easy to make and super refreshing. This watermelon & banana yogurt smoothie is made with fresh and juicy sweet watermelon, ripe banana, good quality plain yogurt and a sugar. Prepare this drink and enjoy, we have to take advantage of the watermelons while it's in season, it's cheaper guys LOL. And of course let us not forget the benefits of Watermelon it helps us hydrated and having banana and yogurt at the same time helps boost our energy level.
Serves : 4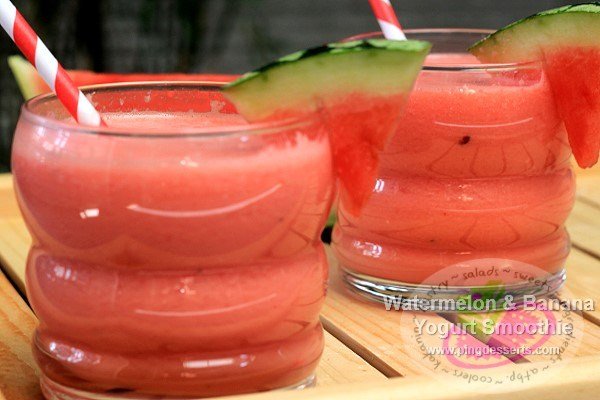 Ingredients:
4 cups Watermelon, (seeded, cubed and frozen)
1 pc. Ripe Banana "Lakatan", (peeled and slice)
1 cup Plain Low Fat Yogurt, (store bought or homemade, chilled)
3 tbsp. Refined Sugar, (or adjust according to your taste)
Procedure:
Wash watermelon and slice it in half and reserve the other half for later use or for another recipe. Take off the seeds from the watermelon and slice/cube into big chunks and place it in a zip bag and freeze until frozen. (The freezing time varies depending on your freezer, so this should be done in advance).
To prepare our smoothie first we need a blender. Combine the frozen watermelon chunks, sliced banana, chilled plain yogurt and sugar in a blender and pulse to blend until smooth. Test the taste of your smoothie and add sugar according to your taste.

Divide smoothies into 4 glasses, decorate with watermelon slices if desired and serve it with a straw.
I want to share this new healthy drink with you guys. Actually, I didn't make this smoothie it was prepared by my partner in crime, LOL. Since, my husband Ed bought a yogurt maker last year, He started making His own yogurt and has been busy experimenting with yogurt recipes lately. He surprises me with this healthy yogurt drink, it's so creamy and I liked it. (Ay! salamat gali sa Honie Pie ko for this drink, muah sa uulitin, LOL).
I hope you will give this a try, so you can share and enjoy with your family and friends. You can store extra smoothie in a clean mason jar with a lid or any similar liquid container and refrigerate to keep them fresh and to avoid contamination. You can also make iced pops out from your leftover smoothie if you prefer.
Have a blessed day everyone!!!