How to make Fruit Popsicle Recipe.
Fruit Popsicle Recipe. Cool down and enjoy this summer with homemade creamy fruit popsicle. Super easy and affordable recipe, a good alternative if you don't have fresh fruits. All you need is a can of Del Monte fruit cocktail, condensed milk, fresh milk and cooked colored sago. This fruit pops look so good and taste even better.
Fruit Popsicle Ingredients:
¼ cup colored Sago, cooked
1 big can (370ml) Fresh or Evaporated Milk
1 sm. can (170ml) Condensed Milk
1 1/2 cups Del Monte Fiesta Fruit Cocktail, drained and reserve syrup
Cooking Procedure:
Drain fruit cocktail in a strainer over a bowl and set aside. Cook sago in fruit cocktail syrup for 3 minutes, pour into a strainer and rinse in running water then let it drain. In a big bowl combine sweetened condensed milk and fresh or evaporated milk.

Combine with fruits and sago and stir until well blended. Ladle the fruit milk mixture almost full into ice drop molder. Freeze until partially set, and insert ice drop stick in the centre, then Freeze overnight..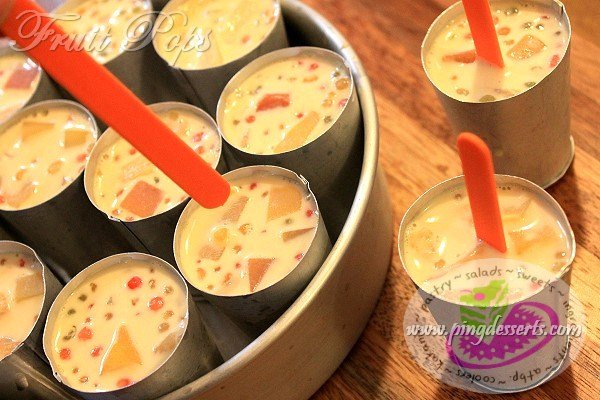 .
To remove, hold a stick and immerse bottom of molder in a bowl of water. Gently pull out the pop from the molder.
.
.
Treat your friends and family with a simple and easy fruit pops.
.