How to make Mango Fudgee Barr Ice Cream Cake, another Negosyo Recipe with Costing
Online selling is popular nowadays. It keeps everyone safe and saves time. So, this is the best opportunity to start an online business. In this video, we will present the Mango Fudgee Barr Ice Cream Cake, including its ingredients and capital.
What's more, you don't need an oven to start this business. All you have to do is to prepare all the ingredients and know its step-by-step preparation.
The ingredients you need are Fudge Barr custard flavor, sweet mango, all-purpose cream, and condensed milk. If you want an alternative cake, you can use a sponge or chiffon, especially if you have a leftover after a day of celebration.
Ingredients and Procedure of Mango Fudgee Barr Ice Cream Cake:

When it comes to mango, make sure the ripeness is perfect to create a delicious and mouth-watering ice cream cake dessert. It will also give a nice texture that will leave everyone who wants more. You need 10 pcs Fudgee Barr Custard for this recipe. Of course, condensed milk and all-purpose milk will give more creaminess to the dessert.
This recipe will make up to 6 servings. We recommend you use a small tub as seen on the video for equal distribution.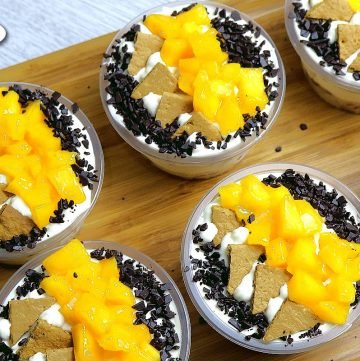 Mango Fudgee Barr Ice Cream Cake Recipe
Mango Fudgee Barr Ice Cream Cake Recipe is a quick and easy Ice Cream Cake dessert. A delicious layers of moist Vanilla-Custard Fudgee Barr with Sweetened Cream topped with diced Mangoes, Chocolate Sprinkles and Graham Crackers.
Ingredients
10

pcs. Fudgee Barr Custard

250

g

All-Purpose Cream

chilled overnight

¼

cup

Condensed Milk

adjust according to your taste
You also Need:
1

Large Sweet Mango

diced for toppings

1

piece

Graham Cracker

cut into small pieces (optional)

2

tbsp.

Chocolate Sprinkles

for (optional)
Instructions
Unwrapped and peel off paper liners of Fudgee Barrs.

Cut Fudgee Barrs into small cubes and set aside.

Wash and dice large mango then set aside. Use a sweet but not overripe mango.
~ Cream Mixture ~
Pour all-purpose cream in a bowl, chilled overnight.

Using a hand mixer, whip over high speed until it doubles in volume.

Chill for 20 minutes and whipped again until fully aerated.

Add condensed milk and whip until well combined.

Note: adjust sweetness according to your taste.
~ Assemble ~
For extra toppings, you can add some chocolate sprinkles and graham crackers (optional).

We need six pieces of disposable plastic cups with a cover lid.

First, arrange a single layer of cake slices at the bottom of each cup.

Flatten the cake lightly to fill in the gaps.

Top with sweetened cream and spread evenly.

Next, top it with diced mango.

Cover with another layer of vanilla-custard Fudgee Barr cake.

Top with another layer of cream and spread evenly.
~ Decorate ~
Top with graham crackers (optional).

Add diced sweet mango.

Finish with some chocolate sprinkles, crushed nuts, or any toppings you like.

Refrigerate for at least 2 hours before serving.
Video
Here's our Mouth-Watering Mango Fudgee Barr Ice Cream Cake, looks yummy!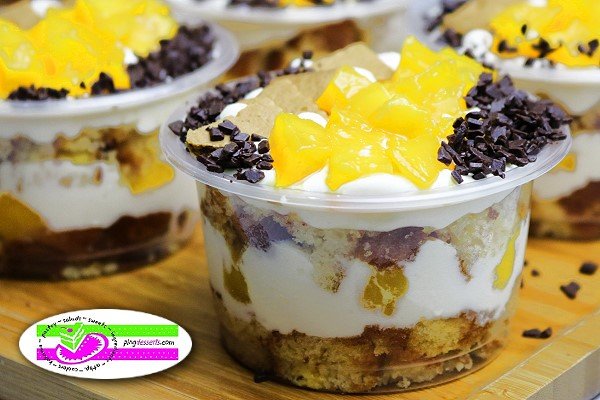 So, here are the ingredients cost for this recipe:
10 pcs. Fudgee Barr Custard P 62.50
250g All-Purpose Cream 58.00
¼ cup Condensed Milk 12.00
1 Large Sweet Mango 40.00
1 piece Graham Cracker 3.50
3 tbsp. Chocolate Sprinkles 12.00
6 pcs. Salad Cups (300ml) 45.00
w/lid & spoon @ 7.50
Misc. (Electricity & etc.) 5.00
===================================
Total Expenses : P 238.00
Our Total Expenses is P 238.00, cost per Cup (300ml) is P 40.00. The Suggested Retail Price P60.00 per cup. Projected Profit P 120.00
Note: Profit depends on your SRP P60.00 to P80.00
You can buy these cups at Shopee or Lazada.
Other Ice Cream Recipes: