How to make a Delicious and Decadent Pepero, Pocky and Pretzel Sticks.
How to Make Pepero for Valentines Recipe. Another Sweet Treats Idea to create, super easy and simple yet look pretty and yummy. A delicious and decadent homemade chocolate dipped Finger Sticks or Pretzel Sticks with toppings. These chocolate sticks, really looks like a Mini- Pepero or Pocky. To make these chocolate sticks, all we need is a good quality of Dark, Milk or White Chocolates, A buttery Finger Sticks or a salty Pretzel Sticks and a topping like sprinkles, nuts, oreos and etc.. All we need is to melt our chocolate, dip our finger sticks or pretzel sticks and add sprinkles. Arrange on a tray and chill until set, and it's done. Place them in a pastry pouch and put it in a fancy box and it's ready to share with your family and friends.
As promised, I'm back with our 2nd DIY Valentine's Recipe! I know that some of you want's to have a new recipe to add in your Negosyo List / Online Business, so here it is guys. I decided to make this Chocolate Dipped Sticks, coz' every time I visit a Japanese or Korean Store, I noticed there's always a specific shelves just for Pepero, Pocky, Lotte, and it has so many flavors to choose from. And there's a trend in YouTube Unboxing Pepero, that's why I find it interesting. So, let's get started. . .
Makes: 10 dozens or 10 boxes of Pepero
Here's Our Simple Ingredients:
A Pack of Finger Sticks Plain, Assorted Dark and White Chocolate Bars, Peanuts, Oreo and Sprinkles.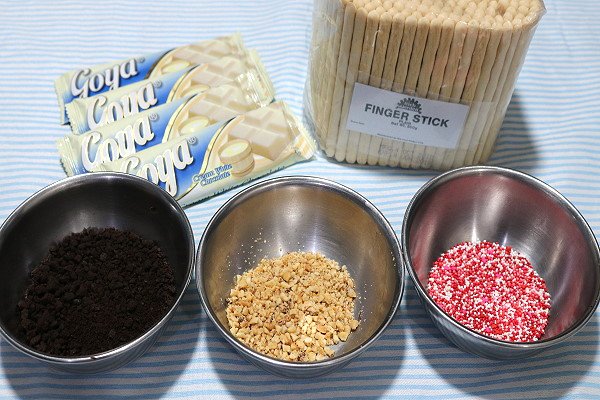 You can also use Pretzel Sticks, if you want. I'm using Goya Chocolate on my DIY recipes, but you can use any brands of chocolate. If you are allergic to nuts, you can replace it with cereals like corn flakes, rice krispies, granola, koko krunch or fruit loops.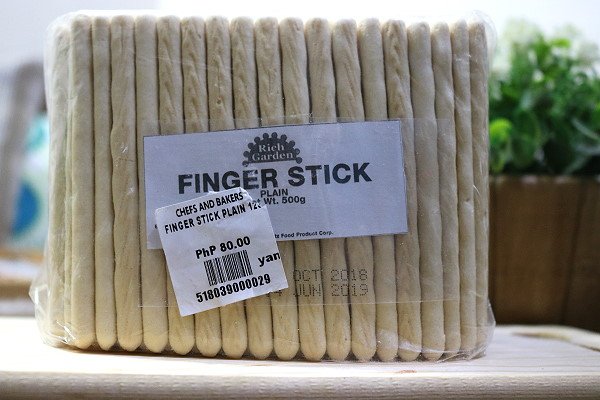 If you're interested in making this Pepero, I bought my Finger Sticks at Chefs and Bakers. 1 pack (500g) for only Php 80.00, I roughly estimated about 200 pieces of sticks in a pack. These Finger Sticks are not too sweet, buttery and it's good, perfect for Pepero recipe.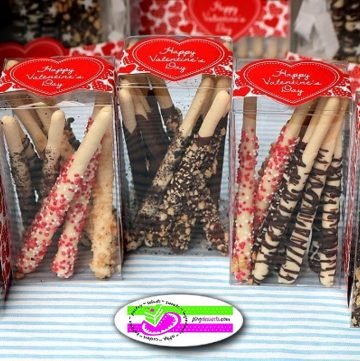 Pepero for Valentines
These easy to make chocolate sticks, really looks like a Mini-Pepero or Pocky a great gift idea for Valentines Day to your love ones.
Ingredients
Chocolate Base:
300g Finger Sticks, Plain

4

35g Dark Chocolate Bar

4

35g White Chocolate Bar
Toppings:
2

tbsp.

red & white sprinkles

3

tbsp.

crushed

peanuts

1

pack crushed

Oreo
You also need:
10

pcs. Box with Pasty Pouch

5x6 or 10 pcs. Acetate Box

10

pcs. Paper Belt or Logo Sticker

optional
Instructions
First, we need to prepare our toppings, crush nuts of your choice as fine like bread crumbs as possible and set aside.

Discard, cream filling of Oreo's and crush it and set aside. If using dried fruits, dice it as tiny as you can.
To Melt the Chocolate:
If you're planning to melt in a double boiler, break your chocolates into small pieces and place it in a heat proof bowl.

Melt over in a slow simmering pot and stir until melted and smooth.

Carefully take it off, from the heat and set aside.

Repeat process if using assorted chocolates.

And if you're using a microwave oven, for the Milk and Dark Chocolate just heat it for 30 seconds, take it off and stir until smooth.

And for the White Chocolate make it 1min. & 30 seconds. (Idk why it takes a little bit longer to melt the white chocolate than the others.

The Milk & Dark melt easily after 30 seconds, but the White doesn't have a clue that it's been in the oven for a minute LOL…)

Do I need to put a little butter or shortening?? Any idea and tips about melting white chocolate guys??
Let's Assemble Our Pepero:
Dip Finger Sticks or Pretzel Sticks individually in melted chocolate, leave at least 1½ inch plain on the other end.

Coat properly and shake off excess melted chocolate. (Warning: Finger Sticks are so light and breakable, so please shake it lightly and patiently.)

Decorate Pepero with your prepared toppings, be generous and creative as you can.

Arrange Pepero on a tray lined with parchment paper and let it set.

Repeat the process and have fun, until you are done with 10 dozen of Pepero.
Video
For the Packaging Idea :
For the Pepero, I didn't use the regular clear view plastic container, coz' Pepero originally packed in beautiful boxes as we all know. If only my printer is working, I can make a personalized design box for this one. So I'm using the White Box with Acetate Cover (6×4.5×1.5), it's (10's/pack) for only Php 65.00. I also use the Acetate Box (5.5×5.5×10), it's (10's/pack) for only Php 65.00.
We also need a Pastry Pouch (5×8), it's (100's/pack) for only Php 75.00 and a Crepe Paper that's Php10.00/piece. I divided the crepe paper in 8 parts and cut it into strings and add it in the box. And lastly, the Paper Belt (20's/pack) got this for only Php 48.00.
And now, My patience gives me a beautiful reward :), look at that! Our Pepero looks awesome guys hehe.. I wish I can taste test these cuties, but I'm having a lot of rashes from food allergies right now :(. But I'm confident enough that this recipe is great and perfect gift for this coming Valentines Day. Another easy-to-make and no-bake recipe to try and earn money from it.
Both Dark and White Melted Chocolates covered at least 8 dozens of Finger Sticks. And I don't want to waste anything so, I mix the remaining leftovers, as you can see in the photo shown at the top. This melted Milk Chocolate covered another 2 1/2 dozens of Finger Sticks but unfortunately, we don't have enough toppings. So, I end up having the Original Pepero, the Plain Chocolate.
Thanks for visiting guys, any comment or suggestions for the next recipe post is highly appreciated. Please let me know what recipe do you like to feature on my next post. Thanks for your time and please check out our YouTube Channel and Subscribe 🙂 I hope to see you on my next post, have a blessed and productive week everyone!
– oOo –
I never make the same mistake twice. I make it like five or six times, you know, just to be sure. – LOL
We also recommend these: