A Quick and Easy to make Buko Pandan Gelatin Dessert Recipe.
This Creamy Buko Pandan Gelatin Dessert is so yummy, super light and not too sweet. Unlike the other buko pandan recipes, this one doesn't need any sweetened condensed milk or cream. All we need is unflavored gelatin or gulaman powder, coconut cream powder, pandan extract, a few drops of green food coloring, water and a sugar.
We are going to make a 2 layer mini-dessert, so we need to prepare a shot glass or a disposable plastic cup / shot glass. (I purchased mine at Chefs & Bakers – Bacolod Branch. So many shapes and sizes to choose from and I wasted so much time on that shelf, idk which one to buy… LOL)
Since this is a 2 layer dessert recipe, we need to prepare our coconut cream gelatin and pandan gelatin separately. It's easy to make, all we need is to mix, stir, bring to a simmer, pour into mini-glasses and let it set completely. Repeat the process for the top layer and there you go… a yummy and creamy buko pandan gelatin shots is ready to serve.
Makes: 12 shot glasses
Ingredients:
Coconut Layer:
1½ cups Water
1 pack (50g) Coconut Milk Powder
1 box (90g) Alsa Gulaman, unflavored
3 tbsp. Sugar
Pandan Layer:
1½ cups Water
1 box (90g) Alsa Gulaman, unflavored
3 tbsp. Sugar
2 tsps. Buko Pandan Extract
You also Need:
12 pcs. (2oz.) Shot Glasses or Disposable Shot Glasses
12 pcs. Pandan Leaves, trimmed for decorating (optional)
Procedure:
First, we need to make the Coconut Cream Layer. In a medium pot, combine water and coconut milk powder. Mix until coconut powder is free from lumps and turn flame on a low heat. Add in sugar, gelatin powder and stir until fully dissolved. Bring mixture to a simmer (don't let it boil) and fire off. And transfer into a large measuring cup and keep on stirring until it cools down a little bit.

I prefer to use a liquid measuring cup for this because it's so easy to divide and pour the mixture into tiny glasses. But if you're not planning on making shots, you can pour the mixture all at once into your gelatin mold. (Hey you!, yes, you :D, don't ever think using a funnel or you'll end up in a FunChannel… LOL)
Meanwhile, prepare your shot glasses with pandan leaves and set aside. You can fill glasses the way you like, (Mine, I tilt the glass and I use some puto molds to hold my glasses, you can also use an egg tray for this). Divide coconut cream into 12 shot glasses, try to fill each one neatly and evenly. Let it cool down at room temperature and refrigerate for at least 25 minutes or until completely set.
Lets make our Pandan Layer. In the same pot we used earlier, combine gelatin powder, water, sugar and pandan extract and stir until fully dissolved. Turn the fire on low heat and stir until it simmer and fire off. Transfer in a large measuring cup and set aside to cool down a little bit. Divide pandan mixture into each glass on top of your coconut layer. Refrigerate and let it set before serving.
Here's our ingredients for Buko Pandan Gelatin:
2 boxes of Unflavored Alsa Gulaman or Gelatin Powder of your choice (follow package instructions), Coconut Cream Powder or canned Coconut Cream, Pandan Extract, Water and Sugar.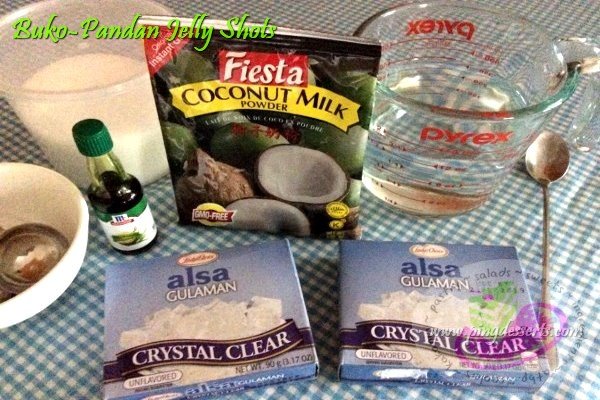 What I like about this mini-gelatin desserts aside from being affordable and fun to prepare, you can make this a day in advance. Gelatin Shots also last for a week in a fridge as long as you store it properly, but I highly recommend to consume this not more than 3 days because coconut cream spoils easily.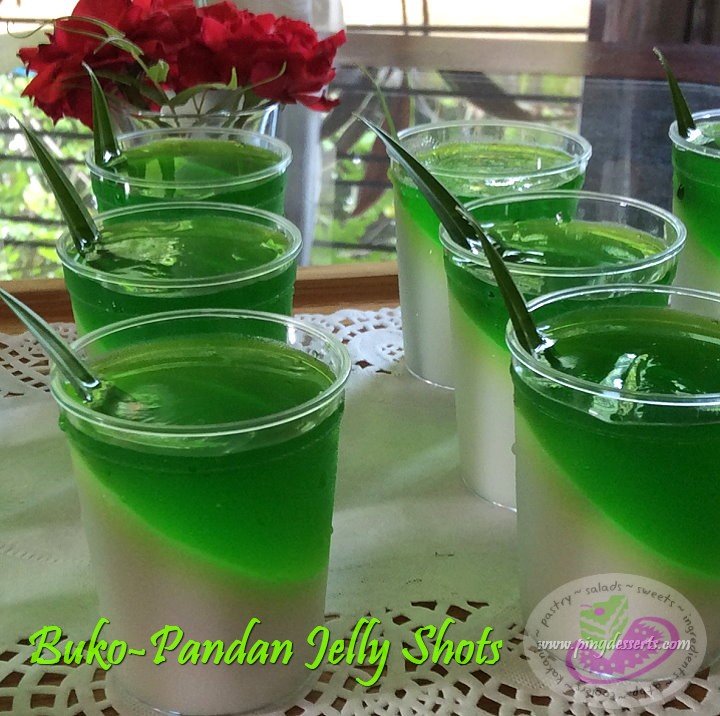 This two-layer gelatin dessert looks great, it's a cool centerpiece especially for Kids' birthday parties and also perfect for any occasions. I hope you will try this simple gelatin dessert and for sure I'll be posting another mini-shot glass desserts soon. Thanks for visiting guys and have a nice day, see you on my next post 🙂
– oOo –
" A heart that reaches out with LOVE can heal a soul, and change a life."