How to make delicious and creamy Avocado Ice Cream without an ice cream machine.
Avocado Ice Cream Recipe is a perfect and simple avocado homemade ice cream recipe, so please don't throw your overripe avocados because we can turn them into a delightful summer treat. This Avocado ice cream is made with all-purpose cream, sweetened condensed milk, salt, citrus juice, and rich avocados.
The texture of our ice cream is super smooth and creamy because the avocado has a high-fat content. To make your avocado ice cream look bright in color, we need to add some citrus juice to prevent the avocado flesh from browning and food coloring to get your desired green color, but this is optional.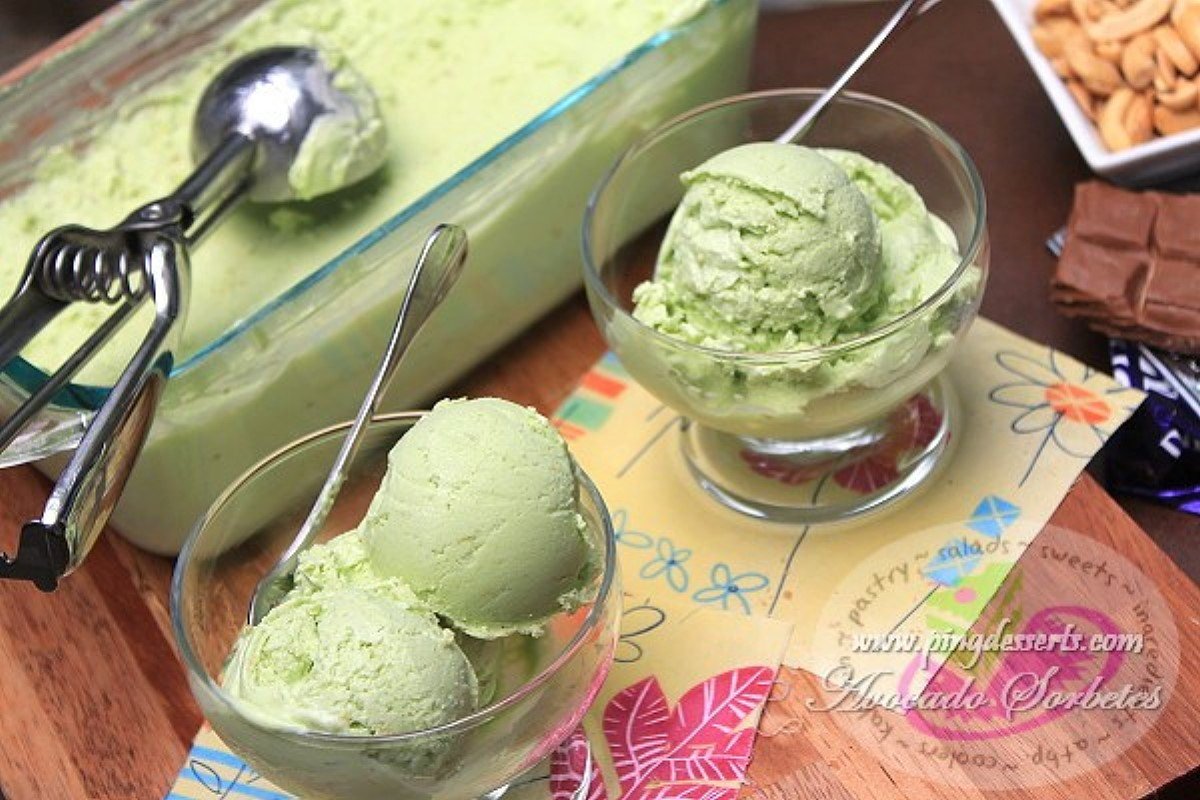 Ingredients and How to make Avocado Ice Cream:
Here's our 5 simple ingredients: All-Purpose Cream, Condensed Milk, Avocado, Calamansi and Salt.
This fruit is so good that can be eaten as it is no need to add sugar or anything. Actually avocado is not sweet, but rich and creamy, a perfect fruit to use for milkshakes, desserts, dips and even savory dish.
Avocado Ice Cream Recipe
This Avocado Ice Cream Recipe is packed with delicious avocado flavor. It's also incredibly easy to make — no ice cream make required.
Ingredients
2

pcs

Ripe Avocados, mashed or scooped

1

tbsp.

calamansi juice or any citrus

2

packs

250ml nestle cream, well chilled

½

cup

sweetened condensed milk

A pinch of salt

green food coloring (optional)

Cashews, roughly chopped for toppings (optional)

Chocolate Syrup (optional)
Instructions
To prepare the ice cream, wash avocados and slice, then discard the pit.

Scrape the avocado flesh using a teaspoon or a shred peeler, place it on the desired pan, and add the calamansi juice.

Add in 2 packs (@250ml) chilled nestle cream, a half cup of sweetened condensed milk, and a pinch of salt.

Mix the avocado with an electric mixer until smooth and incorporated.

Taste test the avocado mixture. If you wish to be a little bit sweeter, add a bit more from the remaining sweetened condensed milk and mix until well blended. You can do it manually with a whisk if you want, but I find it easy and fast using a hand mixer.

Cover with a lid, plastic, or anything and freeze until partially set for about an hour or less. Take off from the freezer and remix it with the electric mixer until smooth, cover and freeze for another hour. Again, please do it for the last time, then...

Place in the freezer until firm about 4 hours or overnight.
Video
Check out our 3 Ingredient version of Avocado Ice Cream
You can serve plain avocado ice cream like this if you want pure rich avocado flavor.


Or you can serve Avocado Ice Cream more delightful, by adding cashews for crunchy texture and a drizzle of chocolate syrup on top, promise its surprisingly good and addicting. .
Ice Cream Recipes: