How to make easy-to-prepare Fruity Maja Blanca.
Fruity Maja Blanca. The classic maja blanca is originally made from only three simple ingredients fresh cocomut milk, cornstarch and sugar. As time passes by, cooks are becoming more creative and inventive in the kitchen and eventually come up with different versions. There's Maja Blanca with crushed peanuts, Maja Blanca Mais, and many more. And today, I'm excited to tell you that I am going to try this beautiful and luscious maja blanca recipe that I got from Del Monte Kitchenomics. It's time to set aside my favorite maja blanca recipe and try this new festive fruity maja blanca for a change. Fruity Maja Blanca is made with the same ingredients as the original and added a few more ingredients such as fruit cocktail, coconut strings, pandan essence and replace the sugar with sweetened condensed milk to make it extra creamy. So let's begin and see how this recipe goes 🙂
Serves : 12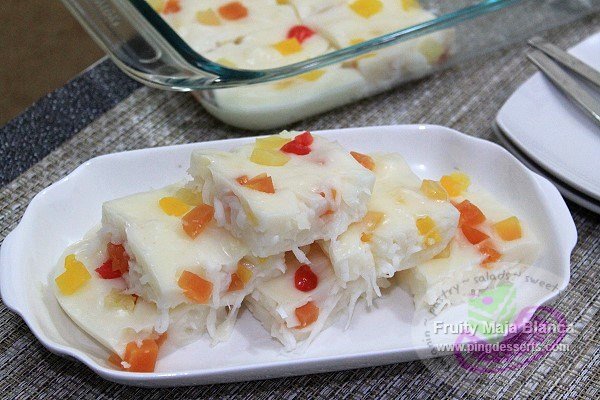 Ingredients:
1 can Fruit Cocktail, drained & reserved syrup
1 young coconut, shredded & juice reserved
2/3 cup cornstarch
1½ cups coconut juice (buko water)
1/2 cup fruit syrup
1 tsp. clear pandan extract (optional)
1 cup coconut milk
1/2 cup sweetened condensed milk
Cooking Procedure:
Drain fruit cocktail and reserved the syrup, all we need is a cup of fruits and a half cup of fruit syrup. Store extra fruit and syrup in a container and store in the fridge for later use. In a saucepan, dilute cornstarch into the coconut juice and fruit syrup. Mix thoroughly until cornstarch are fully dissolved.
Bring the mixture into simmer over low heat, stirring continuously until it thickens for about 8-10 minutes. Add coconut strings and ¾'s cup of fruit cocktail and stir for another 5 minutes. Add in coconut milk and sweetened condensed milk and cook for another 15 minutes until becomes sticky and shiny.

Fire off, transfer the mixture into an 8×8 dish or any similar container and flatten evenly. While it's still hot, sprinkle the remaining ¼ cup of fruits and press slightly into the maja. Let it cool at slightly and refrigerate for at least an hour before cutting. Serve your Fruity Maja Blanca and enjoy! (I didn't wait enough for my maja blanca to set completely, so look at my slices coconut strings are sticking out LOL)
Here's our simple ingredients:
Coconut Milk, Cornstarch, Coconut Water, Fruit Syrup, Sweetened Condensed Milk, Clear Pandan Essence, Fruit Cocktail & Young Coconut strings. (You can also use canned coconut milk)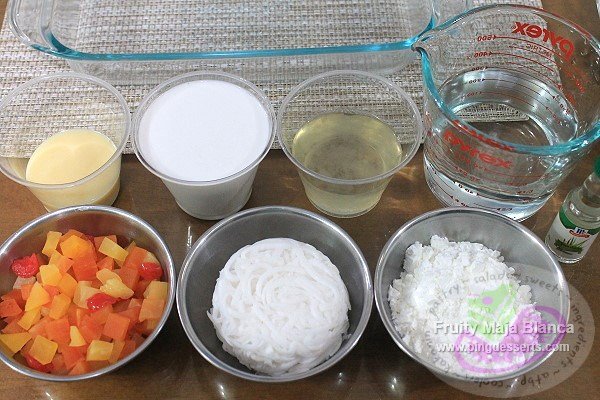 A popular and well-loved kakanin called "Maja Blanca", in other Asian countries they call it "Coconut Pudding". Maja Blanca are often served as merienda rather than a dessert.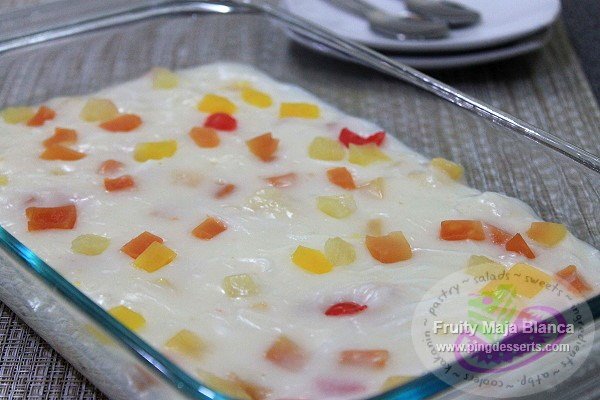 Btw, if you're planning on making this recipe be sure that you're going to consume this on the same day. Coconut milk tends to spoil easily when left at room temperature for more than 6 hours. You can also store them in the fridge, but it won't last for a couple days.