How to make Turon Recipe.
Turon Recipe. Turon is one of the bestseller, street food snacks here in the Philippines. It's made from ripe banana "Saba" with Jackfruit strips wrapped in "Lumpia" Spring Rolls wrapper. Deep fried and coated with caramelized brown sugar similar to Banana Que and Camote Que. It is easy to make and so affordable.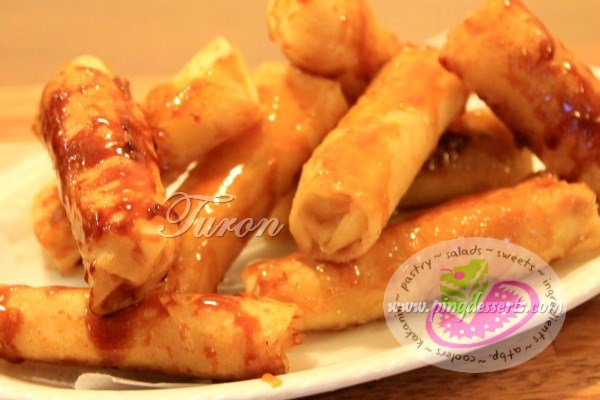 Turon Ingredients:
6 big ripe Saba (plantain), peeled and halves
½ cup fresh jackfruit, strips
½ cup packed brown sugar
12

pcs

.

Lumpia

or Spring Roll wrapper
1/8

cup

water for sealing
1 cup oil, for frying
2 tbsp.

toasted

sesame seeds, (optional)
Turon Procedure:
Wash banana, peeled and cut into halves, then cut jackfruit into strips and set aside. Prepare "Lumpia" Spring Rolls wrapper, sugar and water in a clean chopping board. To assemble place 1 wrapper then put 2 halves of banana, insert a strips of jackfruit in between and lightly sprinkle a teaspoon of brown sugar. Then fold both ends of the wrapper and roll from top to bottom and brush with a little water on the edge to seal. Repeat procedure until all bananas wrapped. Chill banana rolls in a freezer for 5 minutes.
Heat the oil in a frying pan on a medium heat. Fry

turon

by batches until crispy and light golden brown repeat until done. Turn the heat on low, in the same pan put the remaining brown sugar in the hot oil and let it melt for a second. Put back

turon

in a pan, mix to coat evenly and sprinkle with toasted sesame seeds if using then place on a serving plate and serve warm.
…..
My sweet, crunchy and piping hot mini-Turons…. Well it's a snack time for me 🙂
Note: Don't forget to turn the heat on low to avoid sugar from burning or you'll end up with a bitter Turon.