How to make Cream Cheese Fruit Salad Recipe.
Cream Cheese Fruit Salad Recipe. A delicious tropical cream cheese salad recipe to try and enjoy. The combination of cream cheese, mandarin oranges and other tropical fruits is a mouth-watering salad. This salad has a well-balanced of sweet, salty, tangy, crunchy and creamy goodness in every bite. This salad will be your next favourite dessert to put on your table in every occasion.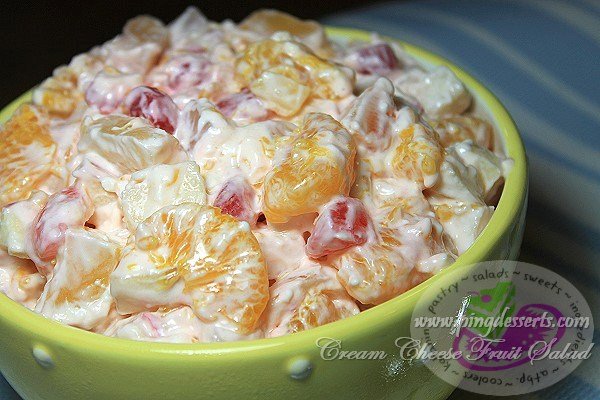 Cream Cheese Fruit Salad Ingredients:
1 box (250ml) Nestle All-Purpose Cream, chilled
4 tbsp. caster sugar
1 box (8oz.) cream cheese, at room temp.
1 can (836g) Fruit Cocktail, drained
1 can (227g) Pineapple chunks, drained
2 cups Mandarin Oranges, drained
2 med. apples, cored and cubed
1 med. pear, cored and cubed
¼ cup red kaong, drained (optional)
¼ cup cheese, diced (optional)
Cooking Procedure:
Open all canned fruits and drain the juices well, set aside or refrigerate until needed. In a cold stainless bowl, whip the chilled all-purpose cream with caster sugar until double in size and smooth. In a serving dish whip the thawed cream cheese until light and smooth.
Add the whipped cream and whisk on low speed just to blend well. Refrigerate the cream mixture; while preparing your apples and pears. Wash, core and dice the apples and pears. Slice the cheddar cheese as small as a corn kernel if you are using one.

Rinse and drained red kaong or you can use bottled cherries if you prefer. Red Kaong is a great alternative for cherries, it gives a pretty colour and texture of your dessert and a great alternative to save extra money. Combine all ingredients and mix well until all fruits are evenly coated with the cream mixture.
Refrigerate cream cheese fruit salad for a couple hours before serving.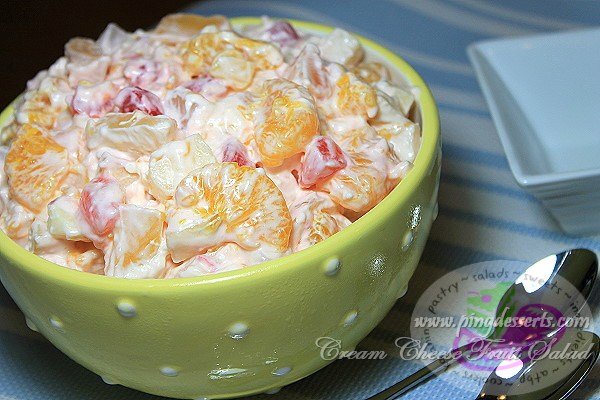 .
The salad texture are great from the crunchiness of apple and pears, refreshing citrus flavors from mandarin oranges and pineapple chunks that cuts the sweetness of papaya and red kaong. A creamy, salty goodness of cheddar cheese, cream cheese and whipped cream dressing, I don't mind licking my bowl, soooo good!!!

This salad is perfectly delicious, a must try recipe!