How to make Chocnut Steamed Pudding Recipe.
Chocnut Steamed Pudding Recipe. Another simple and easy to make chocnut pudding recipe. This steamed pudding is so light, spongy, not too sweet and the chocnut bar gives a classic Pinoy cocoa pudding flavored. This pudding is made of sliced leftover bread soaked in eggs, milk, sugar, butter, vanilla with chocnut bars and steamed for half hour until becomes fluffy and spongy.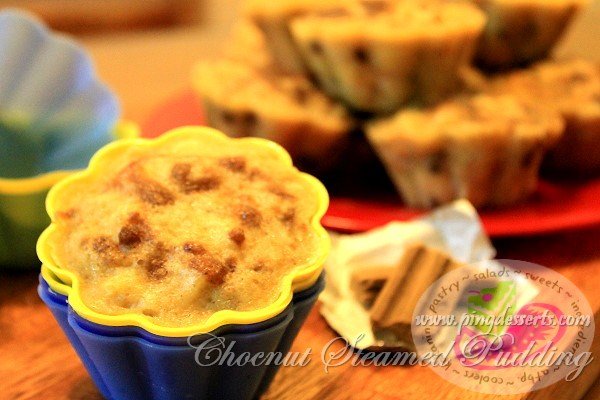 Chocnut Steamed Pudding Ingredients:
3 cups bread, cubes
1/3 cup sugar
½ cup butter, room temp or melted
4 eggs
2 tsp. vanilla extract
¾ cup all-purpose flour, sifted
1 tsp. baking soda
¾ cup milk
12 pcs. Chocnut or Choccolatt or choco chips, crumbled and 4pcs. extra for topping

1 tbsp. butter or oil, for brushing if using ramekins
Cooking Procedure:
Preheat steamer on low heat. Begin by greasing 6 ramekins with oil or butter. If you don't have ramekins you can use silicon cups or any tins you have. Slice the bread into ½ inch cubes and divide into molds or tins evenly and set aside. In a bowl, cream together butter and sugar until light. Add the eggs one at a time continue whisking and add the vanilla extract.
Gradually add sifted all-purpose flour with baking soda and whisk to combine. Lastly, pour the milk and crumbled chocnut and whisk again until well blended. Using a ladle pour batter mixture onto the molds or tins and tap the mold gently on a flat surface to let the batter fill the bottom. Let it rest for 5 minutes to soak the bread.
Place the pudding carefully in a preheated steamer and steam for 30 minutes. Cover with clean cloth under the lid, this will prevent your pudding from being soggy. When pudding turns soft and it springs back when you touch it is completely done. Fire off your steamer and take out the pudding and let it rest for a couple minutes before taking off from the molds.
Serve warm or at room temperature and top with extra crumbled chocnut or choccolatt on top before serving.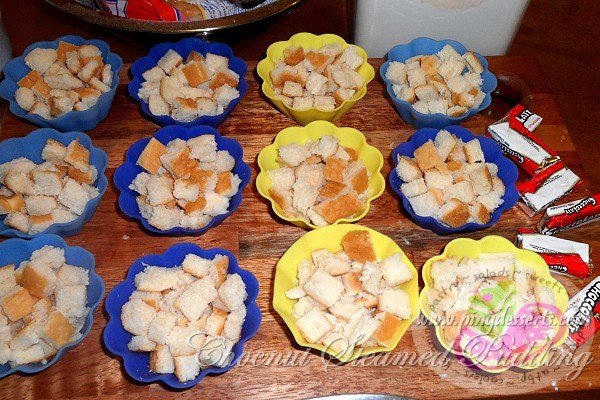 .
A great and easy-way to prepare leftover breads and turn into something delightful and tasty. This recipe yields a dozen of steamed pudding (3oz.) or yields 8 pieces if you are using a regular ramekins.
This steamed pudding is so versatile, you can use any chocolate you like and you can also add some raisins, dried fruits and any kind of nuts you want. Try this quick and easy pudding recipe and have fun experimenting with your favorite flavor combination.
A delicious steamed pudding to prepare for mid-afternoon merienda, serve with cold drinks and enjoy with your friends. This is also great for breakfast serve with a cup of coffee.