How to make Biko na Pirurutong Recipe.
Biko na Pirurutong Recipe. Biko na Pirurutong is another variation of a traditional Filipino Suman. This biko na pirurutong is a combination of white and violet sweet sticky rice, steamed with grated fresh ginger and salt, then simmered in homemade coconut caramel syrup and top with chewy fried coconut bits called "Latik". This biko is perfect, the combination of creamy coconut, sweet dark brown sugar, spicy ginger, salt and zesty calamansi is superb.
Biko na Pirurutong Ingredients:
1 cup violet glutinous rice, soaked overnight
2 cups white glutinous rice
3 cups water
1½ tsp. iodized salt
1½ tsp. fresh ginger, finely chopped
2 cups coconut milk
2 cups brown or muscovado sugar
1 tsp. calamansi zest, finely chopped
Banana leaves, optional
Oil for brushing the leaves
For Latik: (follow this procedure)
2 cups coconut milk or 1 can coconut milk, for toppings
Cooking Procedure:
In advance soak violet glutinous rice for about 8 hours or overnight. In a large pot combine soaked violet rice and regular white glutinous rice, wash and rinse the rice. Cook the rice in 3 cups of water, salt and grated ginger and mix well to combine and dissolved the salt. Cook the rice in a medium heat until almost done, do not over cooked. When it's done, fire off and open the lid to cool down the rice a little bit.
Meanwhile, In a large deep pan heat 2 cups of coconut milk, brown or muscovado sugar and calamansi zest. Stir until the sugar dissolves and bring to simmer over a low heat until the coconut caramel becomes thick. Add in the cooked sticky rice over the coconut caramel syrup. Mix and blend well with a wooden spoon until the rice has cooked thoroughly and the syrup has been absorbed. You know it's done when you stir the rice and you can see the bottom of the pan. It should be slightly moist, turn off the heat and transfer in a prepared greased banana leaf.
Lastly, prepare your Latik toppings by simply simmer the remaining coconut milk in a saucepan over medium heat. When the coconut milk starts to separate from the coconut oil turn the heat to low and let it simmer and stir lightly until coconut curd forms. Cook until the coconut curd turns into golden brown. Drain on paper towel and sprinkle the latik on top of your biko na pirurutong and serve.
Soaked Violet Glutinous Rice, White Glutinous Rice, freshly squeezed Coconut Milk and Brown Sugar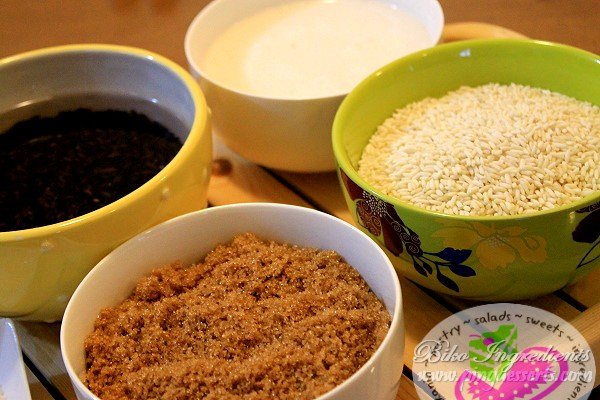 .
Fresh grated ginger, iodized salt and calamansi zest are the secret ingredients to make a perfect Biko.
Biko and other kakanin can be eaten and serve anytime of a day. Very simple, the ingredients are so affordable and easy to prepare a great kakanin to serve at fiesta's and other occasions.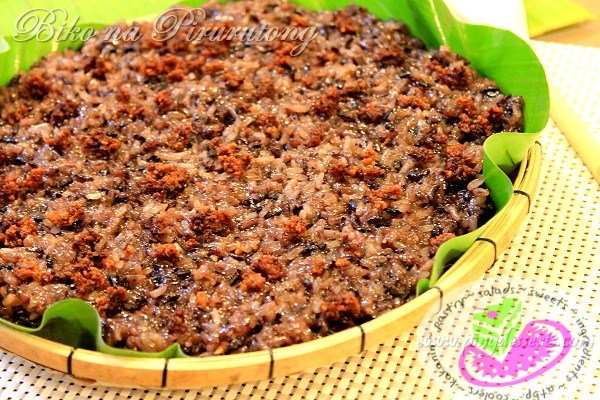 Actually this popular Biko recipe is often prepared and enjoyed during all saints and all souls day.