How to make Ham and Cheese Empanada Recipe.
Baked Ham and Cheese Empanada Recipe. Baked Ham and Cheese Empanada Recipe, another delicious and tasty version of empanada. This recipe is made of ham, cheddar cheese, onions, bell pepper, potatoes, herbs and seasoning. A good Empanada should be tasty, flaky and a well puff dough. Empanadas can be deep-fried or baked depends on the dough you are using. In this recipe we are using a dough recipe that needs to be bake.
Ham and Cheese Empanada Ingredients:
Ham Filling:
1 small onion, finely diced
1 small bell pepper, finely diced
1½ cups potato, peeled, soaked and diced
1/2 cups water or vegetable stock
2 cups ham, roughly diced
1 tbsp. flour (optional)
1 cup cheddar cheese, shredded
1 tsp. dried basil
½ tsp. dried oregano (optional)
salt and pepper to taste
Empanada Dough:
3 cups all-purpose flour
1 tsp baking powder
1 tsp. salt
4 tbsp. sugar
½ cup butter or margarine, chilled & cubes
½ cup vegetable shortening, chilled
6-7 tbsp. icy cold water
1 egg, beaten for egg wash
Cooking Procedure:
In a large saucepan heat the oil, saute onions and bell pepper until translucent. Add in the potatoes and saute for 2 minutes. Add water and cover the saucepan with a lid and let it simmer until potatoes are cooked and the water almost evaporates. Add in the sliced ham, dried herbs, salt and pepper, stir to mix all ingredients. Add in 1 tablespoon flour stir until the mixture becomes sticky and moist. Taste the filling if it calls for more salt or seasoning, then just add according to your taste. Fire off, fold in the grated cheese and mix well to combine. Transfer to a bowl and let it cool completely, then set aside.
Meanwhile, prepare the crust sift flour, baking powder, salt and sugar together in a bowl. Add in chilled and cubes butter and vegetable shortening. Using a fork or hand pinch together until forms a crumb. Add icy cold water 1 tablespoon at a time and mix well. Knead the dough for 3 minutes and form a ball. Let it rest for 15 minutes before using.
Roll out dough on a floured surface and cut dough into your desired size, using empanada cutter or a big round cookie cutter. Place ham filling in the center and fold dough over to the opposite side. Use an empanada cutter if you have one to make it fast and easy. Or you can do it manually by crimping the dough with fork or with your fingers to seal the edges and repeat procedure until done.
Arrange ham and cheese empanadas on a baking tray, prick each empanada with fork and brush with egg wash. Bake in a preheated oven 375F, for about 30-35 minutes or until lightly brown. Time varies depend on the size of your empanada.
Ham and Cheese Ingredients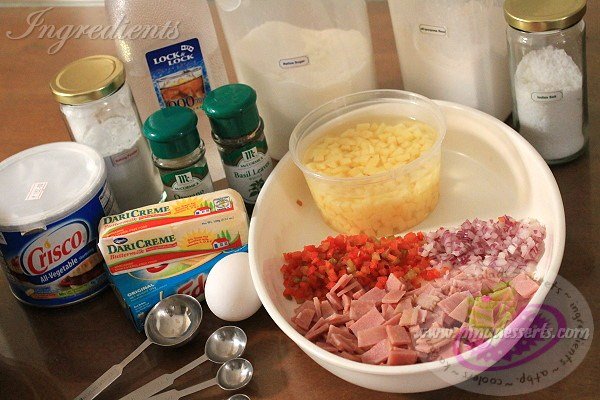 .
What I like about Empanada is that you can fill it up with just anything you like, so try to create your own empanada filler according to your favourites such as spicy tuna filling, shrimp and corn, beef and mushroom, vegetable with egg and etc…
.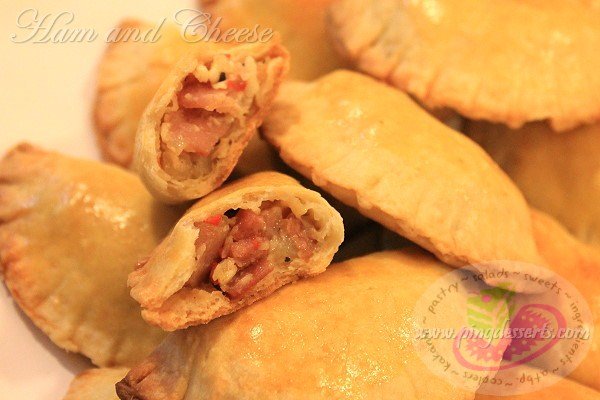 .
This cheesy empanada recipe is a big hit for party snacks, kids surely love cheese, potatoes and ham.
This recipe makes 16 large Empanadas.
.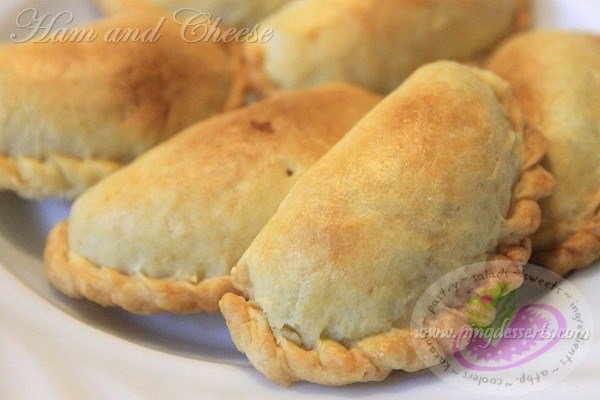 My handmade Ham and Cheese Empanada
.
.
My beautiful handy empanada cutters, these little helpers are so cheap and easy to use. Those big and medium size cutters I usually use for my savoury empanadas and the smaller one I used in my sweet tarts.