How to make Doughnut Recipe.
Tasty Filipino Doughnuts Recipe. Doughnuts or donuts, which one is it? Well, no matter what the spelling is, a lot of people enjoy every single bite of it. This is simply because the Filipino doughnut recipe is made with lots of love, patience, fun and a mountain of mess. No wonder it is well-loved by kids, teenagers and even adults. In addition, most people usually include the Filipino doughnut recipe in their list of all-time favorite snacks. A quick and easy way to make some donuts at the comfort of your home. Adapted recipe from Home-Base Business Ideas.
Doughnut Ingredients:
250 ml warm water
1 tbsp.

instant

yeast
½ tsp.

salt

1/3 cup white sugar
4 cups bread flour
1/8 cup vegetable shortening
2 cups cooking oil, for frying
Glaze and Sprinkles, to decorate
Icing sugar:
1 cup icing sugar
1/8 cup powdered milk
1/8

cup

water
1/2 tsp.

orange

extract (optional)
Color food gel, (optional)
Ganache:
1/2 cup semi-sweet chocolate chips
1/2 cup cream or milk
1 tbsp.

butter

or canola oil
Cooking Procedure:
To make a dough, sift the bread flour and salt in a large bowl and make a well in the center and set aside. In another bowl mix warm water, instant yeast and white sugar, stir and let stand to activate the yeast. Pour in the yeast mixture into the flour and mix from the center until everything is mixed. Transfer dough on a clean flat surface, dusted with flour and knead the dough. Add vegetable shortening while continuously kneading the dough until becomes smooth and no longer sticky. You can also use a stand mixer if you have one. After kneading, set aside the dough in a bowl covered with plastic wrap for 30 minutes until has risen.
Meanwhile, prepare icing sugar by mixing icing sugar, powdered milk and add water gradually. Whisk mixture until the consistency is similar to a condensed milk, then add orange essence and food coloring if using one. If you want a Ganache, heat half cup of cream or milk in a saucepan then pour into a bowl with half cup of semi-sweet chocolate chips. Whisk until chocolate melts then add in butter or oil to make your

ganache

looks glossy.

After the dough has risen, sprinkle flour lightly on clean surface and on the dough as well. Flatten the dough with a rolling pin until half inch thick. Cut the dough using a doughnut cutter or a round cookie cutter uses the bigger one for the size and the smaller one for the hole in the center. Place and arrange doughnuts on a tray and prick with a fork to avoid doughnuts from swelling during frying.
Set aside the dough and give another 30 minutes and allow it to expand a little bit. Pour in the cooking oil into a pan until it's hot. Fry doughnuts by batches to avoid dough from sticking to each other, until golden brown and flip them over to cook both sides. Drip off excess oil from the doughnut before putting your glaze.
.
.
For a simple doughnut, sprinkle with a regular white sugar. For white frost, dip in a prepared icing sugar and decorate with sprinkles candy. For a decadent doughnut, dip in a prepared

ganache

and decorate with sprinkles candies on top.
.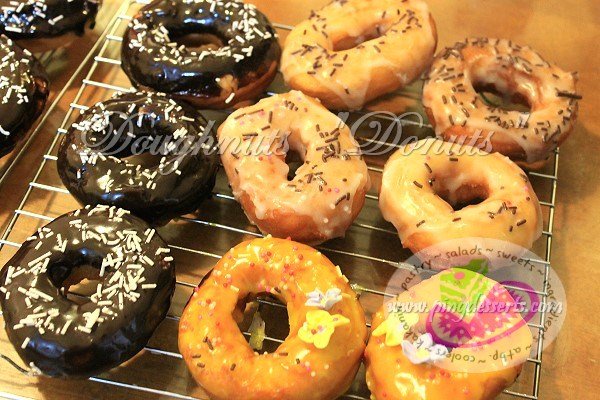 .
A delicious, and beautiful doughnuts with fancy adornments that makes it more appetizing and of course you get a superb taste of it. You can pack them in a nice box and sell

this donuts

or you can make this as a gift to your family and friends.
.