How to make Sponge Cake Recipe.
Moist Sponge Cake Recipe. Sponge Cake is a classic and very popular Filipino cake dessert, also known as yellow soft cake. A buttery, soft and moist yellow cake, easy to baked so light and perfectly good. An all time favourite sponge cake that can be used in creating delicious party cakes, a mini-frosted cake or any desserts. This sponge cake is very versatile, you can use any kinds of filling and frosting you like.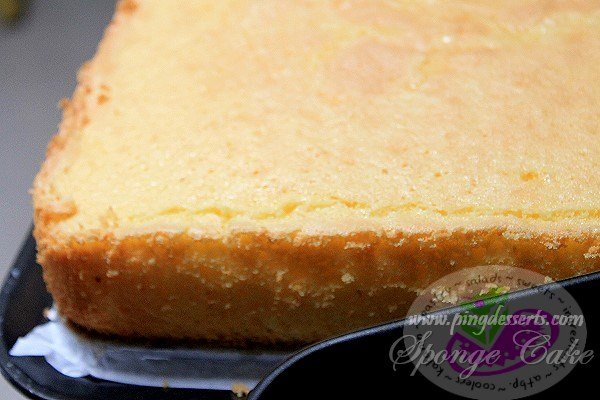 Sponge Cake Ingredients:
1½ cups cake flour
2 tsp. baking powder
9 eggs, yolk and whites are separated
2 tsp. cream of tartar
1½ cups granulated sugar
1½ tsp. orange or lemon extract
¾ cup vegetable or canola oil
Cooking Procedure:
Preheat the oven to 350F. Grease 10×10 baking pan and lined with parchment paper or two 8'round pans and set aside. Separate egg yolks from whites and set aside. In another bowl sieve cake flour and baking powder together, mix well and set aside. Combine egg whites and cream of tartar, then whip on a medium speed until fluffy. Turn to high speed and gradually add sugar until becomes smooth and soft peaks form for about 6 to 8 minutes.
Add orange extract in the egg yolks, then whisk lightly and pour in the meringue mixture. Mix for a minute or two, then add the canola oil and continue mixing for a few seconds. Lastly add in sifted cake flour and baking powder mixture to the batter and mix well until smooth.
Then pour into a prepared baking tin, lightly greased and covered with parchment paper. If using 2 round pans, divide batter evenly. Bake for 40-45 minutes on a 10×10 pan or bake for 25-30 minutes if using 8′ round pans or until inserted toothpick comes out clean. Remove from the oven and transfer to a cooling rack and let it cool completely.
.
Done with all the mixing and it's time for baking 1. 2. 3. 4. . . . . . . .
.
.
A delicious and moist freshly baked Sponge Cake. It's good eaten on it's own or you can simply brush lightly with softened butter and sprinkle some sugar on top if desired and slice into squares and serve.
.
.
And to make it more sophisticated and decadent, add your desired filling and frosting. Decorate with chocolates, fruits or nuts depends on your liking, party motif or occasion. Finish your cake with your elegant touch, serve and enjoy. This sponge cake recipe is perfect for making Crema de Fruta, Strawberry Shortcakes and many more. Please stay tune coz' we're going to turn this simple cake into a delicious Yema Cake.