How to cook Chicken Empanada Recipe.
Chicken Empanada Recipe. Chicken Empanada also known as "Chicken Pie" or "Chicken Puff" is an all-time Filipino favourite snack. This is a traditional chicken filling, garlic, onions, potatoes, and carrots. A good Empanada is to have tasty and well puff dough. Empanadas can be deep-fried or baked depends on the dough you are using. And the best part is that you can fill it with just anything you like. I adapted this recipe from my brother Mickey.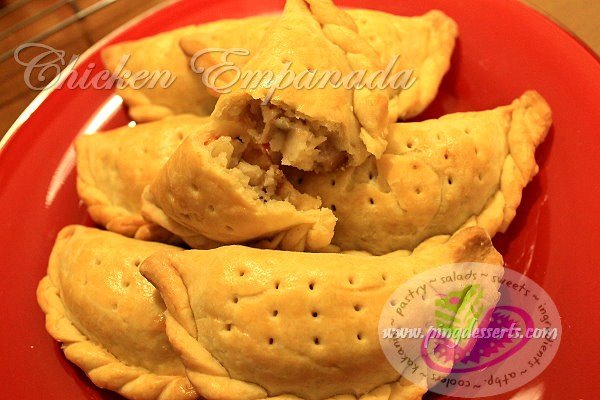 Chicken Empanada Ingredients:
Chicken Filling:
4 cups water
1/2 kg chicken thighs, deboned and diced
2 med. potato, cut into small cubes
1 med. carrot, cut into small cubes
1 chicken, bouillon cubes
1 tbsp. oil
1 tbsp. butter
3 cloves garlic, crushed and minced
1 med. onion, minced
1½ cups chicken stock
3 tbsp. milk (optional)
½ cup flour, sifted + extra for dusting
salt to taste
Dough/Crust :
3 cups all-purpose flour
1 tsp baking powder
1 tsp. salt
4 tbsp. sugar
½ cup butter, chilled & cubes
½ cup shortening
6-7 tbsp. icy cold water,
1 egg, for egg wash
Procedure:
Filling :
In a large pot pour 4 cups of water, place chickens thighs, diced potatoes and carrots and chicken bouillon cube and bring to boil until potatoes are half cooked. Strain in a colander reserving 1 1/2 cups of chicken stock for later use. When its cooled put potatoes and carrots on a separate bowl and set aside. Skin, debone and diced the chicken and set aside.
In a large skillet heat oil and butter then saute garlic, onions and diced chicken for about 3 minutes. Add potatoes and carrots saute for another 2 minutes. Add the reserved chicken stock, milk, and a pinch of salt. Simmer for 5 minutes, then sift flour over the mixture and stir until dry. Fire off and let it cool completely.
Dough / Crust:
To prepare the crust sift flour, baking powder, salt and sugar together in a bowl. Add in chilled and cubes butter and lard or vegetable shortening. Using a fork or hands pinch together until forms a crumbs. Add icy cold water 1 tablespoon at a time and mix well. Knead the dough for 3 minutes and form a ball. Let it rest for 15 minutes before using. Roll out dough in a floured surface and cut dough into your desired size, using empanada cutter, or a cookie cutter or any available round cutter you have.
Place filling in the center and fold dough over to the opposite side. Crimp the dough with fork or with your fingers to seal the edges and repeat procedure until done. Place chicken empanada on a baking tray, prick each empanada with fork and brush with egg wash.
Bake in a preheated oven 375F, for about 30-40 minutes or until lightly brown. Time varies depend on the size of your empanada.
…..
.
In this recipe my procedure is a bit fast forward. Sorry guys I wasn't able to take some procedure photo's ' coz my brother hates delay and of course photo shoots …….. tsk! tsk! 🙂 🙂
.
Nothing beats a flaky, hot, freshly baked Chicken Empanada and paired with icy cold soft drinks yum!!! Mostly my brother cook baked Chicken Empanada on special occasions such as birthdays, snack packs and family gatherings.