How to make Pichi Pichi Recipe.
Pichi Pichi infused in Pandan with grated Coconut Recipe. Pichi-pichi is a Filipino cassava dessert recipe, an all time favourite kakanin. Pichi-Pich is very soft, sweet, sticky tapioca dessert, originally infused with pandan leaves and green food colour or bottled pandan essence. It is made from fresh grated cassava, sugar, water and pandan, steamed then coated in fresh grated coconut.
Pichi Pichi Ingredients:
1½ cups grated cassava
1¼ cups sugar
1½ cups water
1 tsp. pandan or buko pandan essence
2 cups fresh grated coconut
Cooking Procedure:
To prepare the grated cassava first wash the cassava to get rid all the dirt and peel off the brown and white silky outer skin. Using a fine grater, grate cassava and remove the hard stems in the middle and discard. Keep on grating until you're done with all your cassava. Place grated cassava on a clean cheese cloth and squeeze out all the juices before using. If using a frozen cassava just thawed it first before using. Mix the cassava, sugar and water in a bowl and mix until smooth, then add the pandan essence and mix until well blended. If you don't have a fine grater you can use a blender and blend the cassava mixture to make it smooth and stir in pandan essence.
Pour the mixture into an 8 inch round pan or any similar pan or mini molds that fits in your steamer and place in a preheated steamer. Cover with a tight fitting lid and steam over medium heat for about 28-30 minutes or until just firm and looks translucent like a gelatin. Let it cool completely, before removing from the molds. If you're using a single round pan you can either use a spoon to scoop out or use a greased cookie cutter. Coat with fresh grated coconut before serving.
…..
A delicious and simple kakanin, this recipe is very easy to prepare you can never go wrong with this dessert.
.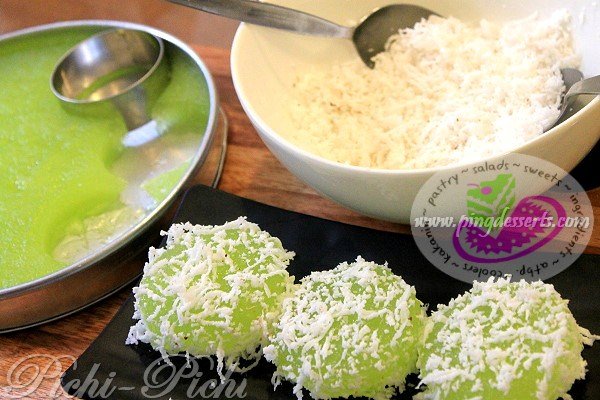 .
A delicate, sticky and delicious Pinoy kakanin to serve and enjoy!