How to make Jackfruit Tart Recipe.
Jackfruit Mini-Tart Recipe. From a simple and delicious jackfruit preserve also known as "Langka" preserve, you can turn them into a sweet and tasty mini-tarts. This tart recipe has a great aroma and flavour balance. A tart with a perfect combination, sweet yet a bit tangy jackfruit preserve, wrapped in not too sweet pastry dough. Bake to perfection, with it's buttery, soft and good flaky pastry crust.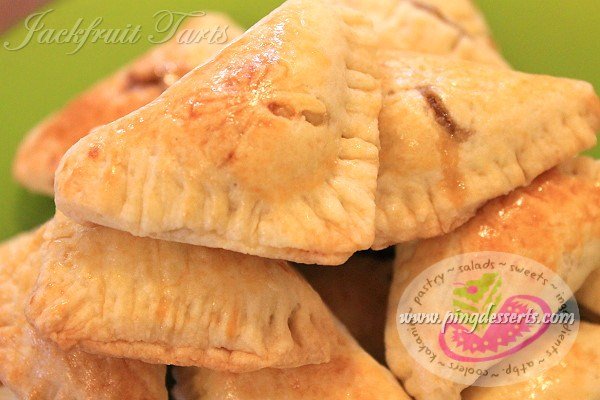 Jackfruit Tart Ingredients:
Preserve Filling:
Tart Dough:
3 cups all-purpose flour

1 tsp baking powder

1 tsp. salt

2 tbsp. sugar

½ cup butter or margarine, chilled & cubes

½ cup vegetable shortening

6-7 tbsp. icy cold water

1 egg, beaten for egg wash
Cooking Procedure:
To prepare the crust sift flour, baking powder, salt and sugar together in a bowl. Add in chilled and cubes butter and lard or margarine and vegetable shortening. Using a fork or hands pinch together until forms a crumbs. Add icy cold water 1 tablespoon at a time and mix well. Knead the dough for 3 minutes and form a ball. Let it rest for 15 minutes before using.

Roll out dough on a floured surface and cut dough into your desired shape and size, using cookie cutter or a knife. Place jackfruit preserve filling in the center and fold dough over to the opposite side. Crimp the dough with fork or with your fingers to seal the edges and repeat procedure until done.
Arrange jackfruit tarts on a baking tray, and refrigerate for at least 15 minutes before baking. Brush jackfruit tarts with egg wash lightly. Bake in a preheated oven 375F, for about 30-40 minutes or until lightly brown. Time varies depend on the size and thickness of your tart.
.
Jackfruit has its own pleasing and mouth-watering aroma that people loved. When this fruit is incorporated into any desserts or pastry like tart, they will eventually craze for the distinct flavor of a langka .
.
.
Jackfruit Tarts are now popular and fast selling delicacy in any leading supermarkets and pasalubong centers. Great for party treats, event giveaways and of course affordable, tasty and handy as pasalubong for balikbayan friends.
.
.
Try baking them at home and sell it for an extra income.