How to make Jackfruit Preserve Recipe.
Jackfruit Preserve Recipe. A simple jackfruit preserve recipe, also known as"Langka Preserve". A famous Filipino preserves use as a spread for salty plain crackers, white or crusty breads and commonly used as a filling as well. This delicious jackfruit preserve is best in making mini tarts. It can also be used as a condiment for Halo-Halo and other kakanin. This recipe is a great way of preserving jackfruits and turning into special sweet treats.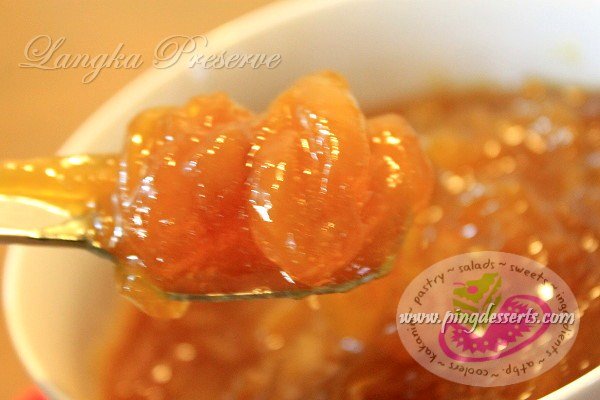 Jackfruit Preserve Ingredients:
3 cups ripe yet firm jackfruit "Langka", cut into thin strips or small cubes
2 cups water
1½ cups refined sugar
1 tbsp. lime or calamansi juice
a pinch of salt
Cooking Procedure:
Wash ripe jackfruit flesh and cut into thin strips or slice into small cubes. Place in a small pot, add water and boil over medium heat. When the water evaporates in half add the sugar and turn the heat on low. Let the jackfruit simmers and stir gradually to prevent the fruit from burning or sticking from the bottom.

Simmer until becoming syrupy, add in the calamansi or lime juice and a pinch of salt. Stir thoroughly until it thickens and the fruit becomes translucent, then fire off. Transfer in a sterilized bottle jar or in a serving bowl and let it cool before using.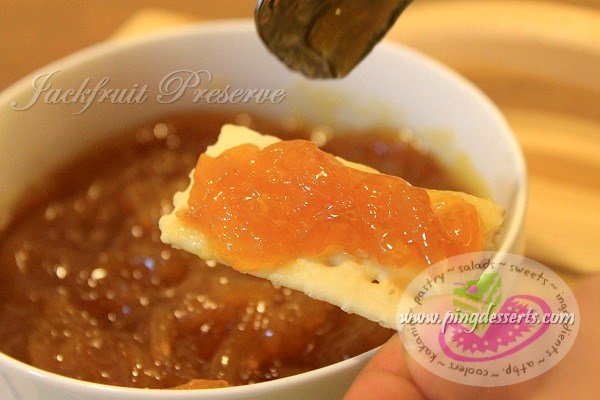 Turn plain crackers into something sweet and delicious light snack. Ripe jackfruits are already sweet and juicy, and they are really good eaten by itself. These jackfruits are known for having a distinct aroma, that makes it more appetizing.
.
Fresh jackfruits are rich in B-complex Vitamins, it also provides potassium and iron and it can be also a good laxative because of its dietary fibers.
.