A delicious and beautiful desserts using Lemon Square Inipit.
My Lemon Square Inipit Recipes.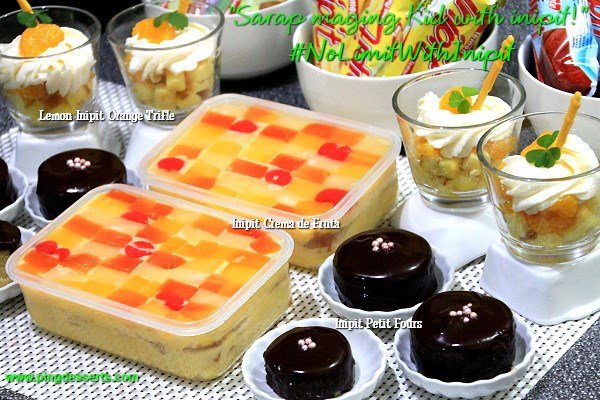 Today is my first time to join a dessert competition, it's about creating desserts using Inipit from Lemon Squares. The challenge of using Inipit in making dessert makes me excited and it drives me crazy. I have a lot of ideas that comes in my mind and honestly, I don't know where to start (LOL). I've got a long list here of recipes and I need to narrow this down… And Finally, I come up with my top 3 favorite desserts. Hopefully, I can create and share my beautiful, sweet treats that taste as good as they look. Giving justice to Inipit and making endless dessert possibilities is what I want. After all, there's No-Limit-with-Inipit!.
Making these homemade desserts with kids around you is more fun "Masarap maging kids with Inipit". I wish my niece and nephews are here with me to enjoy, have fun and taking selfies while making these desserts. But no worries, I'm young at heart like kids do (LOL).
So Let's get started!
Lemon Inipit Orange Trifle
This delicious and fancy looking Lemon Inipit Orange Trifle is very easy to prepare and a time saver dessert. This is a No-Bake Dessert that will capture the heart and the palate of your guests especially kids. Who needs to bake a sponge cake for dessert when there's an INIPIT from Lemon Squares. A sponge cake sandwiches with creamy filling. Inipit comes in 6 different flavors such as Lemon, Custard, Queso, Chocolate, Pandan and Ube de Pastillas. Having an INIPIT or any Lemon Square Products on your pantry, is very convenient especially for kids' baon and for instant snacking as well.
If you're planning on hosting a party or an event, Inipit is a great alternative in making desserts. With this recipe procedure and a little twist on ingredients and putting your own ideas you can come up with cool desserts. To name a few there's a Cake in a Jar, a 2-tone trifle like Ube-Pandan or Choco-Custard Trifle and so on…
So let's start with our first Inipit dessert. (Serves 4)
Ingredients:
4 pieces Lemon Inipit, diced
1 cup whipped cream, thawed
1 cup orange segments, drained and syrup reserved
4 mint sprigs, to top
You also Need:
4 mini dessert glasses
4 plastic skewers, to decorate (optional)
Procedure:
First, we need to prepare all ingredients needed. Open a can of orange segment and drain well, reserving the syrup for later on. Open 4 pieces of Lemon Inipit and cut into small cubes and set aside. Prepare your whipping cream or thaw a tub of cool whip. Now, that we are ready, let's assemble our Inipi Trifle Dessert. Arrange 4 mini dessert glasses and fill each glass with diced Inipit about half's full. Using the reserved syrup, drizzle about 2 teaspoons of syrup on each glass, just enough to moisten the cake. Top with orange segments about 4-5 on each glass. Top orange segments with a dollop of whipped cream on top, if you want to look pretty use a piping bag with a swirl tip. Lastly, top with a single orange segment and mint sprigs. Chill for at least 10 minutes before serving, you can also add a plastic skewer on each for presentation.
Watch how to make Lemon Inipit Orange Trifle :
httpv://www.youtube.com/watch?v=_ccki_3ssGo
"Masarap maging Kid with Inipit" Hashtag: #NoLimitWithInipit
–0–
Inipit Petit Fours
Who doesn't want chocolate desserts?? Here's another simple and no-bake dessert that you can make using Inipit from Lemon Squares. When I hear about Petit Fours, the only thing that comes into my mind is an elegant and decadent mini-cake. So these gorgeous Inipit Petit Fours will be our next dessert. This recipe is a great alternative for expensive French Macaroons or Cupcakes. Inipit Petit Fours are also a great dessert centerpiece that can capture the eyes of your guests especially kids.
The idea of crumbling fluffy sponge cake like Inipit and adding crushed nuts with binding sweeteners are a common recipe for no-bake desserts. Using the same process with different cake base and adding different texture and flavors that goes well together can create unlimited and delightful desserts. Such as making Molded Pops, Cake Pops, Cake Balls, Cake Truffles and even a no-bake brownies.
Note: Binding Sweeteners that can be used for these are Buttercream Icing, Caramel Fudge, Nutella, Dulce de Leche, Melted Chocolate, Melted Butter or as simple as Sweetened Condensed Milk. Feel free to use whatever you like or what you already have on hand.
So let's start with our second Inipit dessert: (Makes 6)
Ingredients:
Cake:
10 pieces Custard or Chocolate Inipit, crushed
5-6 tbsp. Sweetened Condensed Milk
2 tbsp. Toasted Cashews or Graham Crackers, finely crushed
Ganache:
4 tbsp. Butter, at room temperature
½ cup Unsweetened Cocoa Powder
1 cup Confectioner's Sugar "powdered sugar"
3 tbsp. fresh milk
½ tsp. vanilla extract
You also Need:
Nuts, Sprinkles or Fondant Toppers, to decorate
Procedure:
First, we need to prepare and measure all needed ingredients. In a large mixing bowl, place 10 pieces Inipit and crushed the sponge cake with a fork until it turns into a soft crumb. Add in crushed cashews or crushed graham and sweetened condensed milk. Mix with a fork until evenly moistened and a little bit sticky. Using your desired molder divide the dough evenly and press into the mold. Repeat process until you are done with your cake mixture. Chill the cake for about 20 minutes to firm and set. Meanwhile, in a small saucepan, over a low heat, melt the butter. Add in the cocoa powder and stir until melted and smooth. Alternately add the powdered sugar and milk in two batches, stirring constantly to melt and smoothens the ganache. Fire off, add in vanilla extract and stir until well combined. Let it cool slightly, but still with a pouring consistency. Place chilled mini-cakes into a wire rack with a tray below to catch the ganache drippings. Pour ganache over each cake to cover completely. Leave the cakes on a wire rack until the ganache sets and cools down. Decorate with sprinkles or crushed nuts on top, or add fondant toppers is you prefer. Transfer to a serving plate and let it chill before serving.
Watch how to make Inipit Petit Fours :
httpv://www.youtube.com/watch?v=iJLwZSLzKxo
"Masarap maging Kid with Inipit" Hashtag: #NoLimitWithInipit
–0–
Inipit Crema de Fruta
From making a simple no-bake desserts, I now introduce you to a more sophisticated and delicious Inipit Crema de Fruta. It sounds and looks complicated but actually it's not. Yeah, I agree with you! (I know what you're thinking, just kidding hehe…) it's very time consuming but for the love of dessert, please try and say yes! to new Inipit Crema de Fruta.
This elegant, fruity cake dessert with jelly glaze is a popular dessert during Christmas. The good news is the waiting game is over! It's really over! We can make this dessert anytime we want and thanks to Inipit. There's no need to bake a whole Sponge Cake for this or to hunt for special Broas (It's hard to find Broas these days, right??). Inipit is a great alternative for Broas in making Crema de Fruta and a budget saver too.
For those who really want to try Inipit desserts and find this recipe a little intimidating here's another recipe ideas that you can come up. There's a Frozen Inipit Tiramisu, Inipit Fiesta Float, Inipit Mango or Peach Float, Inipit Cookies and Cream Refrigerator Cake and many more.
So let's start with our third Inipit dessert: (Serves : 6)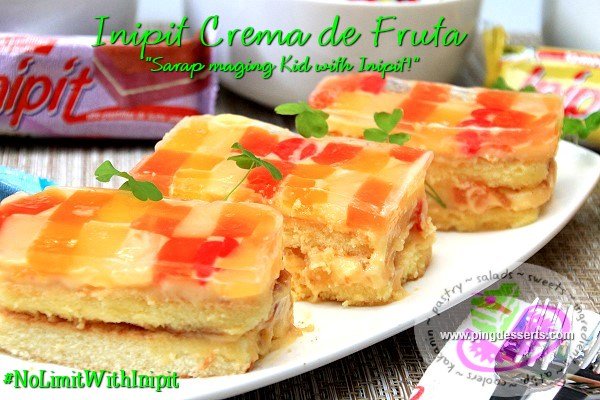 Ingredients:
Cake Layer :
10 pieces Inipit "a flavor of your choice", separated
1 can (432g) Fruit Cocktail, drained, divided and reserved syrup
Custard Filling :
1⁄₃ cup sugar
¼ cup all-purpose flour
1 cup evap or fresh milk
¼ cup water
2 large egg yolks
1 tbsp. butter
½ tsp. vanilla extract
Jelly Glaze:
2 tbsp. unflavored gelatin
1 tbsp. Sugar
½ cup water
You also Need:
2 pieces (3.5 x 5) Plastic Containers orany similar Container with a Lid.
Procedure:
First, we need to prepare and measure all needed ingredients. Open a can of fruit cocktail and drain well, reserving the syrup for later on. Using a parchment paper measure the width of your container. Use the parchment as your pattern to pre-arrange the fruits that you want to put on the top of your cake later on. Use a small sharp knife to trim the fruits to make even cuts. Lay them flat on the pattern so you can create a mosaic design. Roughly chop the remaining fruits and set aside.
Let's prepare our custard filling: In a small saucepan, combine sugar, all-purpose flour, milk and water. Mix until sugar and flour dissolves and there's no lumps. Heat the mixture over low heat, stirring continuously until becomes thick for about 5-8 minutes. Take off from the heat, add egg yolks, one at a time and whisk until well blended. Heat the custard cream again, over low heat for about 3-5 minutes. Fire off, stir in butter and vanilla extract and stir until well blended. Set aside the custard cream and let it cool completely.
Let's assemble the cake: Open 10 pieces of Queso Inipit and separate each cake sandwich and place it in a tray and set aside. Using your prepared container, arrange Inipit by arranging them flat, covering the entire bottom of your container. Using a reserved fruit syrup, spoon and drizzle over the cake just enough to moisten. Cover the cake layer with custard cream and spread to even the top. Scatter some fruits on top and flatten lightly to create a flat surface. Top with the second layer of Inipit and arrange them flat. Spread last layer of custard cream and spread evenly. Decorate the top with your pre-arranged fruits, lay them even and neat as you can. After you're done with your layering, chill the cake and let's make a jelly glaze.
In a small saucepan, combine unflavored gelatin, sugar and water, stir and bring to a simmer. Simmer just enough to dissolve the sugar and gelatin powder. Lastly, cover the cake with jelly glaze on top and chill for about an hour to set the custard cream and jelly glaze. Serve and enjoy your homemade Inipit Crema de Fruta.
Watch how to make Inipit Crema de Fruta :
httpv://www.youtube.com/watch?v=91hMqG2JTk8
"Masarap maging Kid with Inipit" Hashtag: #NoLimitWithInipit
–0–
I hope this recipe ideas can inspire you to try an experiment and to get pumped to join this dessert contest hosted by Nuffnang. Let's participate, bring out your best dessert creations using Inipit from Lemon Squares. Let's celebrate being part of this sweet competition, hope you'll enjoy as I do and have a Funtastic weekend everyone!
#BeApartOfThisSweetThing! #ThankYouLemonSquares
#PingDessertsLoveInipit
–0–