How to make a perfect and moist Ube-Langka Cake.
A moist and delicious Ube Sponge Cake Recipe. A two-layer ube sponge cake, filled with ube fudge and sweetened jackfruit, covered with ube flavored whipped cream, top with jackfruit jelly hearts and decorated with fondant mini flowers. This violet cake looks beautiful, the sponge cake is so moist and delightful.
Last month, We went to Chefs & Bakers to buy some baking ingredients, boxes and fondant toppers. We've noticed that there's a new display of pre-mix baking treats. The shelves were organized and packed with Brownie Mix, Cake Mix, Ube Halaya Mix and the one that caught Ed's attention was the Ube Flour. So we bought 2 packs of Ube Flour and other stuff. I can't wait to try this flour and make a Cake again, and this time it's an Ube Sponge Cake. I got the recipe from the Ube Flour packaging itself and it's very easy. I made some adjustments with the preparation & I cut the recipe in half, just to make sure. The cake turned out good so I'm going to make another batch, so I can come up with a 2 layer cake as tall as 5-inch high :).
Serves : 12 slices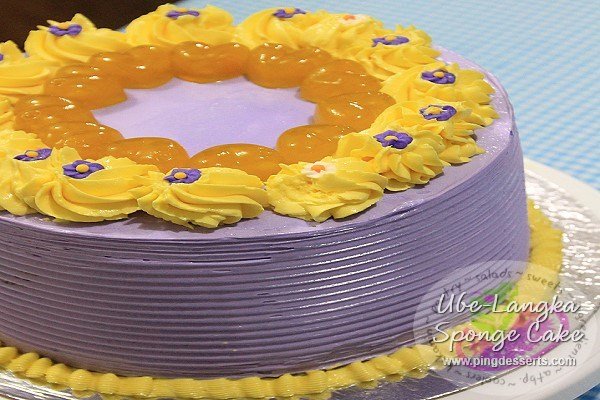 Sponge Cake: (for one layer only)
½ cup Ube Flour
1¾ cups All Purpose Flour
¾ tsp. Baking Powder
¾ tsp. Baking Soda
½ tsp. Salt
½ cup Butter
1¼ cups Sugar
2 medium Eggs, at room temp.
½ cup Water
¼ cup Fresh Milk
¼ tsp. Violet Food Color Gel
Frosting: (for one layer only)
1 box (200g) Frosty Whip Cream Powder
200 ml Cold water
1 tsp. clear ube extract
1-2 drops Violet food color gel
1-2 drops Yellow food color gel, (optional)
Filling:
½ cup Ube Fudge, store bought
½ cup Sweetened Jackfruit, drained and mashed
Toppers:
8-10 pcs. Fondant Mini Flowers, to decorate
10-12 pcs. Jackfruit Jelly Hearts, to decorate, (optional)
We Also Need:
1 pc. 10-inch round cake board
Cooking Procedure:
First, preheat your oven to 350F. Grease and flour an 8×3 round pan and set aside. Sift together all dry ingredients needed for the cake except for the sugar. Sift twice as possible, then set aside.

Using an electric mixer on medium speed, cream the butter and sugar together until pale yellow. Set speed to low, add eggs one at a time and beat well until fluffy, then set aside.
In a measuring cup, combine water, fresh milk and food color gel and mix well until well combined.
Alternately, add dry and liquid ingredients into the batter mixture. Start with 1/3 part of dry ingredients and a half of the liquid. Beat and Scrape the sides of your mixing bowl. Repeat adding dry, then liquid and lastly end with dry and mix until well combined but do not over mix.

Pour the batter into a prepared 8-inch round pan and bake for about 25-30 minutes or until inserted toothpick in the center comes out clean. Fire off, let your cake cool down completely on a wire rack.
To prepare the frosting:
I'm using Frosty Whip Cream Powder. In a large mixing bowl, combine 1 box (200g) of Frosty whip cream powder and 200ml cold water, add a couple teaspoons of clear ube extract and whip until stiff peaks form. Divide whipped cream into two parts: 1/3 part for decorating and making borders (you can add yellow color gel if you want) and for the remaining whipped cream add violet food color gel and this will be used for icing your cake.

To assemble the cake:
First, we need a cake board at least an inch larger than your cake. With a serrated knife, trim off the top of your cake to even the top and get rid the brown part and expose the beautiful violet sponge cake.

Spread a little cream on the board, so our cake won't slide if we ice them. Place the first layer of your cake. Edge the cake by piping it with whipped cream at least 1 inch high, this will prevent the filling from leaking out the sides.
Spread the ube fudge evenly in the center and top with sweetened jackfruit. Top with another layer and ice the whole cake with the whipped cream. Use reserved yellow whipped cream to pipe big swirls on top edge of your cake and for the borders at the bottom.
Decorate with fondant flowers on top of each swirl or you can put large fondant flowers at the center, or you can design it the way you prefer. (I add some jackfruit jelly hearts on this one, sorry guys, I was too lazy and forgot to take some photos on how I made them).
Refrigerate the Cake for at least 2 hours before serving.
Note: If you're not going to ice the cake after it cools, you can wrap the cake with a plastic wrap and refrigerate, until needed. I put my cake in the fridge for a while, since I'm planning to make another one so I can come up with a double layer cake. If you're planning to make a double cake like me just DOUBLE the RECIPE and divide the cake batter into 2 (8×3-inch) round pans and bake it at the same time. And don't forget to double your frosting recipe as well.

As usual, I'm using my trusted Frosty powder whip cream, but feel free to use your favorite whipping cream recipe or you can replace it with your favorite buttercream frosting.
(behind the scene…hehe) When I made these swirls, I was trying so hard to be patient and relax. It's not easy to pipe swirls and borders when you don't have a proper piping bag, right?? I was using this thin plastic bag and I couldn't squeeze the way I wanted too, because I'm scared that it will burst and it did..lol. But in spite of the the mess, I finished my cake! even if it's not as neat as I wanted too.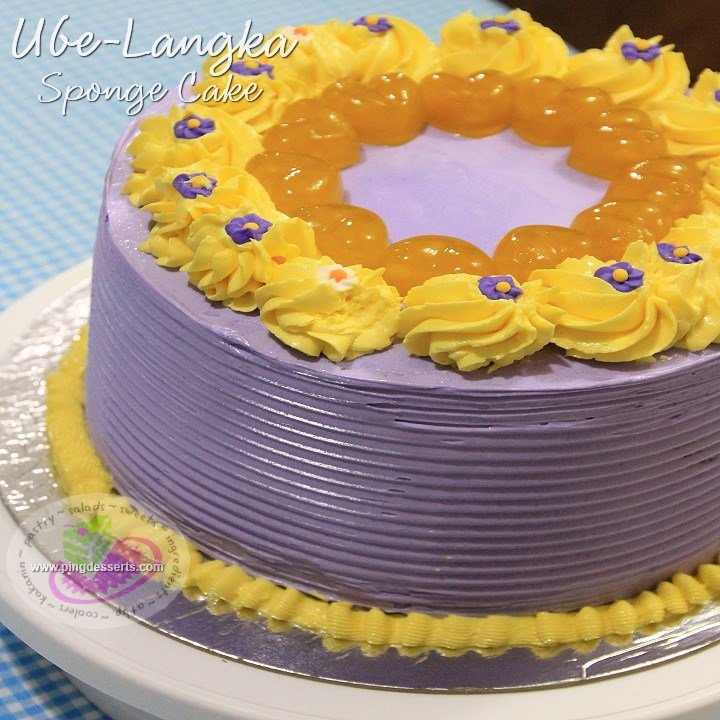 .
I put my heart on this one and I can't wait to send and share this to my Aunties. I hope they will appreciate it and hopefully every bite will put a smile on their faces. Thank you Lord for giving me another opportunity to share your blessings!
Lesson learned be patient, keep calm and enjoy the mess…lol