How to make Beef Empanada Recipe.
Baked Beef Empanada Recipe. Beef Empanadas are also known as "Meat Pie", "Beef Turnover" or "Beef Puff", it is an all-time Filipino favourite savoury snack. This is a traditional lean ground beef filling: garlic, onions, potatoes, carrots, peas and raisins. A good Empanada shoulld be tasty, flaky and well puff dough. Empanadas can be deep-fried or baked depends on the dough you are using. In this recipe we are using a dough recipe that needs to be bake. And what I like about Empanada is that you can fill it up with just anything you like such as tuna filling, vegetable with egg and etc…
Beef Empanada Ingredients:
Empanada Filling:
1 tbsp. vegetable or canola oil
2 cloves garlic, chopped
1 med. onions, chopped
1/4 kg lean ground beef
2 cups water
1 chicken, bouillon cube
3 med. potato, cut into small cubes
1 big carrot, cut into small cubes
1/3 cup green peas or frozen peas, thawed
1/3 cup raisin
2-4 tbsp. all-purpose flour
salt to taste
Empanada Dough:
3 cups all-purpose flour
1 tsp baking powder
1 tsp. salt
4 tbsp. sugar
½ cup butter or margarine, chilled & cubes
½ cup vegetable shortening or lard
6-7 tbsp. icy cold water,
1 egg, beaten for egg wash
Cooking Procedure:
In a large saucepan, heat the oil, sautee onions and garlic until translucent. Add in the lean ground beef and sautee until light brown. Add in potatoes and carrots and sautee for a couple minutes. Pour in a couple cups of water, bring to boil then add the bouillon cube and stir to dissolve the seasoning. Cover the saucepan with a lid and let it simmer until potatoes and carrots are cooked and the stock almost evaporates. Add in the green peas and raisins, and stir to mix all ingredients. Add in the flour 1 tablespoon at a time until the mixture becomes sticky and moist but not watery. Taste the filling if it calls for more salt or seasoning, then just add according to your taste. Fire off, transfer in a bowl to let it cool completely and set aside.
To prepare the crust sift flour, baking powder, salt and sugar together in a bowl. Add in chilled and cubes butter and lard or margarine and vegetable shortening. Using a fork or hands pinch together until forms a crumbs. Add icy cold water 1 tablespoon at a time and mix well. Knead the dough for 3 minutes and form a ball. Let it rest for 15 minutes before using. Roll out dough in a floured surface and cut dough into your desired size, using empanada cutter, or a cookie cutter or any available round cutter you have.
Place filling in the center and fold dough over to the opposite side. Crimp the dough with fork or with your fingers to seal the edges and repeat procedure until done. Place beef empanada on a baking tray, prick each empanada with fork and brush with egg wash. Bake in a preheated oven 375F, for about 30-40 minutes or until lightly brown. Time varies depend on the size of your empanada.
.
What makes the Beef Empanada tasty and perfect because of its savoury and meaty fillings that wrapped in a soft and flaky dough. To attain this flavorful filling, it's usually achieved when you simmer the beef filling, until all the stock absorbed by the potatoes and carrots, it takes a little while but it's worth it.
.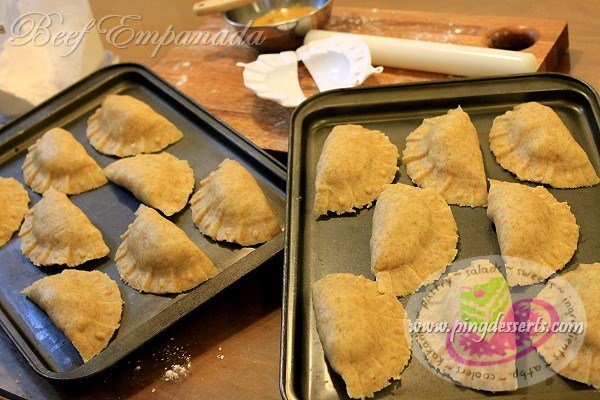 .
However, it is up to you on how you can make it short like making the dough ahead of the fillings, or to simply just sautee the filling and season it with salt and add some herbs if you want. This recipe makes 16 large Empanadas.
.
The taste is just so right that it feels like home, an afternoon routine for me, waiting for my older brother Mickey to drop by to leave us extra empanadas or whatever snacks they baked for that day before selling them on the streets.
.