How to make Choco Crinkles Recipe.
Easy Hershey's Choco Crinkle Cookies Recipe – One of the most popular cookies, it has a crunchy exterior, moist on the inside and coated with powdered sugar on top for a sweet touch. These cookies are made from cocoa powder, sugar, oil, eggs, flour and confectioner sugar. A simple sweet and yummy treats for kiddos party snacks. Choco crinkle cookies are also perfect as gifts for any occasions. Be it on birthdays, Valentine™s or Christmas, it will surely bring a delightful smile to the receiver. So go and make your delicious homemade Choco Crinkles and enjoy!
Makes 4 dozens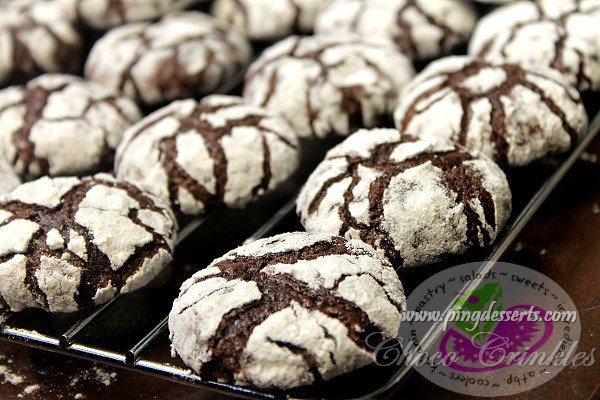 Choco Crinkles Ingredients:
2 cups granulated sugar
¾ cup vegetable oil or canola oil
¾ cup Hershey's Cocoa Powder or Pure Dutch Cocoa Powder
4 eggs, at room temperature
2 1/3 cups all-purpose flour
2 teaspoons baking powder
½ teaspoon salt
1-2 teaspoons of vanilla essence
2 cups Confectioner "icing sugar", for coating
Cooking Procedure:
In a large bowl, combine granulated sugar and canola oil and whisk until well combined. Add the cocoa powder and whisk until well combined. Add eggs, one at a time and continue mixing, stir in vanilla and mix well until smooth.

In a separate bowl, sift together all-purpose flour, baking powder and salt. Add the sifted dry ingredients into the cocoa mixture gradually and mix well. Cover and refrigerate until the dough is firm enough to handle, at least 6 hours.
When the cookie dough is ready, preheat the oven to 350F. Lightly grease cookie sheets or line with parchment paper. Divide dough into four, each portion makes a dozen of 1-inch cookie balls. Lightly greased your hands with oil for an easier handle. Deep and roll each cookie ball in powdered sugar and generously coat them. Place about 2 inches apart on prepared cookie sheets.

Bake in a preheated oven for about 12-15 minutes or until springy when touched lightly and the tops are cracked. Cool slightly before transferring to a wire rack and let it cool completely.
…..
Easy cookie recipe, let's start with the sugar, canola oil and cocoa powder.
.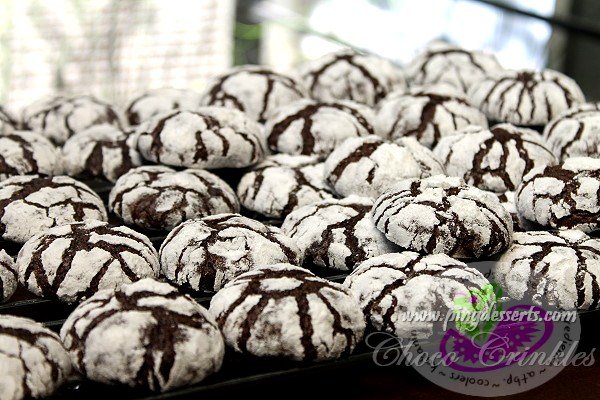 .
Serve chocolate crinkles warm or at room temperature, any leftovers keep them on a cookie jar or any plastic container. You can place them in a fancy box and make it as party giveaways.
.
You can also wrap in plastic individually and sell them in the canteen.
Making Chocolate Crinkles is a good home based business that can give you an additional source of income.