How to make Chicken a la King Recipe.
Chicken a la King Recipe. A tasty chicken a la king recipe with a nice blend of texture and taste. From a plain crunchy toasted bread cups filled with creamy chicken filling. A great combination of vegetable flavours of potatoes, carrots, mushrooms, corn kernels, bell peppers infused with red wine and the creaminess that comes from milk, egg yolk and cheese. Be generous with your cheese topping, the more the better and tastier.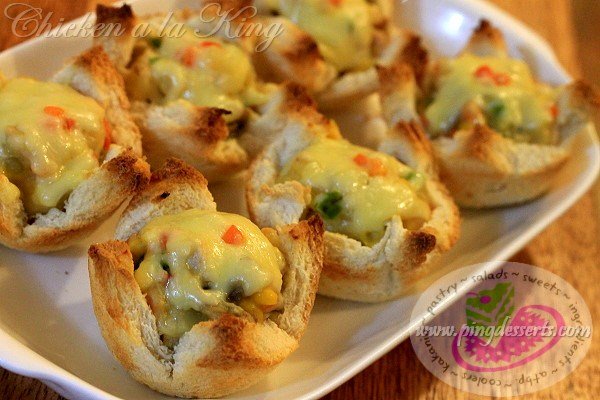 Chicken a la King Ingredients:
1 cup chicken leftovers, small cubes
2 tbsp. butter or margarine
¼ cup potatoes, peeled and small cubes
¼ cup carrots, peeled and small cubes
¼ cup button mushrooms, roughly chopped
¼ cup corn kernels
1 cup chicken stock
1 tbsp. flour
¼ cup evaporated milk
1 tbsp. red wine (optional)
¼ cup celery or green peas
¼ cup red and green peppers
salt and white pepper to taste
1 egg yolk
12-18 pcs. sliced bread, edges trimmed
½ bar quick melt cheese, shredded
Cooking Procedure:
Washed, peeled and slice vegetables into small cubes roughly the same size of the corn kernels. Separate cube potatoes in a bowl with water to prevent from browning. Slice the mushroom thinly and in a small bowl separate the egg yolk from the white, set aside and store the egg white for later use. Prepare your leftover chicken, deboned, skinned and cut into cubes a little bigger than your vegetables.

In a pan over low heat, melt the butter and add the potatoes sautee for a minute then add the carrots and sautee until half cooked. Add chicken sautee for another minute then add mushrooms and corn kernels. Pour in a cup of chicken stock and let it simmer. In a bowl, dilute a tablespoon of flour in milk and whisk until smooth and no lumps. Add the milk mixture into the pan and stir until sauce thickens. Add in a tablespoon of red wine, if using one followed by celery or green peas, then red and green bell peppers. Season with salt and white pepper to taste. Fire off, stir in the beaten egg yolk and allow to cool.
Meanwhile, trim all sides of sliced bread and save the sides for later use. Gently press down each bread into muffin pans and press the sides of the bread against the pan. The bread should look like a little crown of a King. Bake in a preheated oven at 300F or toast until light brown in colour.
When it's done, take off from the oven and fill each toasted bread with a tablespoon of chicken mixture into each bread cups "crowns". Top with grated quick-melt cheese, and bake again for a few minutes until cheese has melted and the bread are crunchy. Transfer to a serving platter an serve immediately, best eaten when it's still warm. Serve with cold soft drinks and enjoy your creamy chicken a la King.
All diced, sliced, measured, and I'm ready to hit the pan . . .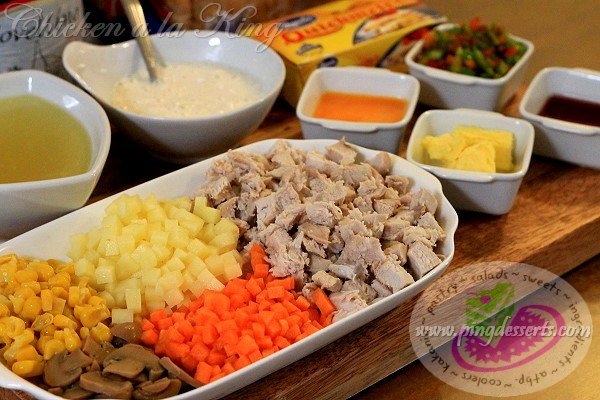 .
You can make the chicken filling a couple days ahead and store in your freezer. What I like about this recipe is that you can serve it either with a bread cups for snack or top the chicken filling in freshly cooked rice and sprinkle a generous amount of cheese and chopped parsley, then bake until cheese melts and serve as a meal.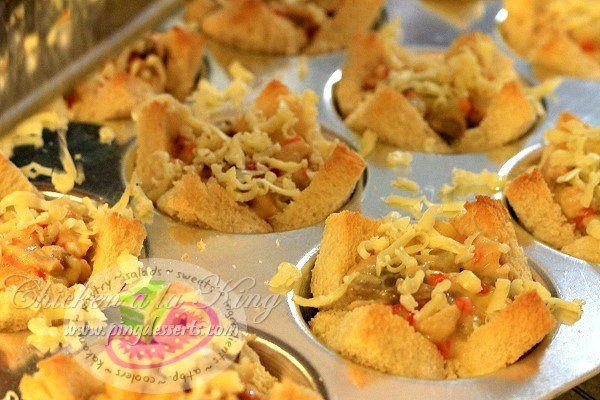 This is a hearty and popular bread snack to enjoy, be full and be happy.
.
This recipe yields 20 pieces of chicken a la king if you're using a 2 ounce muffin pan and serves 4 persons if you want to cook with rice and serve as a dish.

.