How to make Chocolate Meringue Cookies Recipe.
Chocolate Meringue Cookies Recipe. A delicious and delicate Choco Meringue Cookies Recipe. One of the best-seller pasalubong sweet treats here in Philippines. These chocolate cookies are light, sweet, crunchy, airy and nutty that they seems to melt in your mouth. Made with beaten egg whites, ground cashews and baked until crisp.
Chocolate Meringue Cookies Ingredients:
1½ cup Confectioner "icing sugar", plus extra for dusting
½ cup ground cashews
1/3 cup cocoa powder
6 egg whites
Pinch of salt
¾ cup white sugar
1 tsp. vanilla extract
Cooking Procedure:
Preheat oven to 200F and Line your baking sheets with good quality parchment paper and draw an outline for easy guidelines. Sift together powdered sugar, cocoa powder and ground cashews in a mixing bowl and whisk to blend well ad set aside. In a bowl of a stand mixer whip the egg whites and a pinch of salt over medium speed until turning opaque.
Increase to medium-high speed and continue to whip adding 1 tablespoon at a time until all sugar used and egg whites are shiny and hold a stiff peak. Lastly, beat in the vanilla extract and whip just enough to incorporate. Using a large rubber spatula gently fold in dry ingredients into the whipped egg whites in four additions until well blended. The mixture will deflate a little bit, so fold quickly and gently to minimize the deflation.
Transfer meringue mixture in a prepared piping bag with any type of tips you like or you can simply drop the meringue mixture by tablespoonfuls onto the prepared baking sheets spacing them a couple inches. For a shiny finish dust the tops lightly with powdered sugar before baking. Bake at 200F for about 50-65 minutes without opening the oven door.

Remove from the oven and allow meringues to cool down before peeling off from the parchment paper to avoid breaking these fragile cookies.
.
Dry ingredients are combined and sieved, egg whites are whipped perfectly and we are ready to fold in gradually by batches to avoid meringue from deflating.
These chocolate meringue cookies are almost similar to a French macaroon pastry but without a filling and a little bit grainy. This recipe yields 3 dozen of meringue cookies.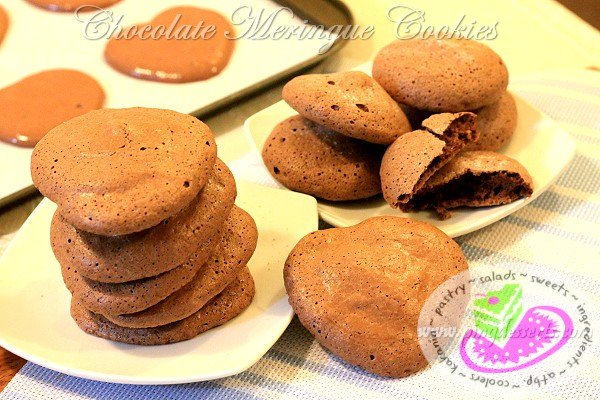 .
Serve immediately and store extra cookies in an airtight container to preserve the meringue cookies. You can also pack these cookies by two's in a clear plastic, seal it or tie with string or ribbon and share it with friends.

.