How to make Violet Rice Pudding Recipe.
Violet Rice Pudding Recipe. Another popular Filipino kakanin, a sweet fragrant sticky rice pudding that often served as breakfast or desserts. This creamy rice pudding is usually made from a regular white glutinous rice, cooked in coconut milk, brown sugar and infused with vanilla extract and top with fresh fruit and milk. In this recipe I used the glutinous violet rice which is also known as "Tapol de Oro" I got this creamy pudding recipe from Jordan Farms itself.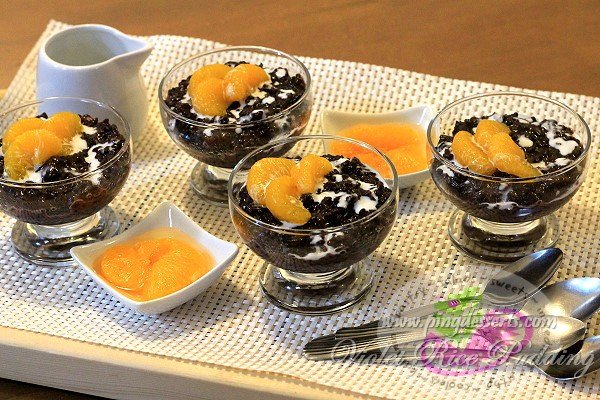 Violet Rice Pudding Ingredients:
1 cup uncooked violet glutinous rice "Tapol or Purple", soaked overnight
2 cups boiling water
1 tsp. vanilla extract
½ cup brown sugar
1 pack (50g) coconut powder
½ cup coconut milk
1 big ripe mango, peeled and sliced, for toppings (or any available fruits you have)
½ cup fresh milk, for extra drizzle on top
Cooking Procedure:
In a large heavy-based pan, put the uncooked violet glutinous rice that has been soaked overnight. Pour in the boiling water and add the vanilla extract and stir to combine. Cover the pan with a lid and reduce heat to low and simmer for about 20-30 minutes until sticky rice are tender and the liquid almost absorbed.
Remove from the heat and stir in brown sugar, coconut powder and coconut milk. Cover with a lid and set aside for 10 minutes just to steam a little bit. After ten minutes fire off, if the sticky rice is too thick for you just add a little fresh milk and mix well. Transfer cooked violet rice pudding in a dessert glass or tiny bowls.
Divide rice pudding into 4 parts, top with desired fruit topping such as mangoes, peach or mandarin. Serve warm with extra fruits and fresh milk on the side to drizzle on top.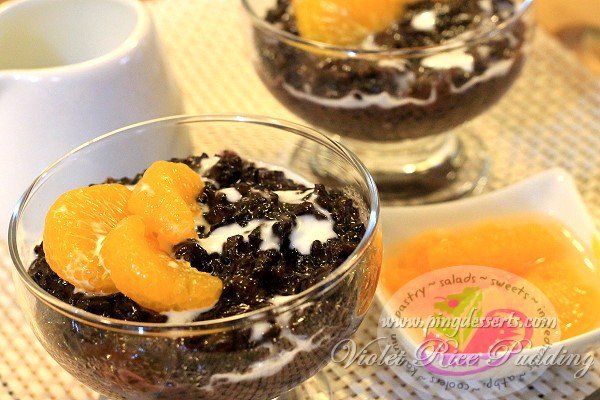 .
This sticky violet rice pudding dessert is so rich, so creamy but not too sweet and perfect with mandarin oranges. The combination of coconut milk and mandarin oranges are superb and delicious.
This glutinous violet rice is best for puto bumbong, pirurutong na suman, biko and other desserts. To achieve light purple color pudding just replace the half of glutinous violet rice with regular glutinous white rice and mix together.
.
Storage Tip: It is strongly recommended that uncooked Violet Rice should be refrigerated to preserve its quality.

.