How to make a perfect and crunchy sticky rice ball recipe.
Carioca. A delicious deep fried kakanin rice ball made from a few ingredients, skewer on a bamboo stick and serve with coconut sauce and toasted sesame seeds. This sweet and sticky glutinous rice ball is one of the famous street food, snacks here in the Philippines. The Carioca dough is a mixture of glutinous rice flour, sweetened desiccated coconut and coconut milk, then formed into a ball and deep fried until lightly brown. These sticky rice balls have a crunchy texture in the outside and soft and chewy on the inside. Carioca is served with this sweet coconut sauce that is made with dark or light brown sugar and coconut milk, boiled over low heat until becomes a syrup.
Makes : 45 pieces (15 skewers )
Ingredients:
For the sticky dough:
2 cups glutinous rice flour or sweet rice flour (+ extra 1/3 cup for dusting later on)
2¾ cups sweetened desiccated coconut
400ml (1 can) coconut milk
For deep frying:
2 cups (500ml) palm oil or vegetable oil
For the coconut sauce:
1 cup coconut milk
½ cup dark or light brown sugar
To serve:
3 tbsp. toasted sesame seeds, to sprinkle (optional)
You also need:
Carioca Recipe by Ping Desserts
httpv://www.youtube.com/watch?v=cWTrrPkBGjU?wmode=opaque&autoplay=0&loop=1&mute=1

Cooking Procedure:
In a large mixing bowl, combine glutinous rice flour and sweetened desiccated coconut and mix well. Make a well in the center, add the coconut milk and mix with a wooden spoon until becomes soft sticky dough. Refrigerate the dough for about 20 minutes to make your dough firm. To make the balls, scoop about a tablespoon of dough and roll on your hands to make a ball. Arrange on a clean plate and repeat the process until you are done with all your carioca dough.
Dip each ball in a reserved 1/3 cup of glutinous rice flour and shake off extra flour (dust lightly as possible as you can). This process will help your carioca stay in shape after frying and will give you a crunchy texture on the exterior and protects the interior from drying. Repeat dusting until you're done with all your carioca dough.
In a small frying pan, heat the oil over medium until tiny bubbles are visible. Drop carioca balls by batches at least 15 pieces at a time and don't overcrowd your pan. Fry the carioca for about 5 minutes or until the color turns light brown . Using a tong and a bamboo skewer place 3 balls on each stick and place it on the plate lined with paper towel. Keep skewering until you're done with your first 5 sticks. Reload your 2nd batch of carioca (another 15 balls) on a frying pan and repeat process until you're done with the last batch then, set aside.
Let's start making our coconut sauce, in a small saucepan, bring the coconut milk into a boil over medium heat. Add in light or dark brown sugar and mix well. When it starts to boil, adjust your heat to low and simmer the mixture until becomes syrup. Fire off, and let it cool slightly before using and at this point you can add some vanilla if you want.
Meanwhile, while our coconut sauce is cooling down, lightly toast your sesame seeds in a pan over low heat for about 2 minutes. To serve our Carioca, you can either drizzle or dipped in coconut syrup, then sprinkle with toasted sesame seeds on top and serve.
Here's our simple ingredients in making sweet sticky rice balls. We have the Glutinous Rice Flour, Sweetened Desiccated Coconut and Coconut Milk for our dough. Brown Sugar and Coconut milk for our Coconut Sauce and there's the oil for frying. My sesame seeds are not visible hehe…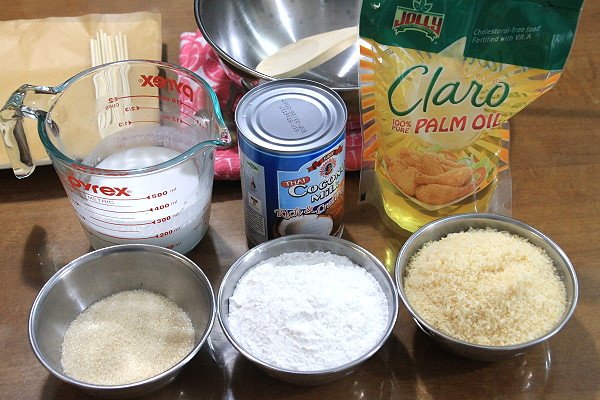 These piping hot Carioca's are best served while it's warm and crunchy. The toasted sesame seeds adds a nutty flavor to it, but this is optional. You can also toast some desiccated coconut if you don't like sesame seeds.

I'm glad that our niece and nephews are visiting us here every Sunday. They were busy making their projects, research, downloading apps and other stuffs. And I'm happy to serve this sweet sticky rice ball for their snacks and these crunchy Carioca are totally wiped out, they liked it 🙂
Note: This Carioca recipe tends to dry out when it's refrigerated, so better leave them at room temperature. Since most of kakanin doesn't have a longer shelf life, I suggest if you want to try this one make just enough Carioca to consume in a day.
I hope you will give this recipe a try and have a nice day everyone!