How to make easy and delicious Kakanin na pang Negosyo.
Assorted Pichi-Pichi Recipe – A sticky gelatinous dessert made from Cassava, also known as "Tapioca" or "Kamoteng Kahoy." This kakanin is one of Pinoy's favorite delicacies, which is famous nationwide here in the Philippines. From a simple plain Pichi-Pichi to Ube and Pandan flavored ones. It is so easy to prepare and made from a few ingredients such as; grated cassava (fresh or frozen), sugar, and water. This kakanin is steamed until it becomes translucent and gelatinous. The texture of pichi-pichi is very sticky, sweet, and serve with grated cheddar cheese or freshly grated mature coconut on top.
I've been making this kind of kakanin for years because my parents used to grow different types of root crops, fruit trees, veggies, and rice at the farm. I have some old recipe of pichi-pichi on my blog, and you can also check that out if you like. And since we have the ingredients prepared for this recipe, so let's start cooking!
Makes: 9 Containers (6×3.75)
Ingredients:
Plain Pichi-Pichi:
1½ cups Grated Cassava, packed (fresh or frozen)
1 cup Sugar
1½ cups Water
Ube Pichi-Pichi:
1½ cups Grated Cassava, packed
1 cup Sugar
1½ cups Water
½ tsp. Ube Extract
Ube Pichi-Pichi:
1½ cups Grated Cassava, packed
1 cup Sugar
1½ cups Water
½ tsp. Pandan Extract
Toppings:
1 cup Grated cheese or grated mature coconut, for toppings
You also Need:
9 pieces Medium Plastic Containers
Check out Video Recipe:

Procedure:
Prepare Fresh Cassava: Wash and peel cassava. Grate cassava using a fine grater and discard the hard stem in the center. Squeeze out as much juice from grated cassava as you can, we only need the meat of cassava. If using store-bought frozen cassava, thaw it first before using.
Preheat your Steamer with 2 liters of water and preheat over medium-low heat until it boils. If your steamer is too small, don't worry, add water from time to time as needed. We also need three baking pans, I'm using a 9x5x2, or you can use any similar or round baking pans that perfectly fit for your packaging later on.
Prepare Pichi-Pichi Mixture: First, we need to make the plain Pichi–Pichi. In a mixing bowl, combine grated cassava, sugar, and water and mix well until sugar dissolved. Pour the mixture into your prepared pan and set aside. Repeat the process with the other flavors, add ½ teaspoons of each extract and mix well. Pour the mixture into your prepared pan.
Steam for about 40-50 minutes or until the mixture becomes sticky, translucent and a little bit firm. Use a toothpick to check the consistency of your pichi pichi.
The steaming period varies depending on the size of your pan, small pan less cooking time than the big ones. It's important to cover your steamer with a fitted lid and a clean cloth to catch the water drippings. When you reach your desired consistency, it's cooked. Fire off, transfer in a cooling rack and let it cool slightly before removing from the molds. If you're using a single round pan, you can use a couple of spoons to scoop out the pichi-pichi. Slice and transfer on a serving tray or plastic container and sprinkle with grated cheese before serving.
Here's Our Simple Ingredients: We need grated Cassava, Sugar, Water and Cheese or Grated Coconut.

Every time I have fresh cassava, I always end up making pichi-pichi pandan flavor with freshly grated coconut; that's my favorite one. But in this recipe, we're going to try assorted and top with cheese toppings — Sticky, Sweet and Salty a perfect blend of flavors in one bite.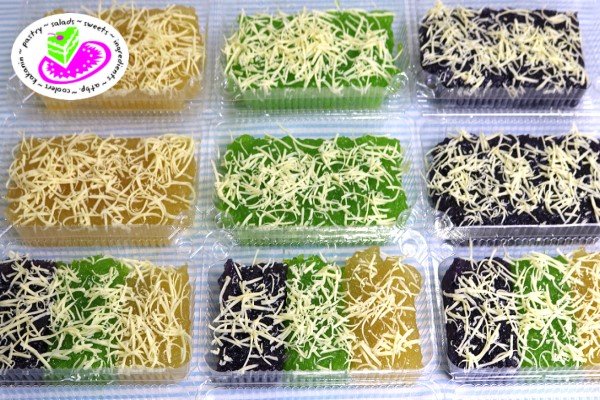 This recipe yields 9 pieces of plastic containers of pichi-pichi. You can also arrange on a serving tray lined with banana leaves. Leftovers can be stored in a clean airtight container and refrigerate. Reheat in a microwave for 30 seconds, and it's ready to serve again. This homemade kakanin will last for a week if stored properly. I'll be posting more of Negosyo Recipes, so please stay connected. Thanks for visiting guys, and hope to see you on my next post. Have a productive week, be safe and stay healthy 🙂 xoxo
– oOo –
"Keep going, Everything you Need will Come to You at God's Perfect Time"