How to make Guinomis, a sweet and refreshing shaved ice drink.
Guinomis Recipe – Another delicious and mouth-watering salad drink to enjoy this summer. Guinomis is made of sago, red gulaman, sugar syrup, toasted pinipig, shaved ice, and coconut milk. This frozen drink is so delicious, the creamy coconut milk, sugar syrup infused with pandan leaves and with a nutty toasted pinipig are perfectly balanced. The chewy gulaman and sago, and the crunch of toasted pinipig add texture to this drink, it's so good and addicting.
This drink was suggested by Ed, He said why don't you make a Guinomis drink so you can try it for the first time. He already tried Guinomis, a couple of times at restaurants before, I forgot which restaurant, but I'm sure it's a Filipino Restaurant. I'm kinda hesitant on making this drink at first because it's labor intensive, but actually, it's not… ha ha They say, a "Foodie Bloggie should always try, re-create or develop new recipes", ok go sago!. So Let's start…
Makes: 4-6 Tall Glasses
Ingredients:
4-6 cups Shaved ice
1½ cups small Sago, cooked
1 ½ cups red gulaman, cooked and cut into cubes
1 cup brown sugar syrup
1 cup Pinipig, toasted or fried
1 (400ml) Coconut Milk or Coconut Cream
4-6 pcs. Mint Leaves, to decorate)
You also Need: (for business/negosyo idea)
6 pcs. 8oz. plastic cups
6 pcs. plastic long spoons
Check out Video Recipe:

Procedure:
To prepare the Sago: Bring 2 cups of water into a boil. When the water is boiling, add ¼ up small sago, stir and cover. Let it boil for about 10-12 minutes while stirring occasionally. Fire off, leave it covered for about 20 minutes. Drain and rinse with running water at least three times. Transfer to a bowl and add cold water, cover and refrigerate until needed. Cooked sago will last for a week in a fridge if stored properly.
To prepare the Pinipig: For "Toasted Pinipig" in a frying pan, over low heat, toast Pinipig and continue stirring until turns light brown and crispy. For "Fried Pinipig in a frying pan, over low heat, add 3 tablespoons of oil. When the oil is piping hot, gradually fry Pinipig until it puffs and turns light brown. Drain on a paper towel and repeat until done with 1/8 cup of pinipig. (Reminder: When toasting or frying a Pinipig keep an eye on it and continue stirring, it only takes a few seconds to cook this.)
To prepare the Brown Sugar infused in Pandan Leaves: In a pot, over medium heat, combine 1½ cups of water and 2 washed and tied pandan leaves. Bring into a boil and add in 1 cup of brown sugar, stir until sugar is dissolved. Bring down the heat to low and cover with a lid, let it boil for another 6-8 minutes until become syrupy. Fire off, discard pandan leaves and let it cool down completely before using. You can store it in a jar, glass or plastic bottle with a lid. Sugar in Light Syrup will last for months if not contaminated and stored properly.
To prepare the Gulaman: In a pot, combine 3½ cups of water, 1 sachet (25g) Red Gulaman and 3 tablespoons of sugar and stir to dissolve. Bring to a boil over medium heat and keep on stirring. Ire off, transfer in a container and let it cool down completely to set. For a quick set, after 15 minutes of cooling, transfer in a chiller to set quickly. Cut gulaman according to your size and shape preference. Cooked gulaman will last for a week in a fridge, you can store it in an airtight plastic container. (Reminder: This is a firmer version of gulaman, if you want a softer one just add more water. A (25g) sachet of Mr. Gulaman requires 1.5 liters of water, so it's up to you. And of course don't forget to add sugar, adjust according to your taste.)
Let's Assemble: Prepare at least 4-6 parfait glasses and start layering your Guinomis. First, put a small ladle of cooked sago at the bottom of each glass. Add the same amount of red gulaman on top and sugar syrup. Add 2 tablespoons of pinipig and cover it with shaved ice until it reaches the rim of your glass. Compress shaved ice lightly and add more as needed. Top with a little of red gulaman, sago, and pinipig. Pour a generous amount of coconut cream or coconut milk on top and decorate it with mint leaves. Serve Guinomis immediately with a long dessert spoon, alongside with extra coconut milk and sugar syrup, as needed.
Here's our Simple Ingredients: Crushed Ice, Red Gilman, Colored Sago, Brown Sugar Syrup infused with Pandan Leaves, Pinipig and Coconut Milk.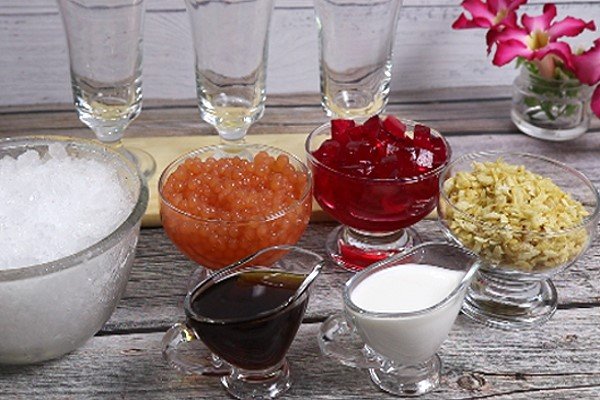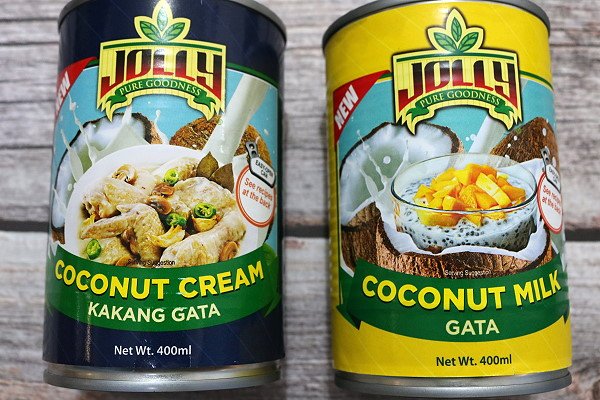 You can also use fresh coconut milk or canned coconut milk or cream. Jelly Grass can be substituted for red gulaman. You can toast or fry your pinipig toppings if you don't have use rice crispies instead.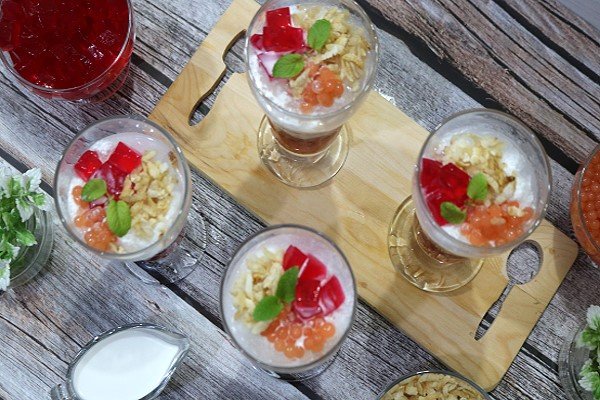 Our Guinomis "Sago in Coconut Syrup with Toasted Pinipig" looks pretty. Our sugar syrup makes our drink more indulging because of the pandan aroma and the coconut milk makes this drink a legit local Pinoy Samalamig.

We're done with our Guinomis drink guys, I hope you like our new recipe. Well, I thought this would be our last summer drink, but I guess it's not… LOL Ed surprised me with a pack of raw Boba Pearl a couple of days ago, so now you have an idea what's coming up. But, before making some Bubble Milk Tea, I'm going to have a quick break first from drinks so stay tuned. Thanks for visiting and have an awesome week. See you on my next post, bye xo
– oOo –
Just don't give up trying to do what you really want to do. Where there is Love and Inspiration.
I don't think you can go wrong – Ella Fitzgerald