How to make a delicious and moist Mango Cake without an Oven.
Mango Cake with Vanilla Whipped Cream Frosting. This cake is very easy and fun to make, we don't need an oven, all we need is a stove, a steamer & a good quality cake mix. To make a sponge cake, just open a box of Maya party cupcake mix, add some egg, oil, water and vanilla then mix and steam over the stove-top. A 2 layered sponge cake filled with fresh, sweet and juicy mangoes and covered with light and fluffy vanilla whipped cream frosting top with more mangoes and mint. Mango is an all time favorite fruit of Pinoy's, a perfect treat to enjoy with family and friends in any occasions.
Makes : 1 (2 layer 7-inch, mini-cake)
Ingredients:
Cake:
1 box (200g) Maya Party Cupcake Mix
2 tbsp. Canola Oil
½ cup Water
1 med Egg at room temperature
1 tsp. Vanilla extract
Frosting:
½ box (100g) Frosty Whip Cream Powder
1/3 cup Icy Cold Water
1 tsp. Vanilla Extract
2 drops of yellow food color, if desired (optional)
Filling/Toppings:
1 Large Ripe Sweet Mangoes, cubes or diced
½ pack Broas or Wafer Sticks for decorating
A sprig of mint leaves, to top (optional)
You also Need:
1 (8-inch) Cake Board
½ yard Ribbon of your Choice
No Bake Mango Cake Video:
Procedure:
Preheat Stove-Top heavy-bottom Casserole or any similar cooking ware over medium heat for about 5 minutes. If using a heavy bottom casserole, put just enough salt to cover the entire bottom to avoid browning the pan and helps stabilize the heat evenly. Place fitted wire rack in the center and cover with a lid. The lid hole should be sealed with a foil so the heat can't escape.

In a Mixing bowl, combine cake mix, canola oil, water and eggs and mix with a wooden spoon or a whisk. Mix for at least less than 25 strokes just until the batter turns smooth and no lumps. . Line two (7-inch's) round baking pans with parchment paper and divide batter equally.

Cook the cake in a preheated casserole for about 8-10 minutes.To check insert wooden stick in the center and if it comes out clean or with a little moist crumbs its done. Cook the last batch and repeat process. Fire off and let it cool on a wire rack, let it cool completely before adding your frosting.

Meanwhile, let's prepare our Mangoes while waiting for the cake to cool. Wash and sliced mango in halves. I'm using a baller for our topping later on, I'll be needing 8 mango balls for my decoration. The rest of the mangoes will be cut in cubes. Separate mango balls and cubes in different bowls and set aside.
Lets prepare our frosting: I'm using 100g of Frosty Whip Cream Powder that would be ¾cups FWCP and to that we are going to add about 1/3 cup of super cold water and if you have mango juice that's perfect also. Moistened the cream powder first before whipping to avoid unwanted facial powder LOL. When it's fully whipped and aerated, you can add vanilla extract and food color if desired. Whisk for 30 seconds until well combined. Transfer in a piping bag with your favorite tip and we are ready to frost.

Let's assemble the cake, but first need an 8-inch cake board. Place the first layer in the center and spread 1/3 part of whipped cream evenly, pipe a ring at the edge of the cake. Arrange cube mangoes in the center and scatter them evenly. Top with the last layer and frost the top and sides of your cake, reserved whipped cream for swirl later on. Cover the sides with Broas and arrange them neatly, to secure the Broas, tie it with a ribbon. Pipe swirls on the top edge of your cake and decorate it with mango balls and mint leaves. Chill for at least an hour before serving for easy cutting. Serve and Enjoy!
– oOo –
It's fun and easy making cakes and cupcakes using a store bought cake mixes. It saves time and energy, no measuring or sifting of dry ingredients. It gives me more time playin' video games haha..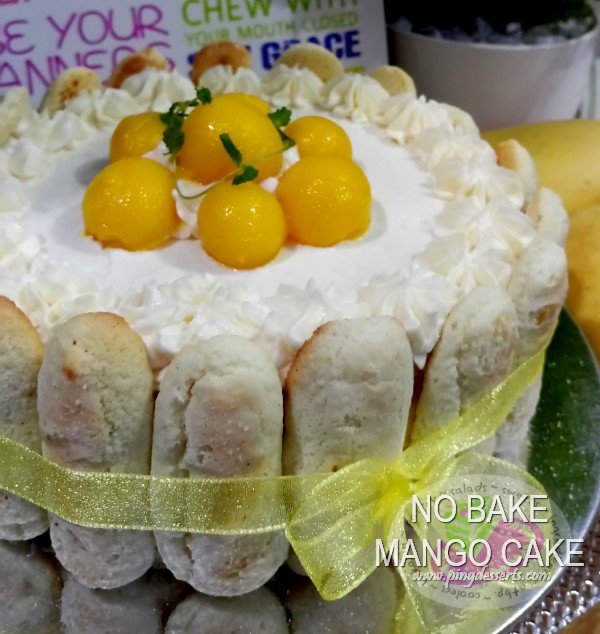 This "Sharon" Party Cupcake Mix from Maya Brand is tested and proven and designed for home bakers who wanted to make cakes and cupcakes without an Oven. This cake mix is perfect for Oven-Toaster, Stove-Top & Steamer. I'm a lazy baker and I know it LOL… that's why I love cake mixes most of the time, but don't underestimate the power of my creativity 😛 😛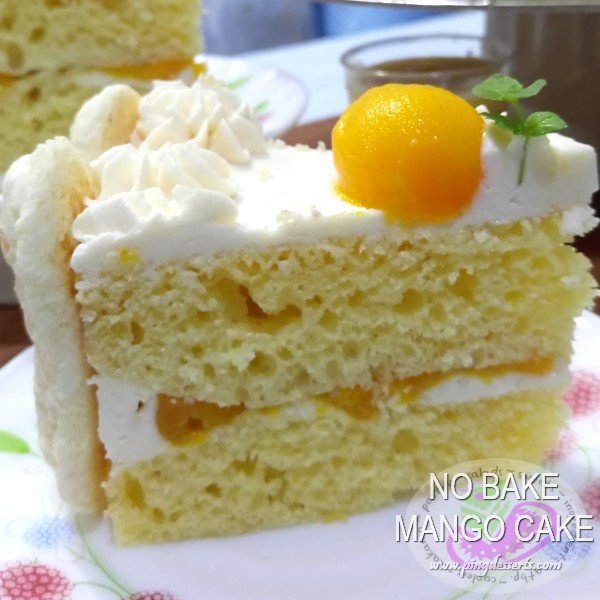 Like Me, You too can make endless flavors and decadent Cake Creations using this budget friendly cake mix. I hope you will try this easy to make recipe and have a nice day everyone 🙂 🙂
– oOo –
Be the Reason Someone Smiles today!