How to make a delicious and refreshing shaved ice Saba con Yelo drink.
Saba con Yelo Recipe. A simple yet very satisfying hot and cold Filipino dessert. A layer of soft shaved ice, sweetened bananas cooked in syrup with vanilla essence, small sago, and top with creamy evaporated milk. Originally, it's a 3-ingredient dessert which consists of sweetened saba, shaved ice, and full cream milk. But as time goes by, we are getting more creative and love trying and adding new flavors into it. This shaved ice dessert is quick and easy to prepare, and you can serve it any time of the day.
We just had our Minatamis na Saging Recipe earlier and with the same recipe let's add something cold and creamy to elevate our simple dessert. But before anything else, first, you need to make a lot of ice cubes a day in advance. We also need an ice crusher or a heavy-duty blender to make our soft shaved ice. Now, that we prepare everything we need for this recipe, let's start …
Makes: 3 (12oz.) Glass
Ingredients:
4 cups shaved ice
2 cups minatamis na saging with sago
¾ cup evaporated milk, chilled
3 pcs pandan leaves, to decorate (optional)
Check out Video Recipe:

Procedure:
Let's prepare our Minatamis na Saging: Actually, we already have a recipe on how to make Minatamis na Saging. So, please check our previous post for that recipe, thanks.
Let's prepare our Shaved Ice: Put ice cubes in a heavy-duty blender or ice crusher and turn it on. If using a blender, press the crush button until cubes are crushed and if you're using an ice crusher Put ice cubes and press the handle down to shave the ice cubes. Repeat process until you have the amount of shaved ice needed. Use shaved ice immediately or put in a freezer while preparing your condiments.
Let's Assemble our Saba con Yelo: First, we need to prepare our pandan leaves, cut, trim and arrange in a serving glass. Put a half cup of shaved ice at the bottom and press lightly and top with minatamis na saging. Cover with another layer of shaved ice and top with minatamis na saging for the last time. Pour evaporated milk on top and serve immediately.
Here's Our Simple Ingredients: Homemade Minatamis na Saging, Shaved Ice and Evaporated Milk. You can use any kind of milk, as long as it fits in your budget. There's Fresh Milk, Whole Milk, Non-Fat Milk but Full Cream Milk is perfect for this recipe.
Don't forget to use fresh pandan leaves to decorate your glass or cups. It doesn't only make your Saba con Yelo look good, but it also gives a nice aroma to your drink.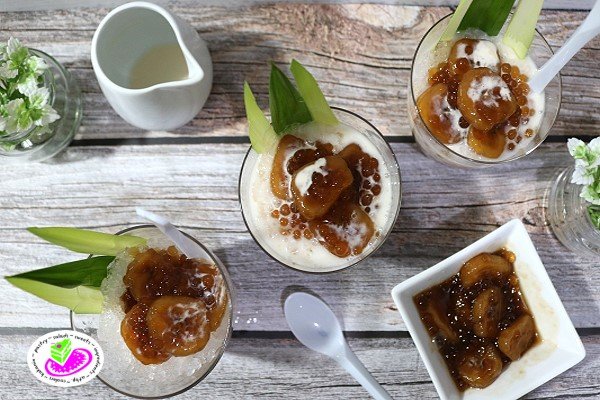 A Blender is a must have and most of us have this in our kitchen, right? But if you're planning on making this recipe as one of your Summer Negosyo please consider buying an ice crusher, it's not expensive and it's so quick and easy to prepare any shaved ice drinks.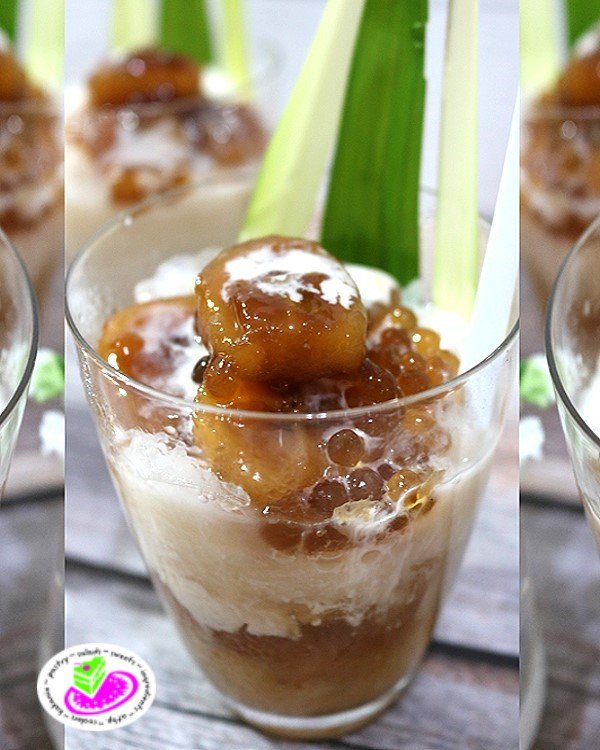 Our Saba con Yelo "Saging con Heilo" looks tempting and the aroma from the pandan leaf is soothing and it's time to dig in before all the ice turns into water LOL. I hope you like our simple sweetened saba frozen drink dessert. Summer has just started, we have more summer drink recipes to prepare and enjoy! Thanks for visiting guys, have a nice day and see you on my next post. xo
– oOo –
A Word of Encouragement is a Refreshing as a Cold Drink on a Hot Summer Day.