How to make this delightful and addicting Cream Cheese Tarts Recipe.
Cream Cheese Tarts with Peaches. These perfect mini-cream cheese tarts are so heavenly and creamy goodness in just one bite. This delicious dessert is made only with few ingredients and layer such as graham or vanilla wafer for the crust, then filled with cream cream and custard mixture and baked. These mini-cream cheese tarts are top with fresh fruit, or a fruit preserves, or a frozen berries, you can also use a canned fruit in light syrup or any pie filling. These tarts are lighter and fluffier than the regular cheesecake.
Makes : 24 (1oz.) mini-tarts / 12 (2oz.) tarts
Ingredients:
Crust:
¾ cup crushed graham
1 tbsp. sugar
3 tbsp. melted butter
Filling:
1 package (8oz.) cream cheese, softened
1/2 cup refined sugar
1 tsp. vanilla extract
2 eggs at room temperature
Toppings:
1 cup Any kind of canned Pie Filling or Fruits in Syrup
You also need:
24 pcs. Aluminum Paper Liner lined inside with White Paper Liners inside
Cooking Procedure:
Preheat your oven to 350F with the rack set on the middle shelf. Line your mini-muffin tins with aluminum paper liners together with white paper liners and set aside. If you are using a regular mini-cheesecake pan, there's no need of any liners just lightly spray or grease it with oil. And if you don't have an aluminum liner just double the regular white paper liners so your cheesecake won't get burnt easily.
We're going to make our simple graham crust. In a small mixing bowl, combine crushed graham, sugar and melted butter and mix it thoroughly until the melted butter is well distributed and the crumbs are fully moistened.
Place a teaspoonful of the graham mixture on each paper liner (1oz.) or of each cavity of cheesecake mini-pan and repeat until you're done. If you're making a (2oz.) use 2-3 teaspoons of graham mixture for the crust. Flatten all the graham mixture using the back of your teaspoon and set aside.

Let's do the filling, first we need to beat the softened cream cheese with electric hand mixer on medium speed until fluffy. Add in the sugar and vanilla extract and beat again until sugar is well-combined. Add the eggs, one at a time and continue to beat until the mixture are well combined.

Spoon the cream cheese mixture over the crust about 2/3's full each and continue filling until you're done with all the mixture.

Bake the cream cheese tarts for about 20-25 minutes for (1oz.) and 30-35 minutes for (2oz.) or until inserted toothpick in the center comes out clean. Cool it on a wire rack and allow the tarts to cool completely. Refrigerate the tarts for about an hour before serving. Top each tart with your desired pie filling or sliced fruits, then serve and enjoy!
These cuties are a great treat to all cheesecake lovers. I'm glad, I tried and got this recipe from Paula Deen of Food Network and the tarts are so good and addicting (hehe…, i luv it!). They are easy to make, this cream cheese recipe is definitely a keeper. I'll be making this over and over and over and over again (LOL).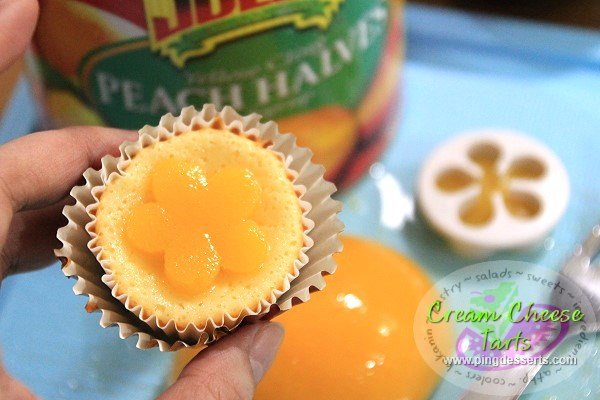 You can make and serve this on any occasion and you can make this ahead of time. And what I really like about this recipe is that you can use different fruit toppings that can match with your theme party. A must have dessert when throwing a party, these will go along with cupcakes, sugar cookies, macaroons and etc…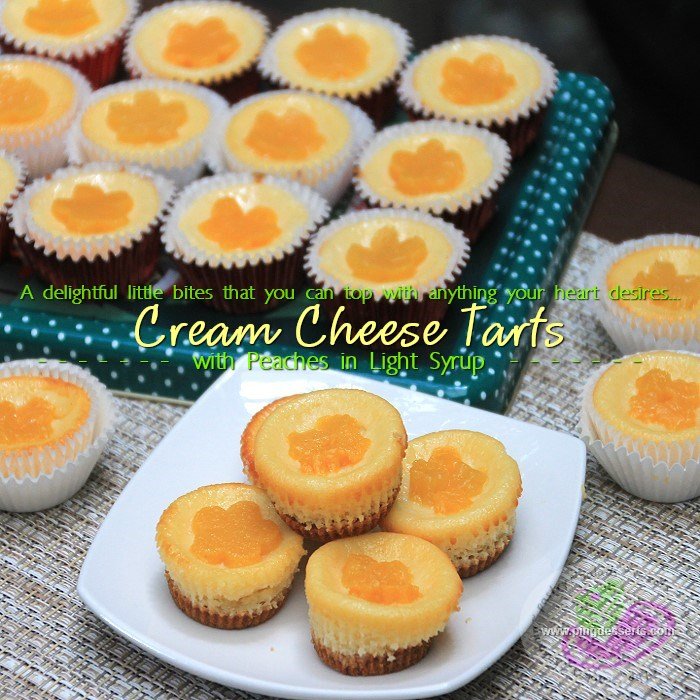 You can serve these tarts after cooling down, but it tastes better on the next day after placing them in the fridge overnight. Store these tarts in an airtight container for a longer shelf life. I can't wait to make this again with a different fruit topping.
– – 0 – –
I hope you will give this a try and a 2 thumbs up!