How to cook Ukoy na Mais Recipe.
Ukoy na Mais Recipe. Ukoy na Mais is also known as Corn Fritters, another native Filipino street food snack. This recipe has a wide range of combinations and versions to choose from. The original Ukoy recipe is made from "kalabasa" or squash, bean sprouts, scallions with fresh baby shrimps and cooked deep fried. In this recipe, I used Mais "sweet corn kernels", carrots, scallions, and cheese.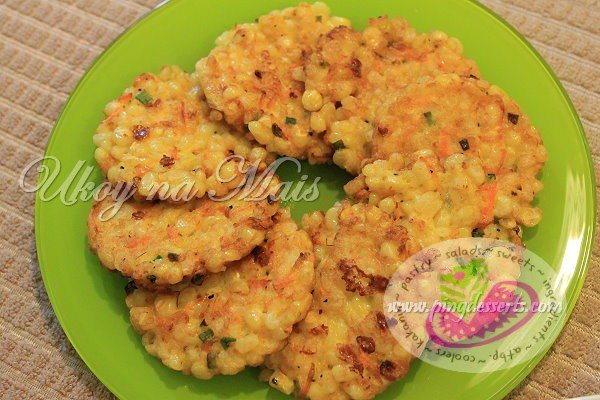 Ukoy

na

Mais Ingredients:
2 cups sweet corn kernels, drained
2 eggs
2 tbsp.

flour

2 tbsp.

carrots

, shredded
2 tbsp.

scallions

or chives, chopped
2 tbsp.

cheese

, small cubes (optional)
Salt and pepper
½ cup oil, for frying
Ukoy

na

Mais Procedure:
Drain sweet corn kernels and prepare carrots, scallions and cheese. In a bowl whisk eggs until foamy, add in all ingredients except the oil and mix well to combine. Heat the pan with oil and fry corn mixture in batches until light brown. Drain on paper towel and serve immediately with garlic and spicy vinegar dip.
…..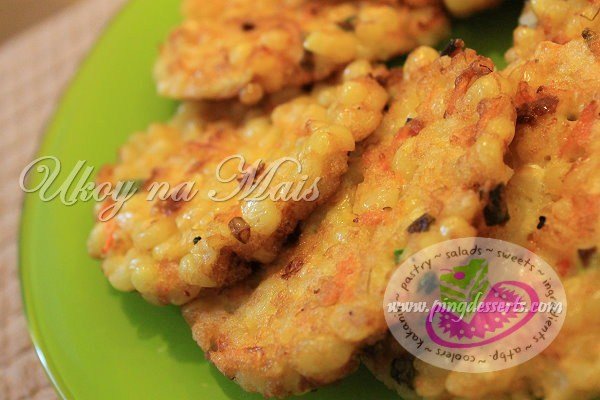 .
In this recipe I used a raw corn that my brother gave me. It took me an hour to cook the corn, before I make my "Ukoy" and the taste wasn't good as the sweet corn. If you want to try this recipe I suggest you to use canned "Sweet Corn Kernels". Saves time and energy with a tasty result, anyway you can buy at your local grocery stores.
.