How to make Squash Chocolate Mini-Cupcake Recipe.
Kalabasa Chocolate Mini-Cupcake. These bite-sized Kalabasa Chocolate Mini-Cupcakes are delicious, heavy and moist top with chocolate ganache and sprinkles. A great idea to incorporate vegetables like pumpkin or squash €œKalabasa€ in your cupcakes. Something simple and a healthy sweet mini treats to give to your friends, relatives and family.
Kalabasa Chocolate Mini-Cupcake Ingredients:
Cake:
1/3 c butter, softened
1/2 c sugar
2 eggs
1 1/2 tsp vanilla extract
1/3 c kalabasa, cooked and mashed
1/3 c milk
1 c all-purpose flour
1 tsp. baking powder
1/2 tsp. salt
1/3 c cocoa powder
Ganache:
1/2 c cream
1 tbsp milk
1/2 c baking chocolate (dark, semi-sweet or white)
2 tbsp. butter
sprinkles, (optional)
Cooking Procedure:
Preheat the oven @ 375F. In a mixing bowl cream softened butter and sugar until smooth and pale. Add egg one at a time and whisk, then add the vanilla extract. Add mashed kalabasa and milk, then whisk again until incorporated. In another bowl sift together all-purpose flour, baking powder, salt and cocoa powder mix until well combined. Fold in dry ingredients into the batter and mix until well combined.
Line 2 (12 holes) of 1oz. muffin pan with paper cups. Filled each cup 1/2 full or divide batter into 24 paper cups evenly. Bake in a preheated oven 375F for about 10-12 minutes. Let it cool on a wire rack.
Meanwhile, to prepare your ganache, in a saucepan combine cream and milk and bring to simmer over a low heat. Pour warm cream in a bowl of chopped baking chocolate and butter, let it sit for a minute before stirring. Stir the chocolate until completely melted and becomes smooth and glossy.

Spoon ganache over the cooled mini-cupcakes and sprinkle with candy toppers, mixed nuts or candied fruits to decorate.
.
Kalabasa Chocolate Mini-Cupcakes are frosted with dark chocolate ganache and looks pretty with white sprinkles. You can replace dark chocolate with milk chocolate or white chocolate if you prefer.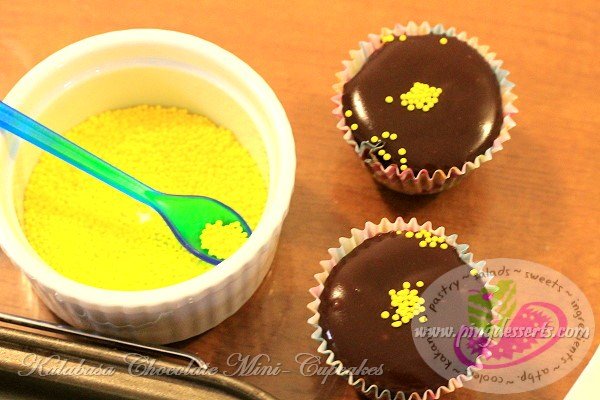 .
This recipe is super easy to make, the ingredients are affordable and yields 2 dozen of healthy party snacks. A great saver for your dessert menu on any occasions. You can make this ahead of time at least a couple days and refrigerate until needed. Thaw mini-cupcakes first before serving to retain it's moist texture and serve.
.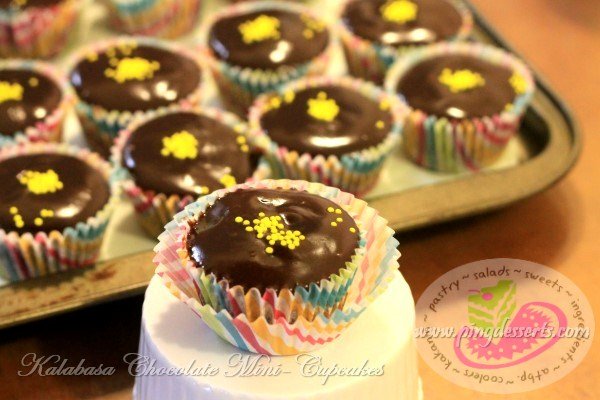 These mini cupcakes taste good and divine, hope you'll try this. This recipe is a great idea for Christmas presents, you can buy boxes, tin cans and ribbons at the bakery stores. Arrange mini-cupcakes and tie it with ribbon and a gift tag, or a price tag 🙂 much better right?? LOL ….. for an extra income this 'ber months 'til Christmas.
.