How to cook Fruit Tart Recipe.
Fruit Tart Recipe. A fresh Fruit Tart recipe. This miniature tart has a custard base filling, top with fresh fruit of your choice and glaze with silky preserves. A great Christmas recipe, to prepare and to share with your friends and family. So fresh, delicate, creamy and delicious tart recipe.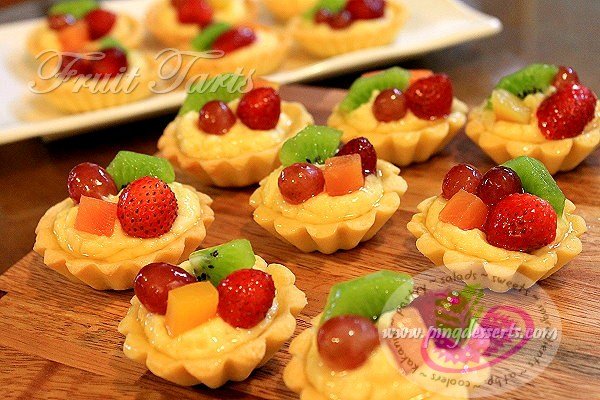 Fruit Tart Ingredients:
Crust:
70g butter
½ of an egg
¼ cup icing sugar
¾ cup plain flour

a

pinch of salt
Custard Filling:
250ml full cream milk
2 egg yolks
2 tbsp.

sugar

1 tbsp.

flour

1 tbsp.

corn

flour
½ tsp.

vanilla
Glaze and Fruit Toppings:
1 fresh Kiwi, peeled and sliced
½ cup

sm

.

fresh

Strawberries, washed
½ cup

sm

.

fresh

Grapes, seedless and washed
½ cup fresh Papaya, peeled and sliced
½ cup orange marmalade.
1 tbsp.

hot

water
Cooking Procedure:
In a bowl mix sifted flour, icing sugar, salt, butter and egg until

becomes

dough and knead. Sprinkle some flour to your working area and knead it to form a ball and wrap in a cling film. Refrigerate the dough for about 25 to 30 minutes or until it is workable state. When the dough is ready knead on a floured surface and cut into 12 portions. Press dough on prepared tins and prick with fork. Refrigerate and let it rest for another 20 minutes before baking. Bake in a preheated oven at 180C (350F), for about 15-18 minutes or until lightly brown. Let it cool down completely before removing to avoid breaking the crust.
To make the custard

filling heat

the milk in a saucepan just until boils then fire off. In a bowl whisk egg yolks and sugar until smooth, then add vanilla extract. Add sifted flour and corn flour and whisk to combine. Add the hot milk, pour a quarter part to temper the egg mixture and whisk vigorously. Pour the remaining warm milk and stir constantly. Place custard mixture into a saucepan and heat over a low fire. Whisk constantly to avoid lumps and stir until thickens. Fire off and let it cool completely. In a small bowl

place strainer

and put a half cup of marmalade and pour a tbsp.

of hot water and

sieve together, discard any bits.
To assemble fruit tarts, prepare cooled tart crust, glaze, custard filling and fresh sliced fruits. Brush bottom and sides of tart crust lightly with glaze. Fill tart crust with custard mixture full and decorate with fresh fruit slices. Lastly, brush fruits and custard with glaze to avoid from scorching and oxidizing. Refrigerate for 10 minutes more, to firm up a little bit and ready to serve.
…..
Ready to bake tart crust. You can bake this ahead of time and store in

plastic container

until later use.
And what makes fruit tart more interesting is that you can top any fruits you like 🙂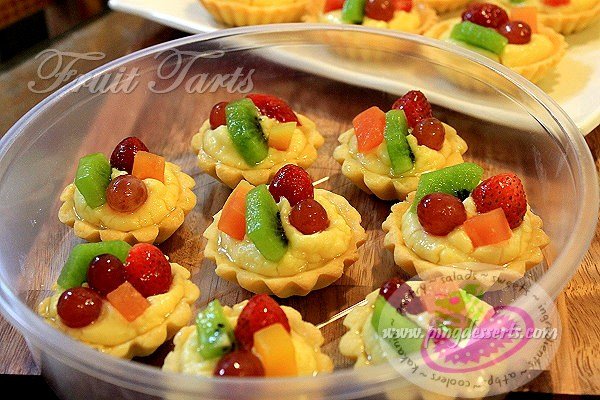 So fresh, delicate, creamy and delicious!!!