How to cook Napoleones Recipe.
Napoleones Recipe Napoleones is basically made of sugar, egg, flour, butter and milk. The top Napoleones is lashed by a thin layer of white sugar glaze plus the layered puff pastry sandwiching a slather of sweet custard cream that has a delicate sweetness that can satisfy the cravings of your sweet taste buds.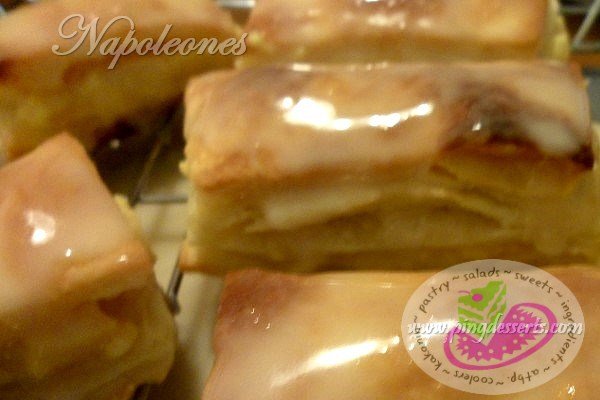 Napoleones Ingredients:
Puff Pastry:
2 1/2 cups all-purpose flour
2/3 cup of cold water
220 grams butter, chilled
pinch of salt
1/4 tsp vinegar or lime juice
Custard Filling:
1/2 cup butter
2 cups evaporated milk
5 egg yolks
3/4 cup sugar
1/3 cup flour
Glaze:
2 cups sifted confectioners' sugar
2 to 3 tablespoons warm water
tablespoon vanilla extract (optional)
Napoleones Cooking Instructions:
For Puff Pastry:Cut around 40 grams of butter, melt the butter then chill the remaining. Make a well in the middle of the flour mixture and add vinegar or lime juice, melted butter then pour in the water. Mix well, knead the dough a little bit. With a rolling pin, flatten dough into a rectangular shape. Place the chilled butter in the middle and fold the corners, right over left, making sure to seal the edges. Do not handle the dough with your whole hands, only with the finger tips, this way you are transferring little heat onto the dough. Roll and flatten the dough into a rectangle, we suggest that you roll it on top of a large tray, this will keep the dough cold to avoid the butter from melting inside.Put the large tray with the dough on top to chill butter inside the dough. The reason the dough is being chilled is to make sure the butter is not absorb by the dough, by the time you finish this process your dough will have a thin sheet of butter on each layer. After 10 minutes, remove dough from freezer, fold again right over left and roll and flatten again with a rolling pin to form another rectangular shaped dough. Repeat this process 4 times. Cut into rectangle shape. Preheat oven to 450 degrees. Bake the dough for about 10 to 15 minutes or until crust is golden. Cool completely. Cut puff pastry in half to insert custard filling. Spread a glaze over the top.
For Custard Filling

: In a heavy saucepan, place the butter, evaporated milk, egg yolks, sugar and flour. Stir to combine. Over low fire, cook the mixture stirring constantly to prevent scorching. When the mixture has thickened, remove from the heat.
For the Glaze : In a medium mixing bowl, put in the confectioners' sugar and vanilla. Stir in enough boiling water to make a glaze of spreading consistently. (In this photo my glaze is to runny, too bad I put sugar and vanilla first in a bowl and found out that i'm running out of confectioners' sugar lol)
Freshly baked puff pastry . . .
I add some Hershey's Chocolate Syrup for a change, yum!!!