How to cook Coconut Macaroons using Egg Whites.
Coconut Macaroons Recipe – A popular Filipino sweet and chewy coconut mini muffins that I revised, actually this version has a lighter flavor because in the this recipe I only use egg whites not the whole egg. Coconut Macaroons is a 5 ingredients recipe and it is easy to make. A combination of sweet shredded coconut, condensed milk, vanilla, egg whites and salt.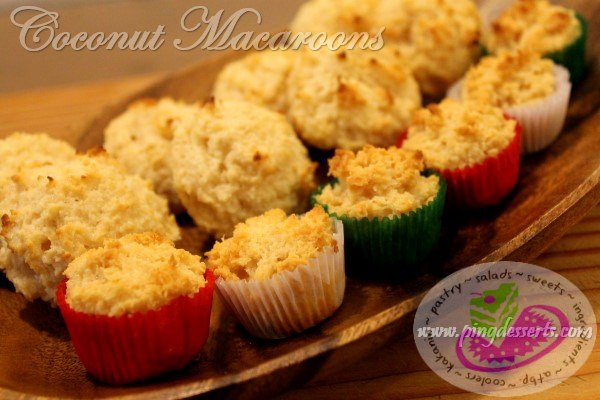 Coconut Macaroons Ingredients:
1½ cups sweetened shredded coconut
½ cup sweetened condensed milk
½ teaspoon pure vanilla extract
1 extra large egg whites, at room temperature
a pinch of salt
Coconut Macaroons Procedure:
Combine the coconut, condensed milk, and vanilla in a large bowl. Whip the egg whites and salt on high speed in the bowl of an electric mixer fitted with the whisk attachment until they make medium-firm peaks.
Carefully fold the egg whites into the coconut mixture. Scoop and drop a tablespoonful's of batter onto sheet pans lined with parchment paper with 2 inch apart from each ball. If using a mini muffin tin lined with paper cups and fill each cups full. Bake in a preheated oven 325°F, for 25 to 30 minutes, until golden brown and cool on wire racks.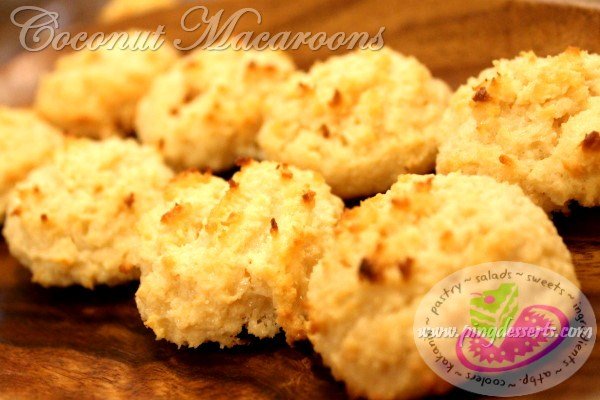 This recipe yields 2 dozens of regular size or 3 dozens mini cups of coconut macaroons.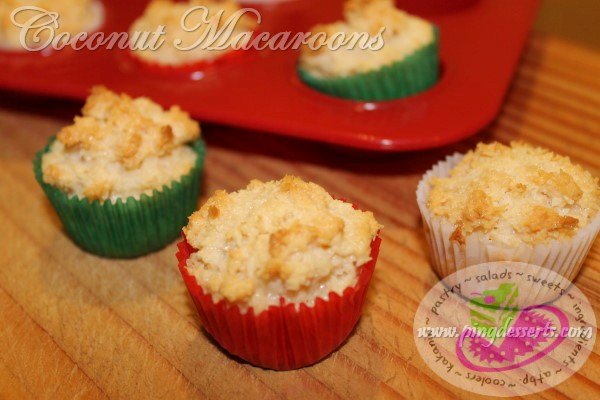 Freshly baked macaroons, the smell of coconut in the kitchen is so good that makes me hungry. A tasty and moist coconut macaroon recipe, try it!