How to cook Sweet Macaroni Salad Recipe.
Sweet Macaroni Salad Recipe. Macaroni salad has a lot of variation. Since its a dessert and most of us love sweets so I try this recipe. A combination of macaroni noodles, canned pineapple, fruit cocktail, mayonnaise, sweetened condensed milk, cheese and raisins.
Sweet Macaroni Salad Ingredients:
400g elbow macaroni pasta, cooked
1 cup nata de coco, drained
2 cups pineapple chunks, drained
1 cup fruit cocktail, drained
¼ cup raisins
¾ cup condensed milk
1 cup mayonnaise
¼ cup cheese, roughly chopped (optional)
Sweet Macaroni Salad Cooking Instructions:
In a cooking pot, boil the macaroni pasta until fully cooked and to make sure, check the directions in the product package how to cook its best. When done, rinse in a running water and drain completely and set aside and let it cool for about 15 minutes. After the pasta has cooled, transfer the macaroni into a large mixing bowl. In another bowl strain canned fruits and nata de coco for about 30 minutes. Chopped cheese into small size and set aside together with the raisins. In a large mixing bowl add in the fruits, raisins, cheese into the cooled macaroni noodles. Pour the mayonaise and sweetened condensed milk and combine them together and mix thoroughly. Cover the mixing bowl with a cling plastic wrap and refrigerate for at least an hour to absorb the flavours and serve.
…..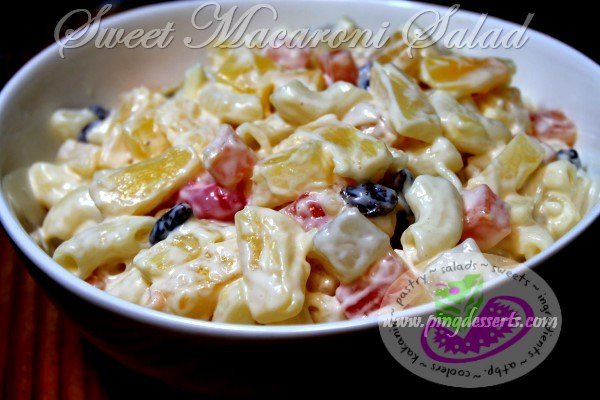 A delicious Sweet Macaroni Salad . . .