How to cook Cherry Cupcake Recipe.
Cherry Cupcake Recipe. Cupcake is a modern dessert that Filipino adopted, but of course, we have our very own popular banana cupcake. This desserts are fast and easy to bake, and has a wide range of flavour to create and to choose from. A mini cakes in paper cups, with frosting and different kinds of toppers.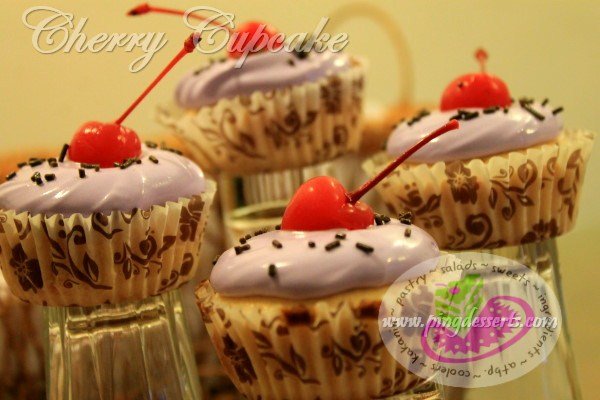 Cherry Cupcake Ingredients:
1/2 cup butter, softened
1 cup sugar
2 eggs
1/2 tsp. vanilla extract
1 tbsp. cherry juice
1 cup all-purpose flour
1/2 cup cake flour
1 tsp. baking powder
1/2 tsp. salt
1/2 cup fresh milk
1/4 cup bottled maraschino cherry, drained and chopped
Cherry Cupcake Procedure:
Preheat oven at 175C or 350F. Cream softened butter in the mixer then add sugar, eggs, vanilla extract and cherry juice from the bottle.
Mix dry ingredients flour, cake flour, baking powder and salt then sift altogether in a bowl or wax paper. Add in dry ingredients and milk alternately into the butter mixture and mix on a low speed until smooth.
Prepare a mini-muffin tray and line with paper cups. Chopped drained cherries and set aside. Pour in the batter mixture and fill 85% full on each cups and sprinkle with some chopped cherries.
Bake in a preheated oven, for about 15-18 minutes or until toothpick inserted comes out clean.
Remove cupcakes from the tray and place on a cooling rack and let it cool before adding any frosting if using one.
…..
They are a treat for any occasions.