How to cook Cassava Suman Recipe.
Cassava Suman Recipe. It is one of the older Filipino desserts or snacks. It consists of grated coconut and cassava, coconut milk and sugar wrapped in banana leaves and steam for a short period of time. For another variation, chocolate fillings can be added inside the cassava or you can have it as a dip.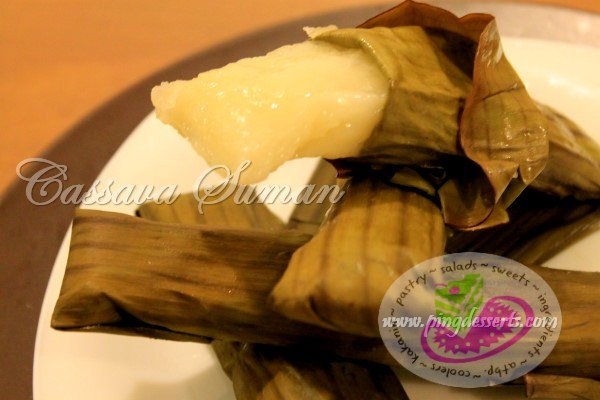 Cassava Suman Ingredients:
1½ cups grated cassava
1/8 cup thick coconut milk
¼ cups young coconut or macapuno, shredded
¼ cups + 2btbsp. refine sugar
wilted, banana leaves
Cassava Suman Procedure:
Cook thick coconut milk and grated cassava in a medium heat until the coconut milk dissolves in half and becomes sticky. Add the refine sugar and grated young coconut or macapuno shredded, stir for a couple more minutes. Remove from heat and let it cool for 5 minutes.
Prepare the banana leaves by cutting it into desired size roughly 8 x 6 inch, run it through an open flame (stove-top fire or even charcoal) quickly just enough to release the leaf oil, prevent it from burning.
Prepare the steamer with a litre of water and let it boil in a medium heat. In a prepared wilted banana leaf, scoop about 2 tablespoons of cassava mixture into the leaf and place on the center. Lift and roll banana leaf, enclosing filling and fold both ends, repeat procedure until done. Arrange on steamer rack in a staggered pile. Steam the cassava suman for about 15 minutes or until it's tender to the touch. Serve suman warm or cold.
…..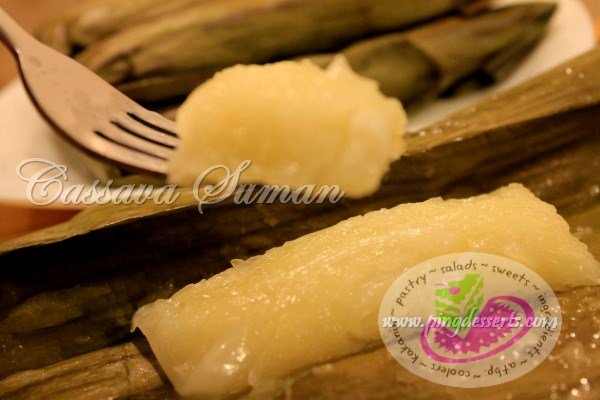 An all time favorite merienda, you can serve it either warm or cold with a cold soft drink 🙂 🙂