How to cook Yema Balls Recipe.
Yema Balls Recipe. Yema Balls Recipe is a creamy, sweet custard candy and a famous Filipino sweet delicacy made with egg yolks and condensed milk. Yema Balls, is very easy to make and cheap. In this recipe I blend in some mashed potato to lessen the sweetness and yield more yema balls.
Yema Balls Ingredients:
1 1/2 cups condensed milk
5 egg yolks
1/8 cup mashed potato
1 tbsp. vanilla
1 tbsp. butter
1/4 cup refine sugar, for coating
Yema Balls Procedure:
Combine all ingredients all ingredients in a saucepan and cook over a medium heat. Keep on stirring to avoid from burning until mixture thickens. Turn off the heat and transfer in a bowl, set aside and let cool. When yema is cool, spoon a teaspoon of mixture and make a ball using your palm. Roll each yema on a plate with sugar and shake off excess sugar.
…..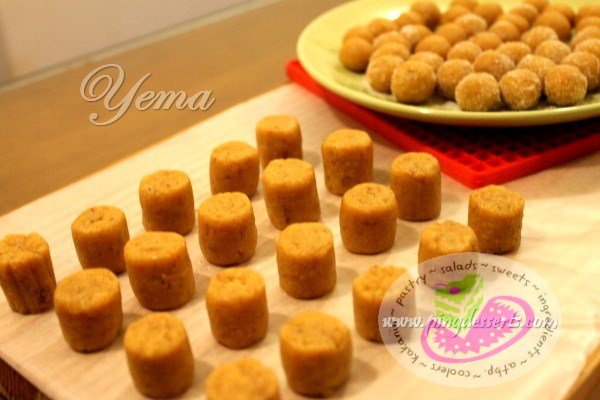 Store in a plastic container or wrap in a 3×3 colored cellophane.
whaaaat a delicious milky treat :)))