How to make Filipino Cheese Cupcake Recipe.
Pinoy Cheese Cupcake Recipe – This cupcake is a perfect combination of milky and salty flavour. These cupcakes are moist and a little bit denser because of the sweetened condensed milk and cream cheese. The tangy hint from the orange extract and the saltiness from cheddar cheese is perfect. I got this recipe from the box of Peotraco caster sugar and made some alterations and finally it turned well it's softer and moist.
Makes 2 dozen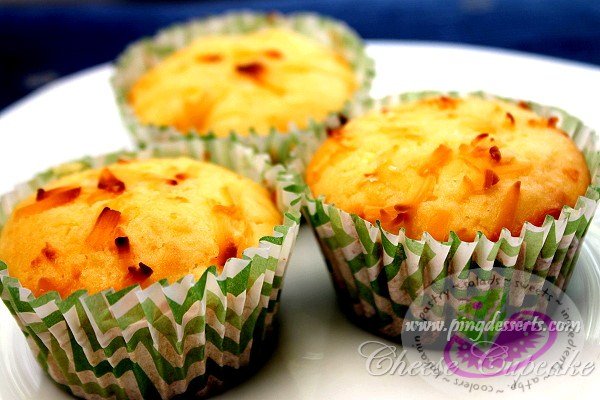 Filipino Cheese Cupcake Ingredients:
2 cups all-purpose flour
1 tbsp. baking powder
½ tsp. salt
½ cup butter, at room temperature
½ cup caster sugar
3 large eggs
1 can (300ml) sweetened condensed milk
2 tbsp. fresh milk or water
½ cup cream cheese, at room temperature
¼ tsp. orange extract
1 cup grated cheddar cheese, divided
Cooking Procedure:
Preheat oven at 350F and line muffin pans with paper cups and set aside. Mix all-purpose flour, baking powder and salt, then sift together and set aside.
Cream butter and caster sugar until light and fluffy. Add one egg at a time and beat well. Add condensed milk, water, cream cheese and beat well. Gradually add dry ingredients into the butter mixture and fold until just combine, do not over mix. Add half of the grated cheddar cheese and orange extract and mix to blend.

Using an ice cream scoop, fill 2/3's full each paper cup. Sprinkle each top with the remaining grated cheese. Bake in a preheated oven for approximately 25-30 minutes. Fire off, transfer in a wire rack and allow to cool completely. Serve and enjoy
…..
Almost done with the mixing and it smells good already, we can't wait to bake and eat it.
.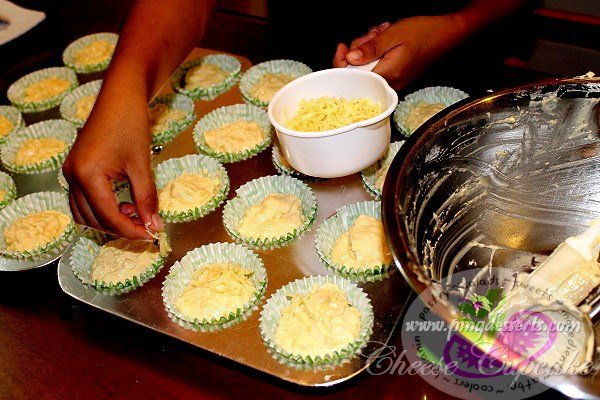 .
It's fun and easy to bake when you've got a helping hands. And most of this baking session, I got my hands on the camera. But I can't get away with the cleaning portion 🙂
.
This recipe yields two dozen of delicious cheese cupcake. Our Kitchen smells good so cheezeeee!!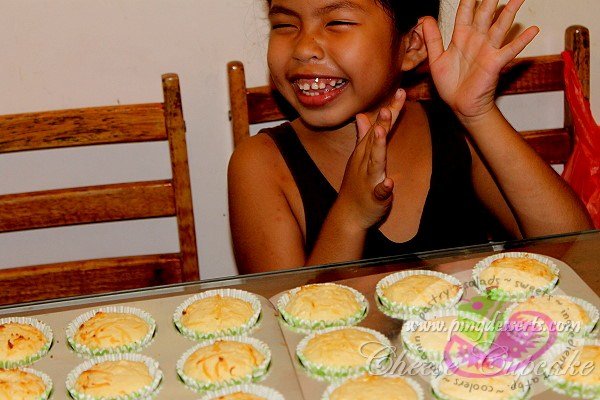 .
A happy Baker, she is proud of herself and so am I. Job well done Kym, it's time to eat and enjoy.