How to make a perfect Chocolate Cake Recipe.
Chocolate Cake Recipe. A perfect, moist and fudgy chocolate cake from Hershey's kitchen recipe. Another Classic and mouth-watering chocolate cake to make for any occasions. This Hershey's recipe is so rich, decadent and easy-to-bake. From a simple plain and moist chocolate cake that taste good on its own. You can make it extra special, with caramel syrup filling and ganache frosting.
Chocolate Cake Ingredients:
2 cups sugar
1 3/4 cups all-purpose flour
3/4 cup Hershey's Unsweetened Cocoa
1 1/2 tsp. baking powder
1 1/2 tsp. baking soda
1 tsp. salt
2 eggs, at room temp.
1 cup milk
1/2 cup vegetable oil
2 tsp. vanilla extract
1 cup boiling water
Cooking Procedure:
Heat oven to 350F. Grease and line with parchment paper (3) 8-inch or (2) 9-inch round baking pans or any desired pan. Combine dry ingredients in a large bowl.

Add eggs, milk, oil and vanilla, then beat on medium speed for 2 minutes. Stir in boiling water the batter will become thin. Divide and pour into pans evenly.
Bake for about 30-35 minutes or until toothpick inserted in the center comes out clean. Cool for 10 minutes, remove from the pans and peel off parchment paper and transfer on a wire rack. Let it cool completely before filling and frosting.
.
.
The best and easy to bake Hershey's Chocolate Cake recipe, it's better than any cake mix so give it a try.
As Hershey's says "Perfectly Chocolate" from the Cake itself to the Ganache Frosting. Two thumbs up!
.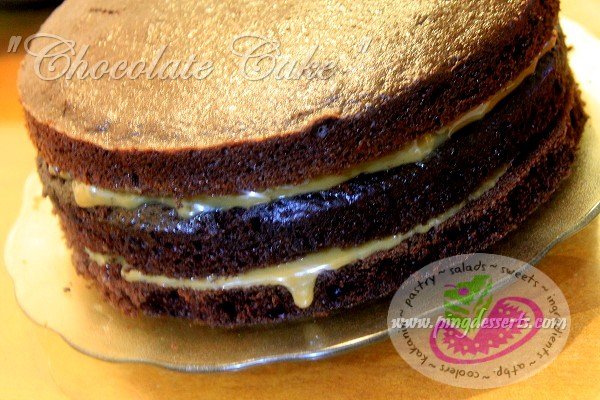 .
A delicious homemade goodness, "Chocolate Cake" filled with creamy store bought caramel syrup.
What a sinful treat to enjoy with family and friends on special occasions.
.